UK COVID-19 BUDGET
UK COVID-19 BUDGET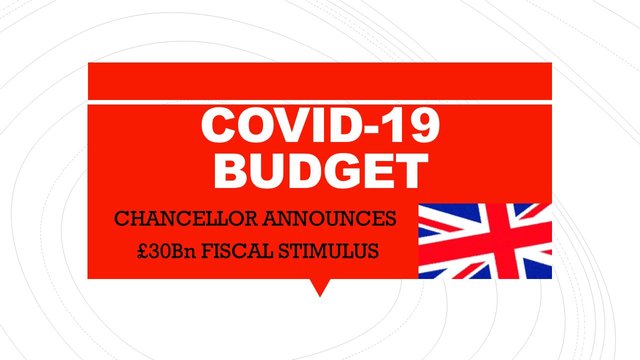 Today is the day of the Government Budget in the UK.
Rishi Sunak, Chancellor of the Exchequer has just announced a 30 Billion Fiscal Stimulus to tackle the threat of Corona Virus on the UK economy.
BREAKING NEWS
Governments around the world are working out how to deal with Corona Virus – not only does it represent a devastating loss of life, but for healthy people there will be a dramatic impact on lifestyle, jobs, businesses and it will have a major adverse impact on the economy. Perhaps for many years to come.
Governments around the world will be hoping this will only be short term.
Today marks the planned Budget for the UK Government, and whilst they still believe the UK economy will grow this year (excluding the unknown impact of COVID19), they have used the opportunity of the Budget to announce a significant multi-faceted government response to the Corona Virus. The various initiatives take the shape of:
Help for Self Employed, Businesses & Vulnerable People - £7bn
(Including the fact that Statutory Sick Pay will be available for those who self-isolate, relaxed requirements for Universal Credit, small business grants and abolishing business rates for small shops)
Emergency NHS Fund to fight Covid-19 - £5bn
Fiscal Loosening to support the economy - £18bn
"Taken together, the extraordinary measures I have set out today represent £7bn to support the self-employed, businesses and vulnerable people. To support the NHS and other public services, I am also setting aside a £5bn emergency response fund - and will go further if necessary. Those measures are on top of plans that I will set out later in this Budget, which provide an additional fiscal loosening of £18bn to support the economy this year. That means I am announcing today, in total, a £30bn fiscal stimulus to support British people, British jobs and British businesses through this moment" Chancellor Rishi Sunak
These are some pretty significant numbers – let's hope it helps encourage all manners of people,workers,employers and staff to self-isolate when necessary and to genuinely stem the spread of this devastating virus.