WHY Italian leader calls Bill Gates a "vaccine criminal"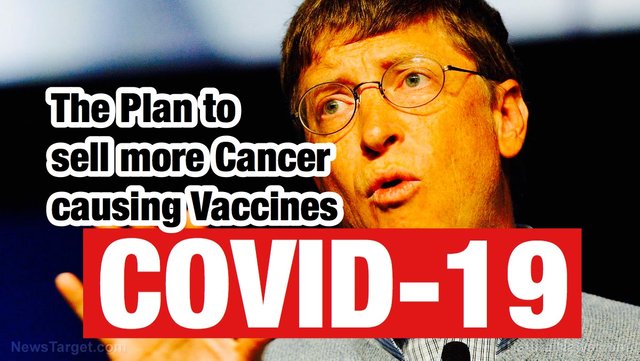 As Twitter, Facebook, Google, Youtube, Reddit, Snopes, Instagram and other criminal groups controlled by those who own the CIA, FBI, FED, Central Banks and the big drug companies, hospitals and universities are censoring the Truth about the CDC, W.H.O., United Nations and Bill Gates funding the creation of the deadly coronavirus COVID-19 ... many doctors, reporters and healthcare workers that know the truth are being censored, removed from mainstream and social media platforms and even murdered for reporting that vaccines are used to slowly terminate people and make young women infertile.
Mike Adams, the Health Ranger and many more natural health people are having their important warnings about toxic, brain damaging vaccines removed from the internet by those who are under the pedophiles within the Vatician, City of London and the Queen of England. Their plan is world depopulation ( reduce the number of people living of this earth ), Kill the Economies of the World that will lead to the Global Recession never seen before, control all aspects of your life in the field of travel and the most important 'force' vaccinate not only the helpless seniors, your babies and children but also all the defiant ADULTS who know that vaccines are dangerous and can lead to Cancer, Autoimmune Diseases, Infertility and Serious Food Allergies leading to choking and death.
Many educated parents that know of truth but still want to vaccinate their kids are recording and noting the side effects caused by the multiple vaccines so that they can submit their video and recorded evidence to the Vaccine Adverse Effect Reporting System ( VAERS ) after their child is damaged beyond repair by the toxic vaccines.
VAERS link https://vaers.hhs.gov/
VAERS link https://www.cdc.gov/vaccinesafety/ensuringsafety/monitoring/vaers/index.html
Agreeing to give your child ( because the criminals behind the doctors masks still need your approval at this time to inject poisonous chemicals into your child ) a single vaccine at each visit as opposed to multiple vaccines makes no difference in the vaccine damage but just postpones the more deadly side effects for a short time.
Children who's body that are not as good in detoxing the chemicals and dangerous heavy metals like Aluminum and Mercury which are still in vaccines, contrary to what your doctor and nurse tells you, will develop vaccine side effects faster.
Some of the side effects of these deadly vaccines are Asthma, Juvenile Arthritis, Colitis, Crohns, IBS, Leaky Gut, Leukemia, Microcephaly, Fibromyalgia, OCD, ADD, ADHD, Seizures, Peanut Allergies, Tourette's ( Ticks ), constantly walking on their toes, SIDS ( Sudden Infant Death Syndrome when the brain swells in reaction to all the toxic chemicals injected into the body ), Parkinson's, Lupus, serious food allergies, Cancers and of course Autism. Doctors will tell you that your child's sudden Autism has nothing to do with their vaccines and it's genetic. Then how would you explain a set of triplets becoming Autistic all at the same time after being vaccinated?
The Mike Adam's report on how Bill Gates is knowingly poisoning children all over the world with vaccines, especially those in Africa.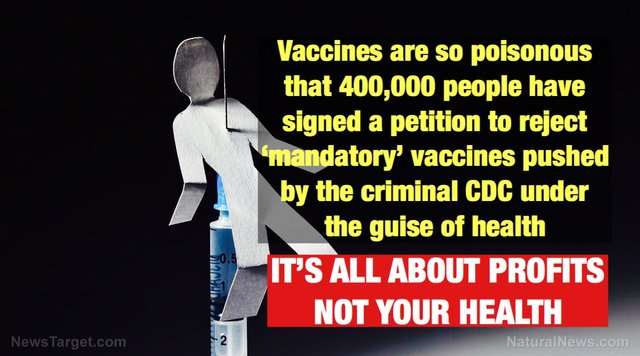 400,000 people have now signed LifeSiteNews petition rejecting mandatory coronavirus vaccinations. As more people realise the lies told by doctors, nurses, mainstream media, the CDC, W.H.O., and health officials, more people do not trust vaccine safety. You must know that many of the studies on vaccines are funded by the big drug manufacturers who also make vaccines.
https://www.naturalnews.com/2020-05-17-bill-gates-harmed-killed-coronavirus-vaccines.html
PARENTS: BEWARE OF THE HEPATITIS B AND THE TOXIC VITAMIN K SHOT GIVEN TO YOUR BABY RIGHT AFTER IT'S BIRTH.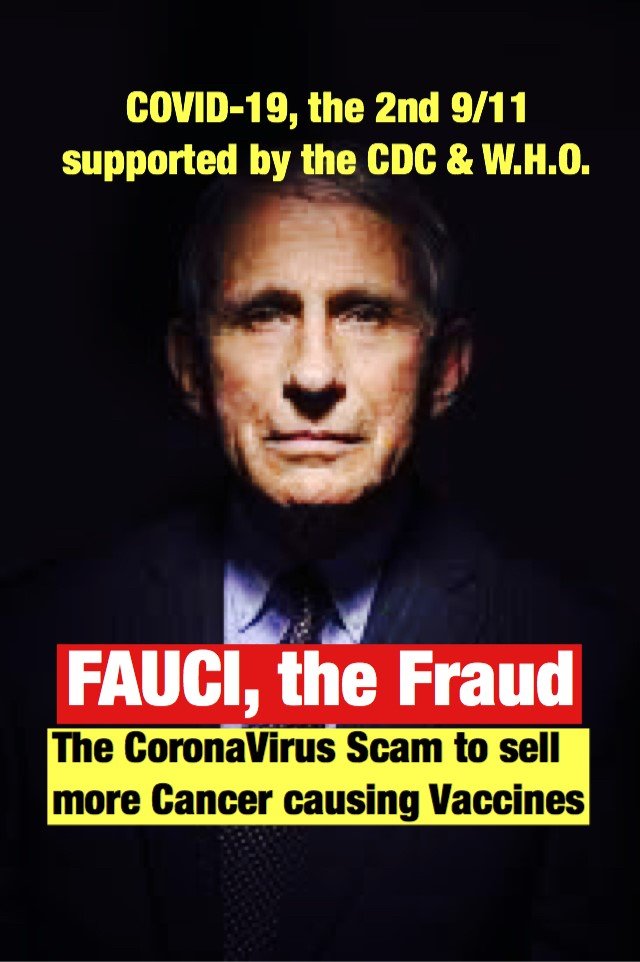 25 - 40 MILLION PEOPLE CARRY CANCER CELLS GIVEN TO THEM BY VACCINES, FIND OUT MORE IN VIDEO JUST BELOW.
CANCER IN VACCINES given the many uneducated SHEEPLE that believed the lies of their Doctors and the CDC. https://www.brighteon.com/be689f32-5526-4601-a627-48dc4f896cf9
Many 'staged' gun shootings within Canada and the U.S. were engineered to demand that firearms be taken away from law abiding citizens in hopes that you will become defenseless as more violent refugees funded by George Soros is allowed into your borders. As those that control the big drug companies, the FED and central banks want a ONE WORLD ORDER / NEW WORLD GOVERNMENT run by only a few, they need to get rid of more patriots that can defend themselves from the people in white lab coats so that many will suffer brain damage and can be hunted down after being injected with Bill Gates Cancer causing Microchip Vacccine. WHAT WILL YOU HAVE TO PROTECT YOURSELF AND YOUR FAMILY WHEN ONLY CRIMINALS AND CORRUPT POLICE HAVE GUNS, HOW CAN YOU STOP GREEDY DOCTORS AND NURSES FROM INJECTING YOUR KIDS AND FAMILY WITH POISONOUS CHEMICALS WITHIN VACCINES?
Do Not Forget the likes of Justin Trudeau, Killary, Obummber, Bush, the Rothschilds and Rockefellers are all involved in this world depopulation plan ( reduction of the number of people ) using the World Climate Change Hoax and the Sustainable Living concepts.
They tell us to all #StayAtHome so that all smaller businesses can go bankrupt while the corrupt government bails-out all their larger business buddies leaving us dependent of these larger corrupt businesses. They are not really bailing out the little guy but they are protecting the evil banks that are going bankrupt because of under the table financial gambling and rigging of markets. As food shortage looms because low paying migrant workers are being quarantined, they FED and central banks controlled by those who own the big drug companies are heading the world into a Global Recession. Food Prices will all go up as the criminals behind this covid-19 scam push to keep everyone indoors instead of advising all to boost their immune systems with Vitamins D, A & C with Selenium and Zinc plus the Chaga Mushrooms which is an Ace 2 inhibitor to block the CDC's Virus from attacking to the the lungs and organs. Remember that it's the hospital's ventilator machines that are killing most of the patients are the pumping action of the ventilator damaging the fragile lung tissue of the patient that leads to most of the deaths, not the virus.
With businesses going bankrupt, employees with no jobs, food shortages being engineered, and a possible mini ice age coming, many people are not only growing their own vegetable gardens but also protecting their life saving during this CDC made pandemic by purchasing precious metals like Gold, Silver and cryptocurrencies like Bitcoin, Litecoin and Digibyte. Beware of ETFs and 'paper contracts' for Gold and Silver as you may not get what you expect when they hand over a bunch of worthless fiat dollars instead of the real thing when this FED created financial collapse get on it's way.
This entire thing with George Soros funding all the Muslim refugees into every country is to ensure that all populations are under ONE RELIGION so it will be easier to control and slave around. The want a ONE WORLD GOVERNMENT to tell all of you which medical treatment like vaccines they want to force into you, what cancer causing GMO foods to take, what toxic chlorinated and fluoridate water you can drink, what dirty chemical filled chem trail air you can breathe ... by the way, yup Bill Gates wants to pollute our clean air with more chemical trails spraying into the sky to BLOCK OUT THE SUN. ( without the Sun, our bodies will be deficient of vitamin D ... don't forget within vaccines, they have added Nagalase enzymes that stops your body from accepting vitamin D thus leading to Cancer growth ).
Being locked down or imprisoned at home by their 'regulations' will kill most people, it's not the virus, it's all the other bad diets and extra toxic vaccines that is lowering your immune systems and making them susceptible to the CDC's man-made covid-19 virus.
You see the more toxic vaccine your children and you accept from the greedy doctors, the more illness, autoimmune diseases, brain damage and allergies and infertility you will develop. Still wondering why so many fertility clinic are popping up? The Gardasil Vaccines given to young girls and women actually destroy the ovaries leading to infertility. That is why Bill Gates is pushing so many vaccines into Africa. It's medical 'genocide'.
Italy wants Bill Gates arrested for crimes against humanity.
https://www.zerohedge.com/markets/italian-politician-demands-bill-gates-arrest-crimes-against-humanity
THE VACCINE COMPANIES ARE NOT LIABLE IF A VACCINE INJURES OR KILLS YOU. YOU CAN NOT SUE THE GOVERNMENT PROTECT VACCINE MANUFACTURERS.
TRUTH ABOUT HIGH BLOOD PRESSURE ( hypertension )
TRUTH ABOUT HIGH CHOLESTEROL
BRAVE DOCTORS COMING OUT SAYING VACCINES ARE DANGEROUS BUT MAY HAVE THEIR LICENSES TAKEN FOR TELLING THE TRUTH ABOUT TOXIC VACCINES
POISONS INJECTED INTO OUR KIDS UNDER THE GUISE OF BEING SAFE AND EFFECTIVE VACCINES = PROFITS