Corona Virus Safety Tips By Kwara State Internal Revenue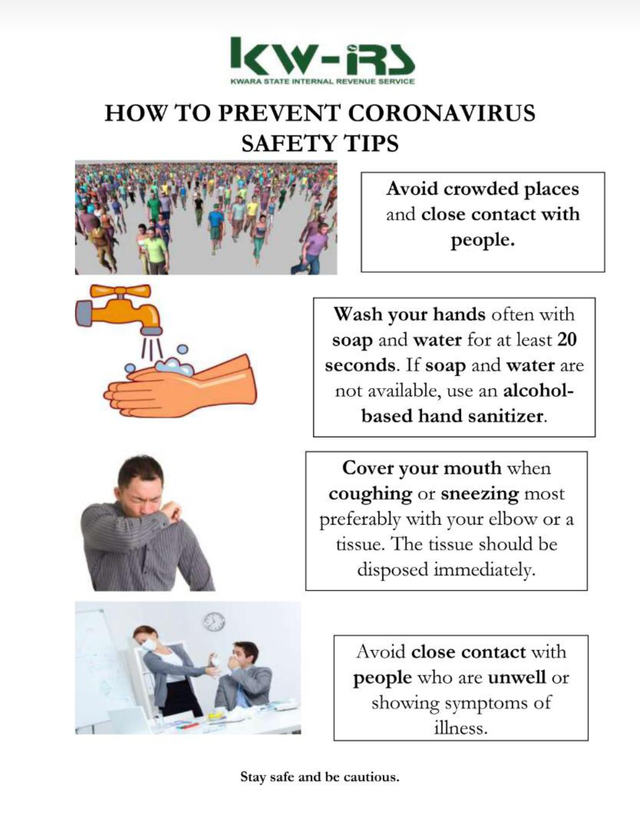 Image credit Kwara state internal revenue.
Hello Everyone,
Few hours ago here in Ilorin Kwara State, it was shown that the prevention of this Corona Virus is very important and not to spread it all over again but to eradicate it slowly. I saw this image on my wife's Junior sister on her WhatsApp today who happen to work with the internal revenue in Ilorin.
Here are some of the victim denied from entering in and out of Nigerian embassy.
"Nigeria bans entry for travelers from 13 countries as it announces five new cases of coronavirus" a very big news headline few hours ago where I read alot about travelers been stopped from entering Nigerian embassy.
On the same newline here goes another restrictions for the travelers
Lagos, Nigeria(CNN)Nigeria is restricting entry into the country for travelers from 13 countries including the US and UK, as it announced five new cases Wednesday.
The restriction will apply to travelers from countries with more than 1,000 cases. They include China, Italy, Iran, South Korea, Spain, Japan, France, Germany, the United States, Norway, UK, Netherlands and Switzerland, the country's National Centre for Disease Control.
Also fee hours ago here in Nigeria an quick announcement was placed everywhere that the virus was seen in another five people whom in total now make eight altogether here in Nigeria.
The restriction will take effect starting on March 20 and will be in place until further notice.
Health officials also announced an additional five cases of the virus in the country, bringing the total number of confirmed cases to eight. One of them is a recovered patient who came in contact with the index case to Nigeria, an Italian man on a business trip to the country, authorities said.
Still on this deadly virus a woman was caught on Tuesday.
In an earlier statement on Tuesday, the NCDC said a 30-year-old woman, who came into the country after a short visit to the UK tested positive to coronavirus after she developed symptoms including coughing and a fever on her return.
She had self-isolated in her home when she arrived in the country on March 13 and called the agency when she developed symptoms, the NCDC said, adding that it had begun tracing those who had come in contact with her.
"We expect the number to be small because of her sensible decision to go into self-isolation from the time of her arrival," the statement read.
Source of this information :.
My Story On Corona Virus.
Yesterday I was on my way to the MTN office here along Muritala, Ilorin town where they do a lot of sim card adjustment, replacement and also registration of new SIM. I went the to lunch a complain about my bad internet connection which I have been facing for about 3 weeks ago. On getting there I was stopped by a security guard with facemask, both eyes, nose and mouth. I asked him , " Sir what wrong ?" He said I need to sanitize my hands before entering the Main building. There I saw three types of water bowl with two types of hand sanitizer wash. I did it for 3 minutes and I was done. This showed a lot of preventive measures even at every office corner here in Ilorin town.
My Little Advice
Prevent yourself from too much crowd of people who you know of and who you do not know of. Try to sanitize your hand everytime and stay safe.