Interview with Sold Mag from New York City.
Hello everyone,
I recently was contacted by Sold Mag to do an interview. They mostly wanted to know about my solo show In Chicago that I had recently.
Here is the link https://www.soldmagny.com/single-post/2019/11/15/Mentality-by-Anthony-Christopher-at-All-Star-Press
Here is the text in case anyone doesn't want to go to the website.
GXM: How would you describe your art style and influences?
AC: Heavily detailed with the use of a magnifying glass in some pieces. I got a lot of influence from Todd McFarlane and Nick Blinko when I was a youngster.
GXM: How has your style changed through your life and career?
AC: I've gotten a lot tighter with the pen over the years. I used to always drink heavily and take painkillers while I was working causing my mark making to sometimes get a bit sloppy. I also would use my blood in various pieces. All of these things I have stopped doing some years ago. Except for the drinking while drawing, at least at bars.
GXM: I saw an incredibly meticulous piece on your Instagram titled "The suicide kid." The caption stated, "Idea from Charles Bukowski's poem of the same name." I read the poem (trigger warning) and it is a haunting reflection of suicidal ideation and planning. It's accurate as well as dark, much like the sketch you created. Along with poetry and literature, where do you pull inspiration from?
AC: "The Suicide Kid" struck with me because it felt very similar. The poem read to me as if the person speaking was fairly content and melancholic with his words. I often go to the local shithole bar and draw while drinking. Receiving many free cans of nectar to keep my going into a late abyss. I enjoy these times. I get a lot of inspiration from the hard times people have. Taking the train late at night and watching people smoke crack or huff duster in the carts. You can feel that they are temporarily in heaven, but the anguish and the wicked feelings are certainly there… dark and random interactions/experiences keep me at a level of reality.
GXM: This question is optional and only if you're comfortable answering. You've stated, "I think I've just become more numb to my mental health and problems that come my way." Can you go deeper into the coping mechanism of becoming numb as a response?
AC: I used to thoroughly enjoy hurting myself quite a bit. I was pretty masochistic for many years until fairly recently. I also struggle quite greatly with being able to fall asleep and stay asleep, sometimes leading into somewhat delusional experiences. I've become numb I believe as a way to cope with these things, like depression and always looking negatively at the world.
GXM: Have you found other coping mechanisms?
AC: I don't think it's the right way to live, so as the years have gone by, I try to ignore these thoughts and become numb in the sense of trying to move forward and basically ignoring these problems. Even when it seems like there is no light at the end of the abyss, I try and make up a light or a small goal to reach. Like finishing another drawing.
GXM: A looming quote from you on the show is, "Some people live the dream. And some people die the nightmare. I try and ride in between them." To me this seems to show you've reached a point of acceptance and balance between those two things. Would you agree about the balance and acceptance? And, is there a piece in the show that best shows us your personal growth?
AC: I believe that's pretty accurate. Accept who you are and what you've become…. I think my largest piece to date Therapy is a combination of basically every piece in the show. Calling it Therapy is all for myself. Basically, stating that doing these pen drawings is helpful for me. It gives me something to focus on and is a positive craft for me to partake in. It certainly beats blacking out and taking painkillers to escape.
Bonus pictures from my show.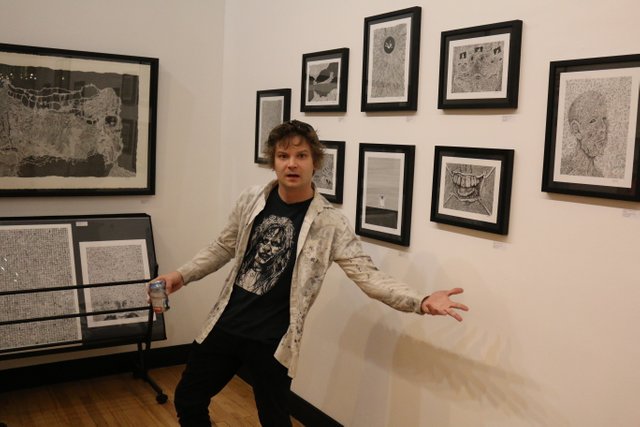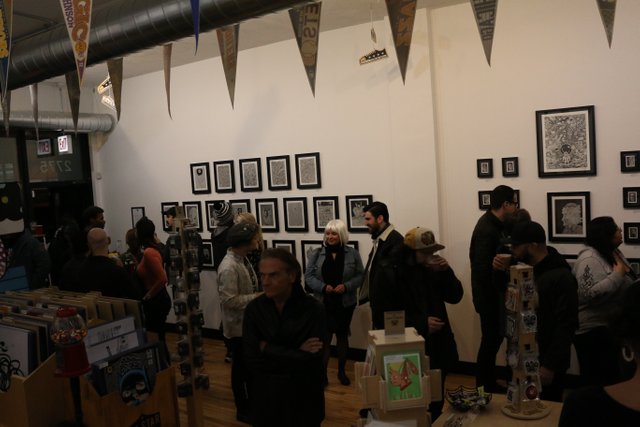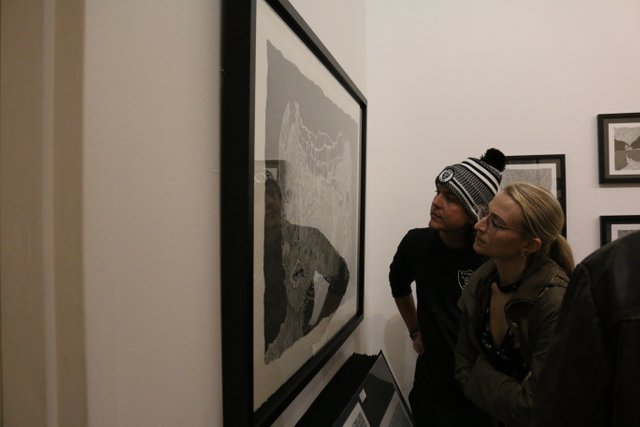 That's all for today.
Copyright @achristopherart.
All Rights Reserved.