Fresh Beginnings!
A new year always feels refreshing... a new decade is extra special! I know we're already a month and a bit into 2020, but gimme a break- January was insane! I'm just going to tuck that month away and concentrate on February and moving forward.
I am hoping to expand my metalsmithing practice this year by attending markets and selling online via my Instagram (for now- web store perhaps later in the year!). With some hard work and luck I'm also hoping to find some boutiques to stock my work in the fall.
There is much work to be done and I am soooo enjoying digging in and spending my days tinkering at the bench. I have enough time now to be both rapidly producing favourite design variations, and tinkering with learning new techniques. I have a whole big list of things I want to learn this year-- which will be achieved with a combination of YouTube, in-person workshops, and good old trial-and-error.
I also have my eye on learning things outside of metalsmithing, but that's a story for another day.
I'm so, so excited about my new logo... I comissioned a lovely designer to whip it up for me and she far, far exceeded my expectations: Somehow having a logo makes a 'business' feel so much more real. I know that it's not essential, but for me, it makes it easier to have a visual to rally my branding and content around. I adoorrrreeee my lil three-eyed kitty. She's modeled after a real life super sweet kitty who is not with us anymore, and she sees right into your soul.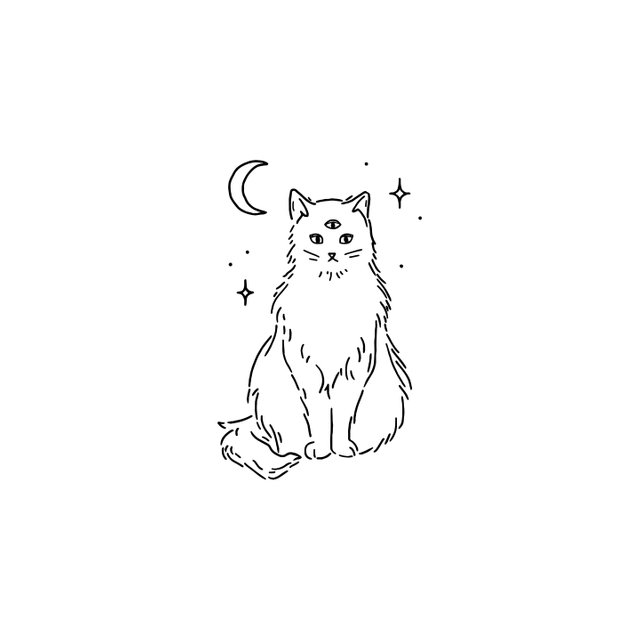 I used the name "Caitlyn Chapman Studio" rather than "jewellery," or "designs," to leave room for other mediums, since I'm still a photographer, and have been painting as well, and have interest in other mediums such as textile and screenprinting.
Anywhooo, who wants to see some new works?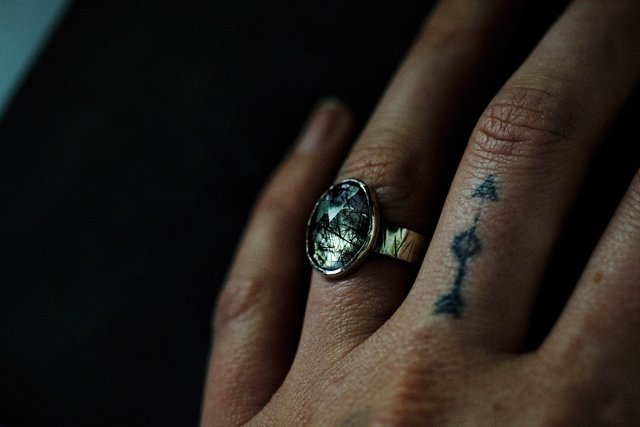 Beautiful tourmalinated quartz... radiating harmony and sitting atop a comfotable sterling silver band with texture made to echo the lines in the stone. ALSO- did I mention that I did take the plunge and bought a Fujifilm XT30? I also snagged a used macro lens for it. I am sooo happy with this setup. I shoot on JPG (gasp!) on the Velvia film simulation mode, and the exported files are perfect. The colour is so gorgeous- the only edits I do is cropping and maybe a bit of local dodging to make the piece a bit brighter. I'm excited to take this setup outside when it stops raining out there (sooo, never??)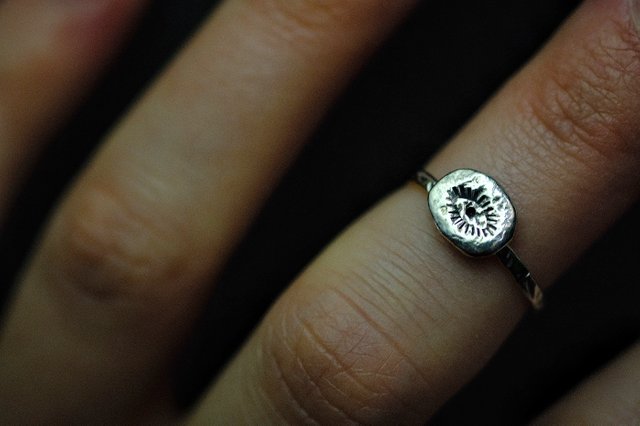 Rough & dainty sterling silver forged & stamped evil eye stacking ring. This is one of my recent favourites as it's cute and easy to wear everyday, and a great way to use up wee metal scraps. I love it so much that I made one for myself... and, to me, this was a clue. A clue that I should start trying to sell more of my work with more intention. Why? Because if I learned anything from my foray into being a pro photographer, it's that you need to value your own work enough to want to pay for it, in order to be able to effectively sell/market it. I never felt like I would have paid myself to take photos... but I would buy the shit out of all of my silver work. So, here we are.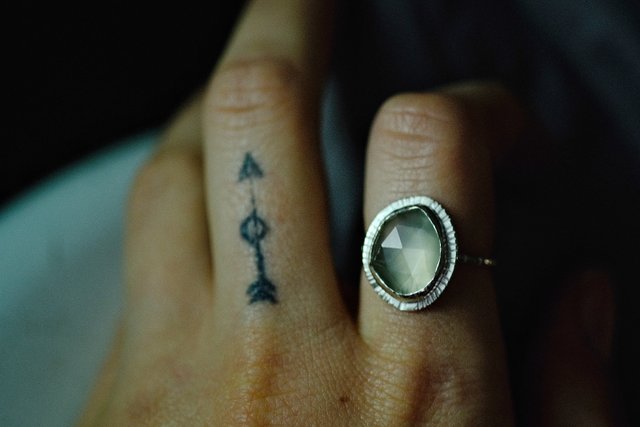 Sensual, feminine, versatile grey moonstone- my latest obsession. I love semi-precious stones that are freeform shaped and rosecut so there's an interesting combination of natural and polished feel. I'm finding this is a recurring feel in my work- the juxtaposition of rough and refined. I love it so much!
PERFECT. IS. BORING.
If you're this far along in this blog post, thank-you. If you want to see more of my work more in real-time, I post nearly every day over on my Instagram @caitlynchapmanstudio.
Thank you for joining me in this journey... I'm so excited to keep making beautiful things!
Cheers!
Caitycat