Painting process of "Firefly kid". 2019
Hello again everybody! Hope you all are doing ok because all of you deserve the best-est of nights everyday!
Here I am again to show you the painting process and backstory of this painting you can see as my profile pic.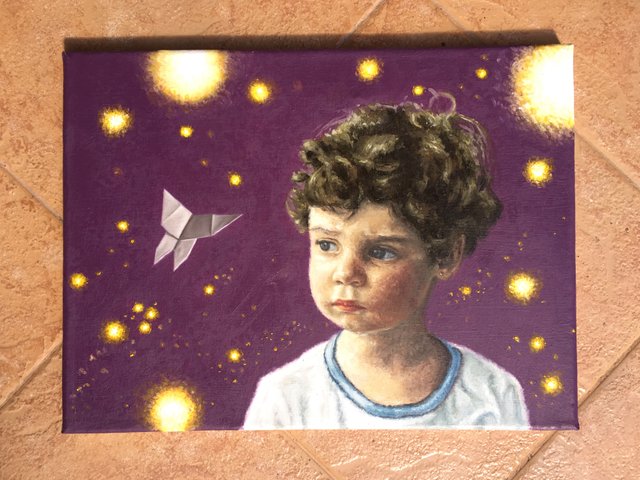 This is one of my most recent finished paintings. During the making process I used oil paint and acrylic paint. This artwork was some kind of experiment for me because it's the very first time I ever display oils into a very thick layer of paint.
The first step was making the drawing of the kid with a normal #2 pencil.
After that it is time for the first layer of paint. Before applying the oil paint I need to cover the "white" of the canvas.
Oil paint tends to be a little transparent, so if I directly apply oils it will need several layers of paint to achieve a uniform coverage.
This is the moment I use acrylic paint. And you would ask, why specifically acrylics and not the same oils?
It is because of the drying time. Acrylic paint have a record drying time, it can be completely dry in just a few minutes. On the other hand, oil paint is pretty much known for its slow drying process that could take even weeks.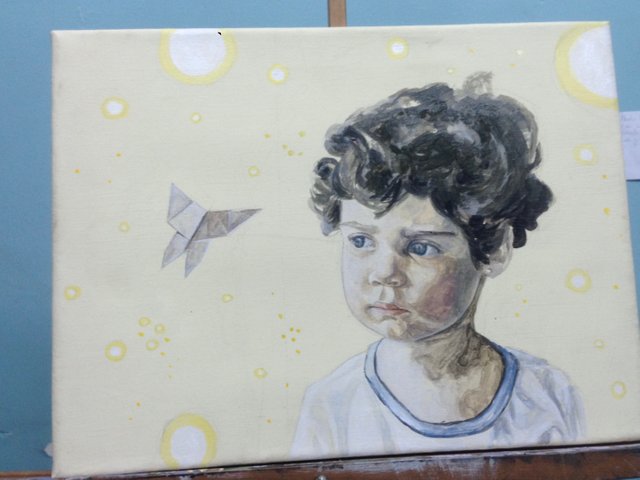 (Yesss, I know it looks a bit ugly, but it's a completely necessary ugliness haha)
So that is the first layer. Now it's time for the second one using proper oil paint.
In this layer I try to achieve the most possibly accurate colors. The perfect purple for the background... the realistic skin-tone hue...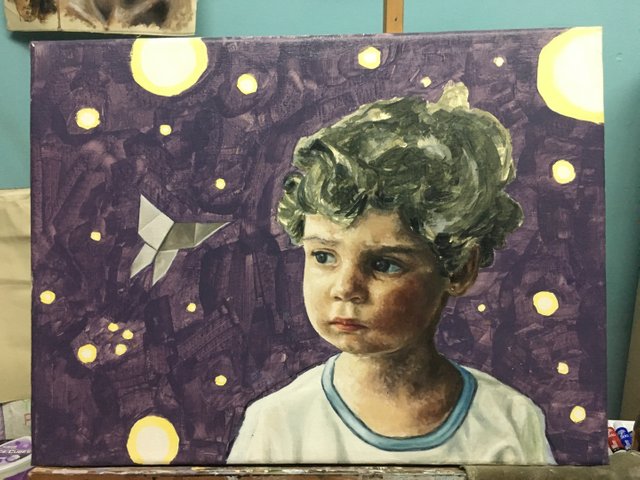 This is the fun part of making a painting. It's the joyful struggle of getting the right color. Mixing the paint in your palette and silently figuring out the specific amount of each color to finally get the hue you're looking for.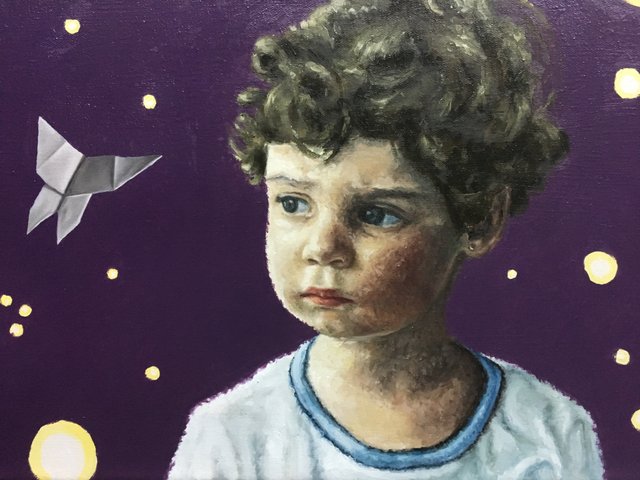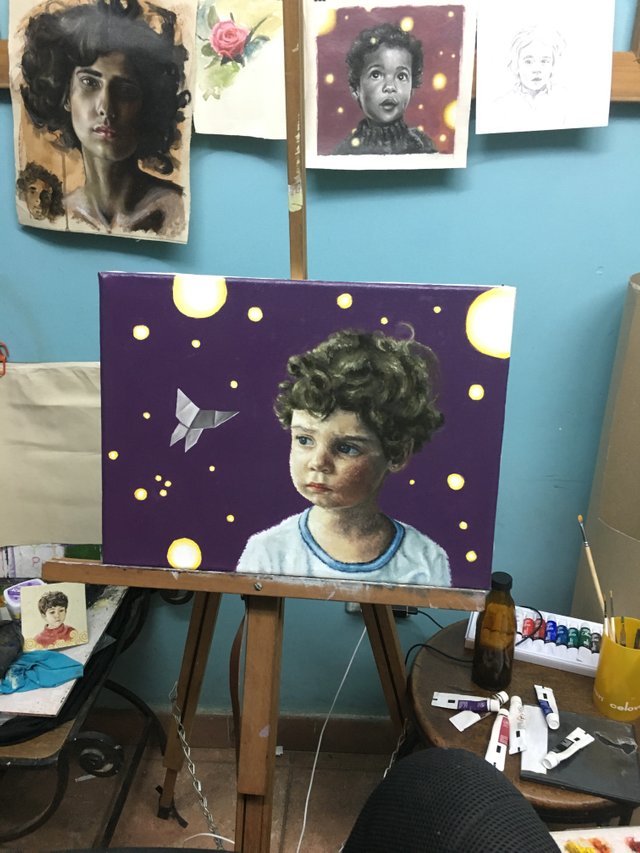 (That's my messy painting studio, I'm so sorry hahaha)
That's basically what I do until I cover every single element.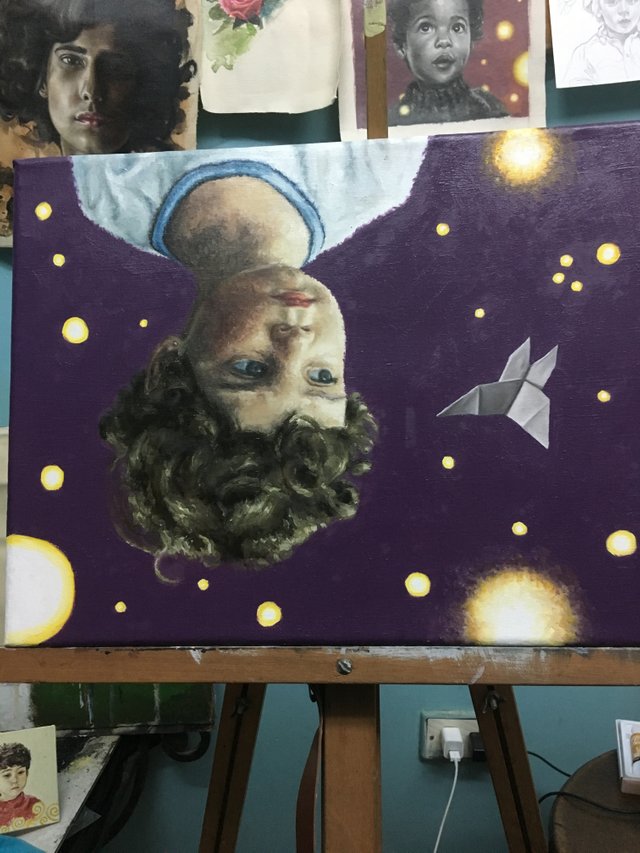 (Upsidedown view)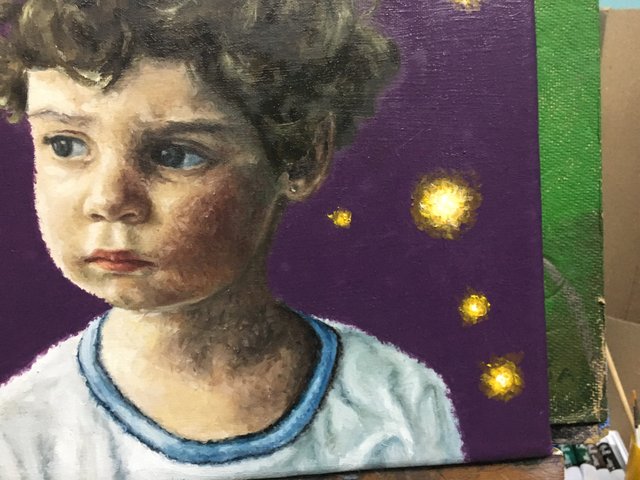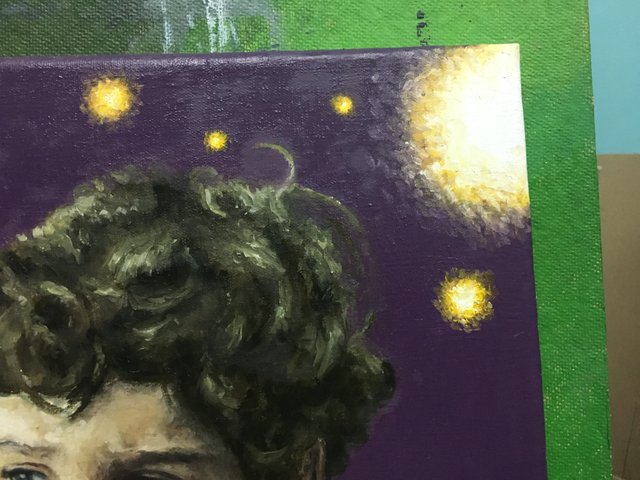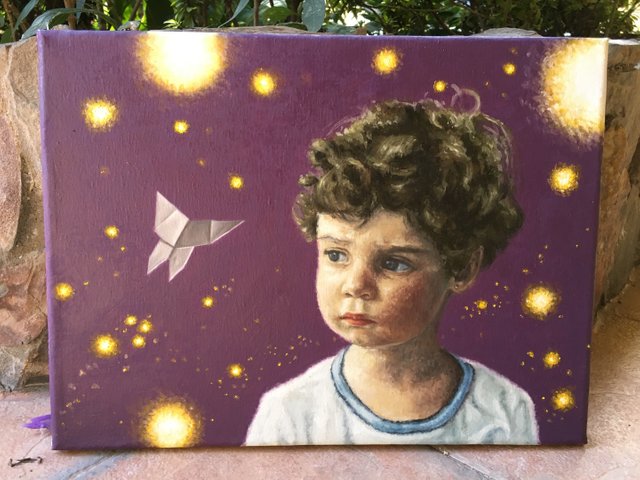 And voilá. That's it!
I know I told you I was also going to tell you about the backstory of this painting, but I think it would be even more interesting if I leave that to you :) What do you personally think it's the meaning of this painting? Can you make up a story behind this picture?
The message of a painting can be interpreted in so many ways by different kind of spectators, and that's one of the goals I keep in mind whenever a start a new piece.
Thank you so much for reading!!!

All the pictures in this blog belong to me.