Interview with Wooden Toys Maker & Hash Rush Creative Contest Winner Pepe Hiller
Now that we closed the Hash Rush pre-alpha, it's time to revisit our Creative Contest and especially its number one winner, Pepe Hiller. Pepe is an amazing artist who makes wooden and 3D-printed toys, among a variety of other things. All of us at Hash Rush thought his work was awesome and we wanted to hear more about him and his entry for the contest. So without further ado, here's the interview.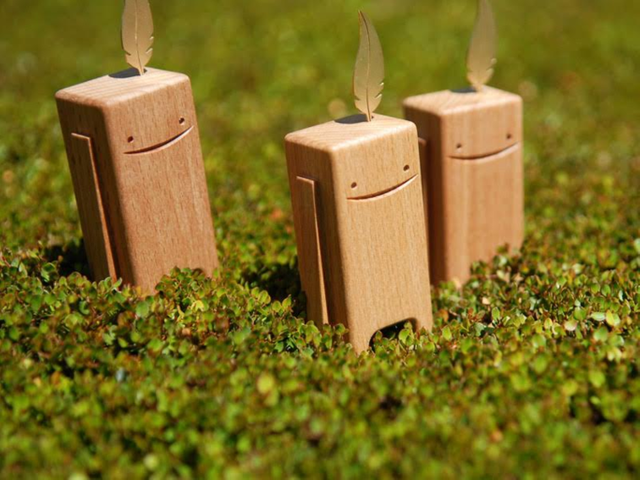 Beechblocks by Pepe Hiller
Hi Pepe, thanks so much for taking the time out of your busy schedule for this interview! Could you introduce yourself? Who are you, where do you live and what do you do?
Hi Jochem, happy to do this! Sure, I'm a designer, artist and architectural model builder with more than fifteen years of experience in model building and prototyping. Based out of Zurich, Switzerland, I've received a Bachelor of Design degree in Industrial Design/ Scenographical Design from the Zurich University of Arts. I work as an architecture model builder for a very well-known architect with projects all around the world. In my remaining time, I create mainly wooden designer toys for collectors or art shows in my own wood workshop. Alongside that, I also do custom projects in different design fields like product design and graphic design.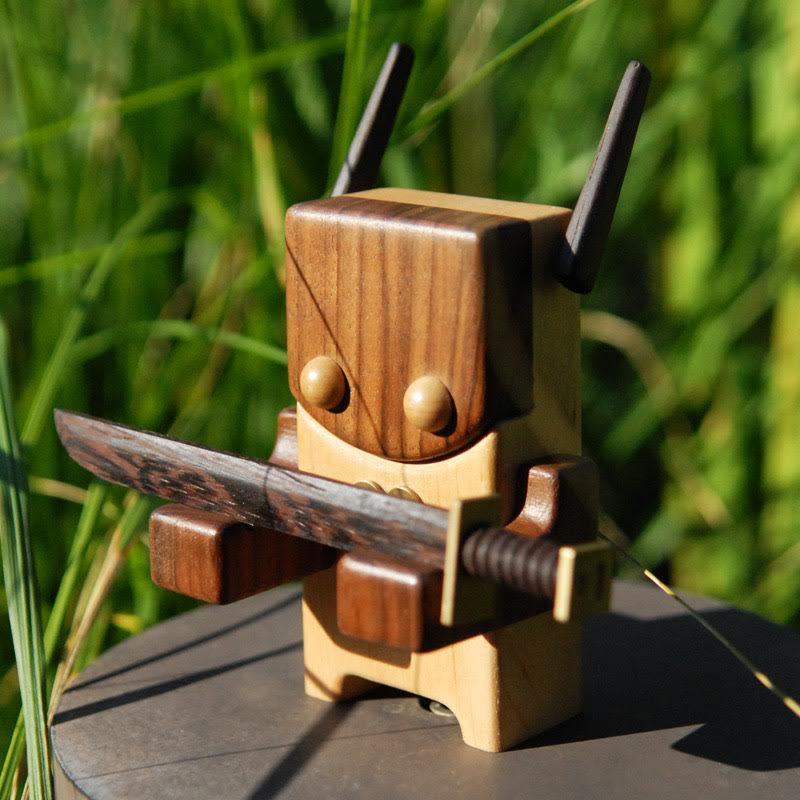 Raku — A 5-inch wooden toy by Pepe Hiller
So you're a busy man. And you won the Hash Rush Creative Contest, congrats! How did you come to hear about Hash Rush, what do you like about it and what made you decide to take part in the contest?
Thanks a bunch, I'm really happy I did make the cut and was even more amazed that I've finished first place. I did follow the Hash Rush project since quite a while and also participated in the ICO last year in September. I think I first heard about Hash Rush right after I got interested in cryptocurrencies and blockchain technology early last summer. Sadly I was a little late on the ICO and didn't get access to the pre-alpha with my pledge, so I needed to figure out how to get my hands on an access code. I just couldn't wait what you guys were brewing there!
All of us really loved your 3D-printed Ernacks. Was the process to make them very different from the process you normally have when making wooden toys?
Great to hear that, I'm really happy how they have turned out as I didn't have much time to design, 3D-print and paint them. Yes, for me the process of making 3D-printed figures is quite different from my usual work with wood. l usually start with a vague idea, then I fire up my voxel editor to push some voxels around until I get the proportions and the design I'm looking for. In this case, I had your in-game Ernack models as a reference but it was a challenge to break down the essence of these little guys and achieve a similar look and feel with just a few 3D-pixels. After that, the 3D-models get sliced and 3D-printed in my workshop. I love miniature painting, so to give the figures their well-deserved charm, I sat down for a few hours to paint them in a "Hash Rush look" and finally did a little photoshoot outdoors. The slide with the crypto crystals on it was always the overall concept in my mind for this contest, so I desperately waited that it snowed and right before the deadline my wish came true!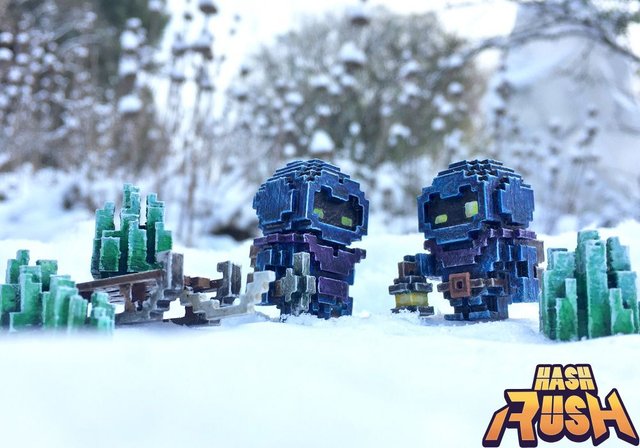 Pepe's final entry for the Hash Rush Creative Contest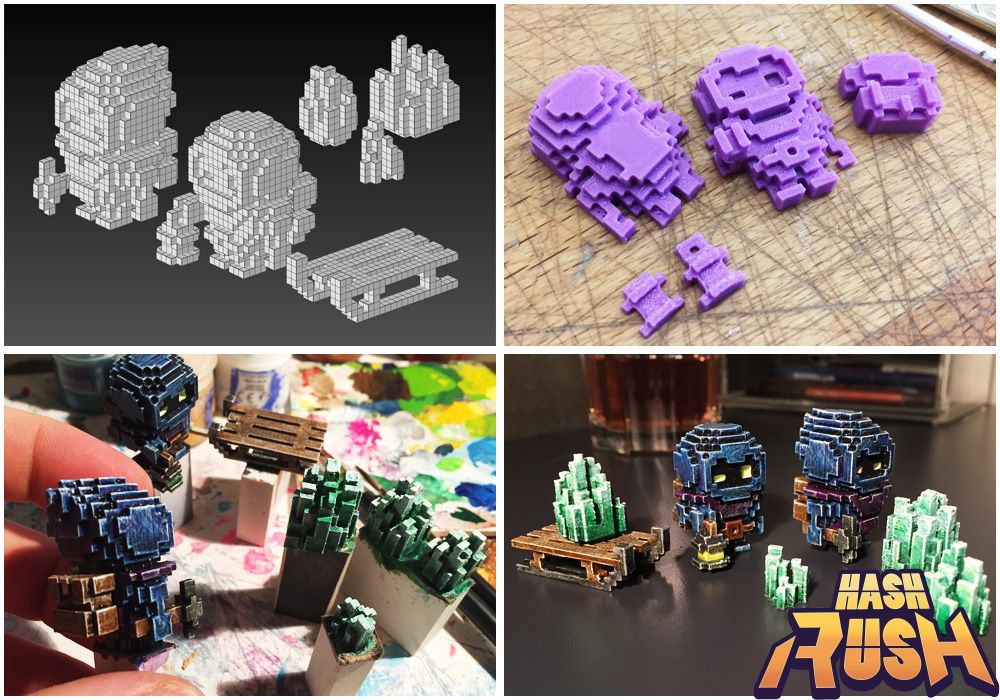 From model to 3D-Ernack
If you take a look at all the toys you made, what is your favourite toy so far?
I did a bunch of wooden designer toys for collectors all around the world over the last few years, so it's quite hard for me to choose one in particular. I usually do a small series of one designer as an online release, and for shows I do single pieces. A limited series that pops into my mind is the 3.5-inch tall "KOR" figure. I've tried a lot of new ideas on this design; I experimented with different acids and leaching to get nice looking metal patinas for the tiny brass swords. It was quite fun to do these guys and on the release they where sold out in seconds. The body of this wood chap is handcrafted out of a more than 200 year old oak log. His head and horns are made out of teak and smoked oak wood and his arms are articulated and feature multiple solid brass and natural leather parts. To defend his tribe, he holds a carefully forged brass broad-sword.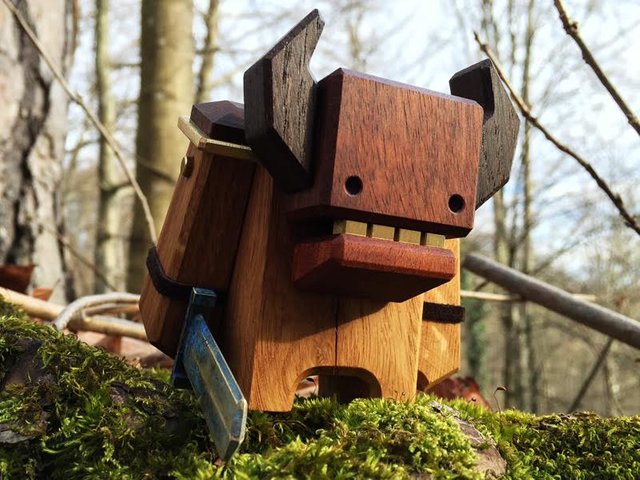 KOR, a good-natured warrior by Pepe Hiller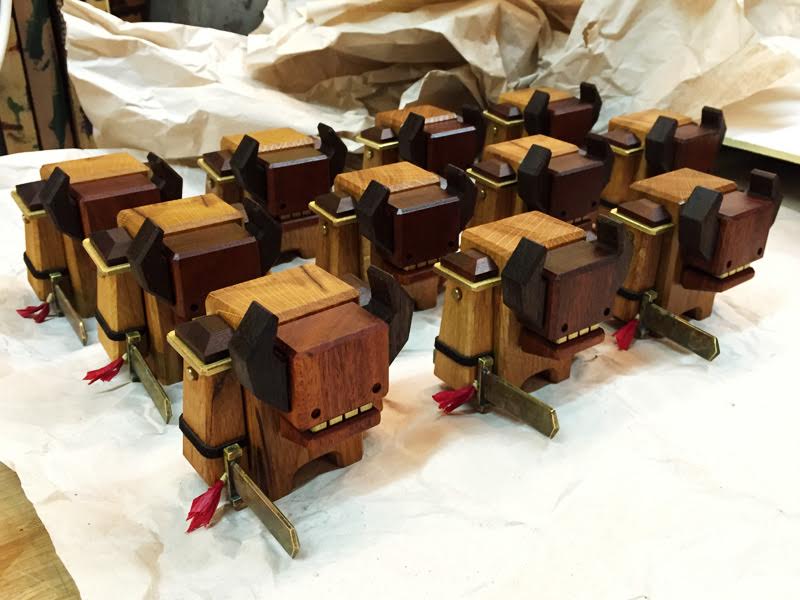 A group of KOR warriors by Pepe Hiller
Since Hash Rush is a game, does gaming relate to your job and the toys you make? Are there specific games and worlds that influence your work?
Yes, gaming has always been a large influence on my work, as I love gaming. Not only digital gaming; as a teenager I was into Trading-Card Games like Magic the Gathering, and I played countless hours of tabletop wargames like Warhammer or board games with my friends. I still love gaming but as a dad of two toddlers this kind of play time is a tad limited. Nevertheless, I still do play a lot of board games and I'm also developing my own 3D-printable board game at the moment called Qublar. This is a lot of fun, but I now know that developing games is also hard work and I have great respect for you guys who are doing this for a living.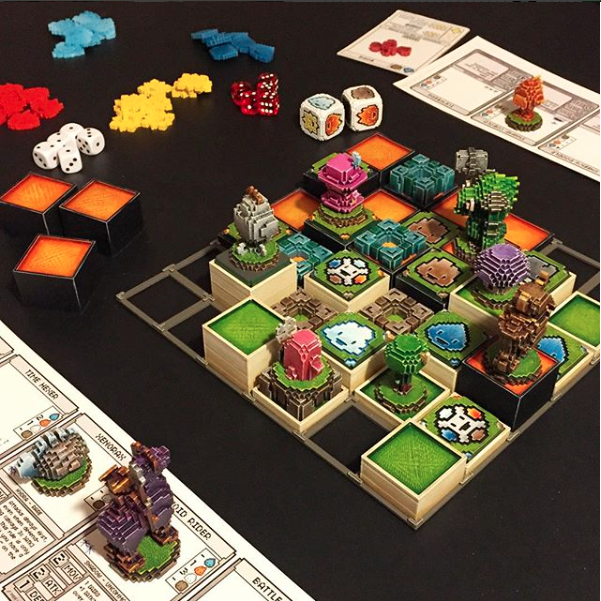 Qublar by Pepe Hiller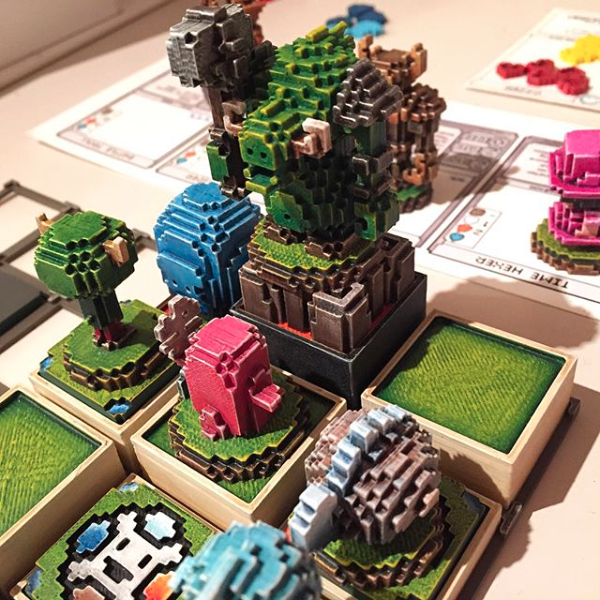 Qublar by Pepe Hiller
And what about cryptocurrencies; how involved are you and do you have any interesting insights to share? Or what do you think of Pepecoin or Pepecash?!
I'm pretty new to this fascinating world of crypto, but I do soak up every bit and piece of information about it. Blockchain and cryptocurrencies were on my radar for a while, but only last summer I really started to invest time into it to see what the fuss was all about. I bought my first Ether and a portion of a Bitcoin and from there on, there was no looking back. I have a small portfolio of different altcoins from projects that I believe in, and also participated in a handful of great ICO's like the one of Hash Rush. Right now, I'm really convinced that blockchain technology will not only make the existing monetary system more transparent and fair, but also bring our society and economy a large step forward.

Yeah, it's quite a bummer that there are already two Pepe crypto coins on the market, but to be honest I think a lot of small coins like these will not survive in the long run. Nevertheless, there will be networks and coins that will form our future and will have a place in our daily life; I'm really excited to see how these things develops further!
Great to hear that Pepe. Let's end this interview with this question: What did you do with the Ernacks you created, and where are they now?
Actually they are still standing on my desk and looking for a chance to mine some ETH or other crypto! They might even find a special place in my own board game; the style of the figures in my game is also voxelated and they would fit into the Qublar world pretty well! I'll keep you posted if I ever make a special Ernack edition available! :)
Thanks so much Pepe, looking forward to playing your board game!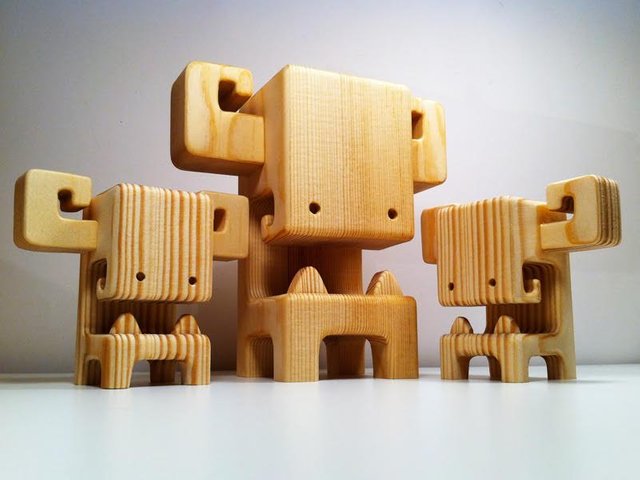 MEGA BOOSO — A 7-inch Wooden Toy by Pepe Hiller
---
We're really thankful to Pepe for giving us some amazing insights into his craft and art. If you're interested in seeing more of his work, take a look at his website or purchase one of his designer toys in his online store!
And if you want to learn more about Hash Rush, check out our website, visit us on Discord, or subscribe to our email newsletter.