NAVIADDRESS: creating a decentralized global unified digital address platform for real and virtual worlds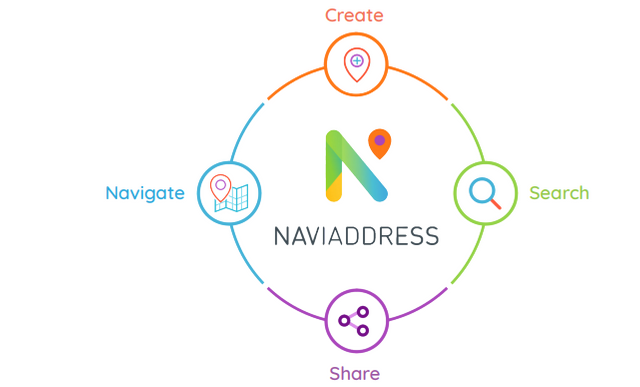 THE BIRTH OF THE IDEA?
The idea if Naviaddress first came to Mr. Mikhail Gamzin(founder of Naviaddress system) in 2012 when he wanted to locate a restaurant in paris to meet up with a friend.
WHAT IS NAVIADDRESS ALL ABOUT?
An address is more than just a text line: it reflects a geo-position and a digital description of a place. They are created by not only governments but also by individuals. Address all around the world have a standard format thoughout.
Naviaddress platform is designed to give users the ability to create, own and share addresses (naviaddresses). These addresses are verified by transactions with address owners. Because Naviaddress serves as 'freemium', users pay only for short digital address IDs (1-5 digits) called premium naviaddresses, address IDs with 6 to 10 digits are free.
The algorithm of the Naviaddress converts any existing postal address into a string of digits that are easier to communicate in cross-cultural communications.
THE VISION OF NAVIADDRESS
The vision of digital Naviaddress system is to create a modern a decentralized global unified address platform for virtual and real worlds, which will give rise to a plethora of addresses:
• International addresses;
• Unified addresses, easy to reference;
• Flexible addresses;
• And, more importantly, addresses that are easy to obtain (accessible even to those individuals who would be living on an unnamed street or an unnumbered building)
The primary focus to address all of their location-related needs. Engaging regular people and varios companies all over the world in the creation and assigning, modification & exchange of addresses in the system
TYPES OF NAVIADDRESSES
There are three different types of Naviaddresses and these are;
Custom Naviaddress: these are assigned to dynamic objects that are movable, such as a spot in the sea, a care parking lot etc. Its uses GPS coordinates and to create unique combinations of digits as its algorithm
Postal Naviaddress: addressed assigned to static objects, such as buildings, structures or locations. They are addresses which refer to specific locations using already existing postal address
Global Naviaddresses: the addressed are assigned mobile objects such as cars etc
MAJOR FEATURES
The major features which makes Naviaddress outstanding are
Ethereum Blockchain ID ownership management SW solution BigchainDB
IPFS distributed,
Reliable and cheap metadata storage
Open sourced oriented SDK and API providing access to the platform
Mobile and web blockchain enabled applications
ADVANTAGES:
Each and every Naviaddress is a set of digits which are universally understood. Hence there is no problem of not knowing a particular language.
Naviaddress can be used for all places and objects on the Earth. This means that even the remote villages can now have official addresses.
Gone will be the days where you had to change your business card every time the location of your office changes. Using global naviaddress you can just change the location associated to a particular naviaddress.
Anyone can add a location to the system.
You can not only add nick names to your geo-code but can also associate additional information such as images, messages and useful hints. This is possible due to the meta-date feature.
The transactions made on the platform are governed by the blockchain technology, making it very safe, secure and trustworthy.
There are endless possibilities for using naviaddress. It can be used as a delivery address, as a pickup location for taxi and since every object can have a NaviAddress, you can even make a phone call to NaviAddress.
TOKEN DETAILS
Total Tokens Issued: 1 BN
Total Amount for Sale: 400 MM
Type: ERC20
Sales total: $20MM
Token Price: ICO: $0.05 per NAVI
TOKEN DISTRIBUTION


FOR MORE INFORMATION PLEASE VISIT THE LINKS BELOW;
Naviaddress blockchain project site - https://ico.naviaddress.com/
Naviaddress Telegram Channel - http://t.me/naviaddressnews
Naviaddress coverage on BBC - http://www.bbc.com/news/business-43544007
Naviaddress coverage on e27 - https://e27.co/postal-addresses-pain-blockchain-tech-can-change-20180214/
Naviaddress intro video -

Naviaddress problems-solution intro video -

DPDcompany testimonial -