Booleancoin Trading Competition On Hotbit.io Begins October 12th At 3pm (UTC+8), 2018!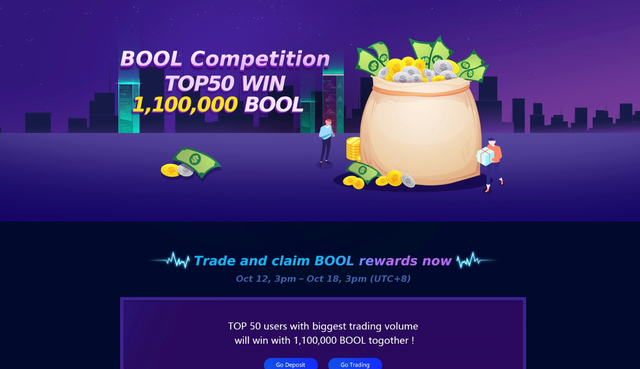 From October 12th to October 18th, a trading competition for Booleancoin will occur on Hotbit.io, where the top prize for most volume will be 250,000 Booleancoin (BOOL), which amounts to 1/80th of all the Booleancoin that will ever exist, 20,000,000 being the supply of BOOL. Now, trading activity is the name of the game here, so buys AND sells will qualify; the more you buy/sell/trade, the higher your ranking on the list. 2nd place through 10th place will get 50,000 BOOL, and 11th through 50th place will get 10,000 BOOL, so there is a lot of BOOL to be won! Note that this is a Hotbit Exclusive Promotion and you will need to sign up and have an account on there in order to participate!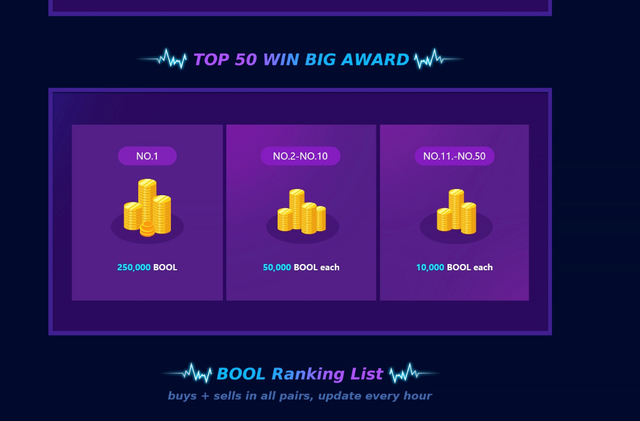 Learn more about Booleancoin at https://www.boolean.news! Learn more about Boolean, their utility, and all the incentives for holding, as well as take a look at our roadmap there as well!
INTEGRATION BETWEEN STEEMIT, DTUBE, DLIVE, AND BOOLEAN: THE NEWS ACCURACY PLATFORM IS A DEFINITE AND WILL BE ACHIEVED DURING 2019, IN LINE WITH THE OFFICIAL SMT RELEASE DATE, DURING THE NEXT STAGE OF STEEMIT AS A PLATFORM AND THE RISE OF STEEM AS A STANDALONE, EXPANDABLE BLOCKCHAIN WITH A TOP 10 WORLDWIDE CRYPTOCURRENCY MARKET CAP!
AS ALWAYS, WISHES OF WEALTH AND HEALTH FOR ALL! :)