OnePageX (Exchange): Simple, Friendly and Secured Exchange medium.
INTRODUCTION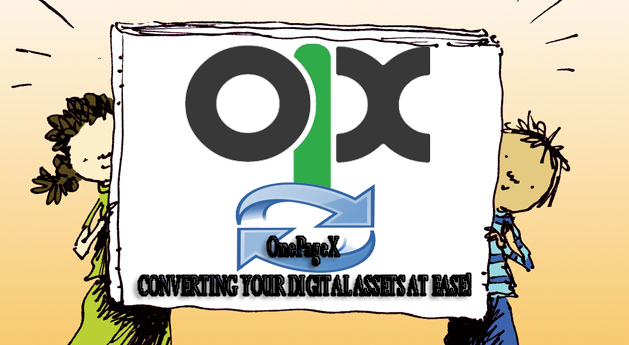 The discovering of the Bitcoin has birthed a whole lot of other cryptocurrencies. It is in fact, a global development that has ever happened in the history of the economy of the world. We are not just talking about a single country economy but a global impacted economy.
The Blockchain ecosystem has ushered what any single economy could not offer before now. Traditional assets can now be digitalized either as utility assets or security assets. In anyway, hundreds of such digital assets can operate with their own tokens launched on the blockchain. In other words, the blockchain can accommodate millions of tokens that wish to be launched on the system; unlike traditional currency that are controlled and produced by just a single government or economy. These launched tokens in their respective domain has factors that determined their exchange rate with other tokens in the blockchain just like in centralized economy that are determined by the economic policies and activities that gives value to their local currencies. In other words, these tokens have their value and security properties that are determined by the activities done to make sure they grow above other tokens in terms of value. However, in a true economy scenario, trades can be done with different currencies especially currencies with high value or demand.
Taking the traditional way of exchanges, the U.S dollar is most preferred to be used in most online businesses, exchanges and vendors across the world because of the value of the Dollar attached by US economy makes it a preferred trading currency.
Likewise the crypto economy, some currencies in the future would be preferred over others due to the value they hold. Since there is room for as many cryptocurrencies as possible to be launched on the blockchain, there is need to have exchanges that can convert from one cryptocurrency to another with ease, speed and reliability.
PROBLEM STATEMENT: THE CURRENT TREND OF CRYPTOCURRENCIES EXCHANGES
It is true that there are tens and hundreds of traditional exchanges across the globe. In the crypto market, cryptocurrencies exchanges are also available. However, the following limitations are what have called for a better solution for exchanges.
MONO-CURRENCY BASED EXCHANGES

Of the numerous cryptocurrencies exchanges, they are mostly single token exchanges. In other words, a mono-currency based exchange specializes only on exchanging and trading of a single currency to another. This limitation has rendered a lot of digital assets owners who invested in numerous tokens to find it difficult to trade with such exchanges since not all their tokens are exchanged or traded on the platform. These tokens owners will either sort for other exchanges that trade on their currencies or simply backed out of the business killing their dream on the crypto economy.

TIME WASTAGE

On the other hand, a digital currency owner who had invested in more than one digital currency will have to sort for different exchanges that trade on his different currency before he can exchange his currencies. The time it took to do this could not be estimated as it might be impossible to find all exchanges that deals on his respective tokens.

HIGH CHARGES

After finding the different exchanges that he can trade his assets or currencies, he will have to pay commissions in the different exchanges for the transactions he made with the different exchanges he had registered.

COMPULSORY USER REGISTRATION AND TIME OF APPROVAL OF USER'S ACCOUNT

Coupled with the single currency limitation exchanges has, users are also compulsorily urged to register in the exchanges before they can carry out any form of trade or transactions on the platform/exchange. This includes the KYC form, wallet private keys and other personal information that should be kept private. This information taken from users can be use to either hack the account or users' funds are mismanaged by the exchange itself. It should also be noted that after users went through a tedious registration exercise, in many cases, it takes hours or even days for users account to be approved before they can carry out their trade. At other times, their accounts are never approved.
These and more are the bottleneck of the type of cryptocurrencies' exchanges that in existence today. However, there has been introduced into the market an exceptional exchange medium that is interested in tackling the aforementioned limitations of global cryptocurrencies exchanges; the
OnePageX
.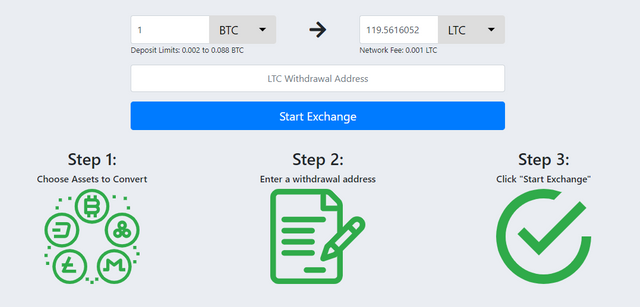 You definitely will wonder what difference the OnePageX will make. You probably are a crypto lover that invested in different techs on the blockchain that birthed their own tokens. You needed a fast, efficient and secured calculator to convert your numerous tokens from one to another.
Worry no more!
OnePageX
is just the right exchange for you.
As the name implies, OnePageX is a single web page cryptocurrency exchange platform that has taken into consideration the plague of the cryptocurrencies' exchange and ready to solve them through a user friendly platform. The "X" denotes "Exchange".
As new as it is,
OnePageX
has already given the confident to cryptocurrencies owners that old ways of doing exchanges is over. The following are the core features of the
OnePageX
platform.

Apart from the Benefits the features of the OnePageX has pointed already, the following benefits are also attached in using OnePageX medium.

PRIVACY

Since users do not need to register or fill any KYC form before they can start trading on the platform, their personal information are therefore secured with them. They do not have to worry about the exchange mismanaging their information that might be exposed to hackers and fraudsters on the Internet who might take advantage of such information putting their assets and lives at risk. On the other hand, transactions on OnePageX are anonymously operated hence cannot be traced to it real life initiators.

ASSET SECURITY

Users can be sure that their assets security is a product of their own since there are no collections of their personal information store in any exchange database; unless they be the ones who jeopardized their security somehow.

CONSERVATION OF TIME AND COST

The entire process of users registering in different exchanges just because they want to trade their different currencies is time consuming and cost effective. The OnePageX eradicate this issue by providing a one-web page platform and a multi-currency exchange that there are no needs to start surfing for exchanges that convert their numerous tokens; saving time and cost which includes charges on every single exchange they operate. Apart from charges on transactions, data used in accessing the numerous exchanges is drastically reduced by the OnePageX exchange web page.

INTEGRATION WITH OTHER EXCHANGES

To have a comprehensive price on exchange rates, OnePageX will continuously gathered information from other exchanges about the prices of different tokens available. This is so show that exchange rate on OnePageX would be perfect since it will be an average collection of prices from different exchanges.

OnePageX TRANSACTIONS


Using the OnePageX converter, transactions are treated in form of cards that can be use at will of the users. Below are the steps of trading on the OnePageX.

TRANSACTIONS STATUS AND NOTIFICATIONS


Transactions statuses provide users with the state of transactions they've entered. Below is a simple illustration of the different transactions statuses that might be possible.


A NEWLY INITIATED TRANSACTIONS

TRANSACTION WAITING TO BE CONFIRMED

When a transaction is initiated by the user after inputing the asset to exchanged to and wallet to withdrawn to, the OnePageX have to confirm if the transaction is true. This might take few seconds or minutes depending on the deposit limit and charges selected by users.

SUCCESSFUL ASSET EXCHANGED WAITING WITHDRAWAL

TRANSACTION SUCCESSFUL AND WITHDRAWN




USE CASE


@focygray is a crypto related article writer. For the past few months he has come across a lot of technology on the blockchain that he feels are worth investing on. He already had an ethereum wallet but his problem is finding exchanges that can convert his ethereum to the various techs' tokens he wants to invest on. He is scared of registering into various exchanges because he needs to register with his ethereum wallet private key. He had heard of the numerous thefts that had happen on the blockchain and how funds are being mismanaged by most exchanges. Though he wants to invest, he is skeptical and reluctant in doing so for these reasons.
He received a notification from @contestbot on Steemit urging him to enter a contest on the OnePageX. He found out that this exchange is just what he needed to start investing on other genuine tokens on the blockchain. He can now exchange his ethereum for the numerous tokens he wants to invest on. Thanks to OnePageX for bringing such a brilliant idea on the exchange sector.

CONCLUSION


The important of having a one page exchange platform that is integrated with multiple currencies cannot be over emphasized. Users will be able to trade with ease on their favorite tokens. On the other hand, charges on the different exchanges they wish to register in are drastically hunted because all their trades can now be done in one platform with just 0.5% charge on all transactions made.

In the issue of security and privacy; since users are not prompted to registered or perform a "Know Your Customer" screening exercise, security of digital assets and personal information are not a factor of the exchange itself. In order words, OnePageX cannot tamper with users' wallet or assets or personal information; making security of their users protected because there was no information to be protected at the first place.
For more on the OnePageX, visit the following medium:

You can also see my medium article of OnePageX on:
My OnePageX Medium article.

This is @originalworks writing contest sponsored by OnePageX. You can also follow this contest and participate on: OnePageX Originalworks contest.

THANK YOU

This article is also share on twitter on: https://twitter.com/TOmuabor/status/1054699862942461954

onepagextwitter
onepagex2018