My Steem and Hive Engine Weekly Report May 10th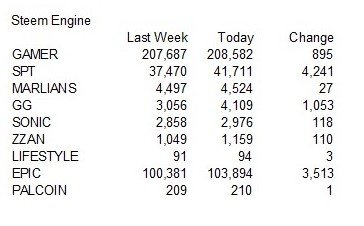 Wow, Steem-Engine and Hive-Engine coins are boring as hell. I think watching paint dry would be more exciting but this post must be done so let see if we can make the boring somewhat interesting.
If you're looking for in-depth analysis of the coins I have your in the wrong place. Like I said these coins are boring, cheap and will most likely never make anyone of us that buy them rich. They are just fun to play with as most of us can't afford to buy 20 bitcoins. So let's just have a little fun with them and see what happens.
Now let talk about some of the boring bits. I was able to increase my holding of SPT(Splinterlands) due to some good luck while playing the game. I tend to reinvest some of what I make from doing the daily quests cause its house money. I'm hoping to have 55,000 SPT by the end of the month.
My other two gaming coins GAMER and EPIC also saw nice little increase from betting this last week. Warning!! these to gambling sites are very risky and I do not recommend gambling as a way to make money.
My goal for the week is to increase my MARLIANS holding to 5000 coins and my SONIC to 3500 coins. I'm pretty confident that with a little luck I can do it.
Well until next week .....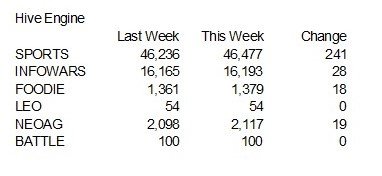 Not much change on my Hive-Engine holdings as I'm still not very active posting there yet. The bulk of the gain were all from curation rewards.
Disclaimer:
I am not a financial advisor and all of this post information is for entertainment purposes only.