Meet "DIGITEX"; The First Zero-Fees Crypto Exchange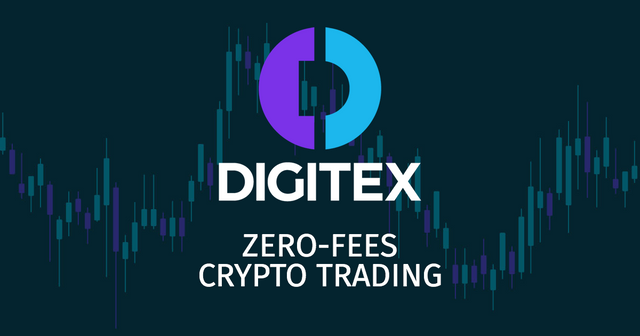 Source
INTRODUCTION:
With the invent of blockchain and trading of assets based on the blockchain, exchanges have become major stakeholders of the crypto sector. Running exchanges is business paying owners commission-fees for every trade made by traders on a given exchange.
The negative effect of commission fees is that it does not favour low volume trades and high volume, short term traders whose trading strategies are not viable on other exchanges due to commissions. Finally, this problem is being addressed by Digitex Futures Exchange.
Below we will look at the features of this new exchange. In explaining the features, we will understand why they are a positive impact to the crypto sector.
---
FEATURES OF DIGITEX: Reasons For Digitex Uniqueness
---
1. Zero Trading Fees:
"There are no transaction fees of any kind on the Digitex Futures Exchange. Traders can submit Maker orders or Taker orders at any time under any circumstances and pay 0% commissions on all trades forever. Digitex's revolutionary token issuance model makes commission-free trading fully sustainable indefinitely, and it actually thrives as the exchange gets busier, ensuring the long term success of the Digitex Futures Exchange."
2. Decentralized Account Balances:
" do not need to trust Digitex with holding their account balance in order to trade on the exchange. Your account balance is held by a decentralized, independent smart contract on the Ethereum blockchain, not by the exchange. Digitex cannot freeze/mismanage/lose your funds because we physically don't have access to your money. And in the unlikely event that Digitex is hacked there are no funds for the hackers to steal."
3.Decentralized Governance:
"Traders on Digitex use Decentralized Governance by Blockchain to determine how many new DGTX tokens to issue and when."
Other Features include the following;
4. Digitex Native Cryptocurrency:
"The Digitex Futures Exchange has its own native cryptocurrency, called the DGTX token. The tick value of each Digitex futures market is 1 DGTX token, meaning that all trading profits and losses are denominated in DGTX tokens. Margin requirements are payable in DGTX tokens and traders account balances, deposits and withdrawals are denominated in DGTX tokens. Therefore, traders must own DGTX tokens to trade on Digitex's commission-free, trustless futures markets, which creates demand for the DGTX token."
5. Highly Liquid Futures Market:
"When you remove the constraints of transaction fees you get highly liquid markets because traders engage in high volume, single tick trading strategies that are not viable on other exchanges due to commissions. Liquidity is further enhanced by the presence of automated market makers, funded with 20% of the total supply of DGTX tokens, that are programmed to break even whilst keeping spreads tight at all times, even in volatile market conditions."
6. "One Click Trading Interface:
Digitex futures markets are displayed on an intuitive ladder interface that allows traders to submit buy and sell orders instantly with a single click. With minimal mouse movement and without needing the keyboard, traders never need to take their eyes from the price action. Bids and offers move up and down a central price ladder that allows traders to visualize the market as the price literally moves up and down."
7. Token Issuance Revenue Model:
"The Digitex Futures Exchange is revolutionizing futures trading by eliminating transaction fees on trades and instead generating revenue through token issuance of its native currency, the DGTX token. Because the DGTX tokens is in demand from traders, the exchange is able to create and sell a small number of new DGTX tokens each year to cover costs. The inflationary cost of a small increase in the DGTX supply is offset by demand from traders who must own it to participate in Digitex's commission-free, trustless futures markets."
Others include:
Automated Market Makers
Off-Chain Negotiation & On-Chain Settlement
High Leverage Futures Trading
Bitcoin, Ethereum & Litecoin Futures
Blockchain Driven
Advanced Technology
No Auto Deleveraging
Complete Privacy
---
THE DIGITEX PROJECT TEAM
---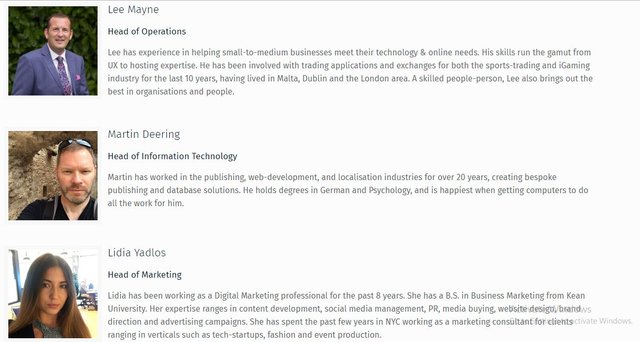 Source
---
Advisors
---

Source
Digitex Project Timeline
---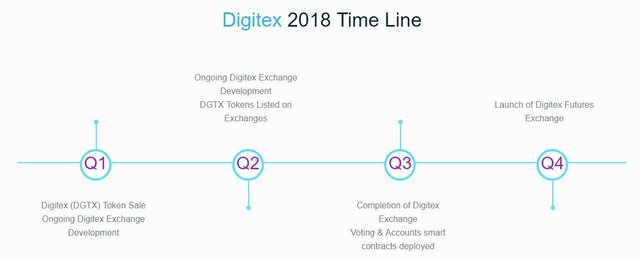 Source
---
Token Supply & Distribution Mathematics
---

Source
---
---
Track & Watch DGTX on
---




SUMMARY
The Digitex Futures Exchange is a revolutionary new futures exchange model that mints its own native cryptocurrency to replace the need for transaction fees on trades. All the traders need do is to own DGTX Tokens to be able to participate in Trading on the exchange.
As cryptocurrency prices rise, percentage based transaction fees on other exchanges will also rise, further increasing the appeal of a commission-free futures exchange. But in the case of Digtex, increase in the value of DGTX Tokens will lead to minting of lower volumes of DGTX Tokens; thereby saving the Digitex economy from inflation.
Traders on Digitex can participate in liquid, commission-free markets without needing to trust the exchange with custody of their funds, further differentiating the exchange from the traditional exchanges that require traders to relinquish full control of their account balances to a central third party that can potentially freeze/mismanage/lose those funds.
"Through Decentralized Governance by Blockchain (DGBB), new token issuance for the purpose of revenue generation is run democratically by DGTX token owners. Highly liquid, commission-free futures markets on a stable, fast and trustless
trading platform, during a period of exponential growth in cryptocurrency trading, will attract a large number of traders, creating huge demand for DGTX tokens."
As opposed to conventional commision crypto exchanges, the need, desire and demand for a zero commission exchange arises, encouraging larger participation in crypto exchanging attracting high volume, short term traders whose trading strategies are not viable on other exchanges due to commissions. Low volumes traders will also be attracted. These teeming population will increase the demand for DGTX Tokens.
As the price of DGTX tokens increases, then fewer tokens must be created, thereby reducing the inflationary cost of creating new tokens.
My Video Presentation
More Information Resources:
Video of Digitex Futures Exchange Overview with CEO Adam Todd