MicroStrategy has invested another $ 1 billion in Bitcoin.
According to the information shared by MicroStrategy CEO Michael Saylor on Twitter, MicroStrategy bought $ 1 billion worth of Bitcoin. MicroStrategy purchased 19,452 Bitcoins at an average price of $ 52,765. The total cost is worth approximately $ 1.026 billion.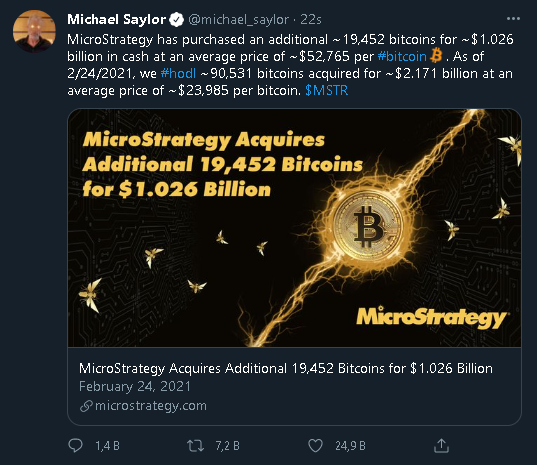 Source
MicroStrategy added approximately 19,452 Bitcoins to its wallet with this new acquisition. MicroStrategy, which previously owned 71,079 bitcoins, with this new investment, the total Bitcoin owned by the company was 90,531. This investment was MicroStrategy's biggest single investment in cryptocurrency. In addition, when we look at the high-volume purchases made in one go recently, MicroStrategy ranked 2nd after Tesla. Tesla also invested $ 1.5 billion in Bitcoin last month.
Institutional investments continue to increase day by day. I can say that these and similar high investments will increase. Towards the end of this year, we will hear that many corporate companies have invested.