Square invested $ 170 million in Bitcoin
Square bought $ 50 million worth of Btc, while Btc was around $ 10,000 last year. Square said in its latest announcement that it purchased another $ 170 million worth of Btc. Among the founders of Square is Jack Dorsey, the CEO of Twitter. Square announced the acquisition in its fourth quarter financial report.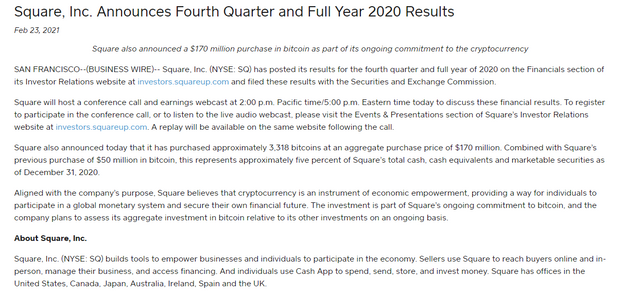 Source
Square has made an investment of 170 million dollars by purchasing 3318 units of Btc at approximately $ 51,235. When you look at the investment made last year, it has increased 3 times this year. Square allows its users to buy and sell bitcoin with its CashApp application.
In short, I think Square's bitcoin investments will continue to increase in the coming years. I believe that investments will increase not only in Btc but also in many strong cryptocurrencies. Also in 2018, Jack Dorsey said in an interview that I believe Bitcoin will be the only currency in the world. I think not only Btc, but all strong cryptocurrencies will be the world's currency.