DigitalBits: Adding Security Values And Usecase To Loyalty Points For Mass Adoption Of Cryptocurrencies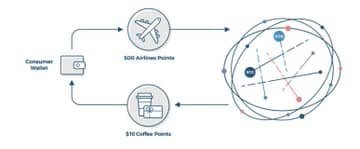 Security is a vital part of the DigitalBits platform. If customers are to feel confident about their reward points, there shouldn't be the possibility of theft or safety concerns. The DigitalBits arena comes equipped with a DigitalBits network constituting of several cores. This has a positive effect on transaction fees and protection of the virtual environment. Also, to ensure the continuous communication among DigitalBits cores, the different states of the network at different times are captured and kept as backups on archive servers. In addition, users are protected from downtime issues.
The DigitalBits platform ensures businesses have access to unique DigitalBits cores with its many opportunities. This eliminates the need for middlemen when transactions have to be completed. As the platform gains more grounds, the flourish of operation improves accordingly. With this Stellar-based platform, businesses can increase their brand awareness. The Frontier API and the SDK of DigitalBits ensure enterprises can create their own apps and still communicate through the platform.
DigitalBits takes compliance up a notch through its compliance protocol. Businesses don't have to struggle with ensuring their customers are in compliance with relevant laws of the concerned countries. Through its 'fetch_info callback' option, 'sanctions callback' and 'Ask_user callback' option, enterprises can keep track of their customers' activities and take necessary action if such contravenes the relevant laws.
Businesses collaborating with the DigitalBits platform can have their unique e-wallet by incorporating an XDB source code for such. This would help them stand out and boost the confidence of their customers.
DigitalBits is keen on propagating the interest of blockchain beyond the present. And one of the ways they are making this happen is by regular communication and engagement with stakeholders especially as it concerns putting their business out there. The future looks bright for the Stellar-based platform.
KNOW MORE ABOU TO DIGITALBITS HERE
Bitcointalk Username: MsyDudu VIEW MY PROFILE