Mobile Crypto Pay Coin
Mobile Crypto Pay Coin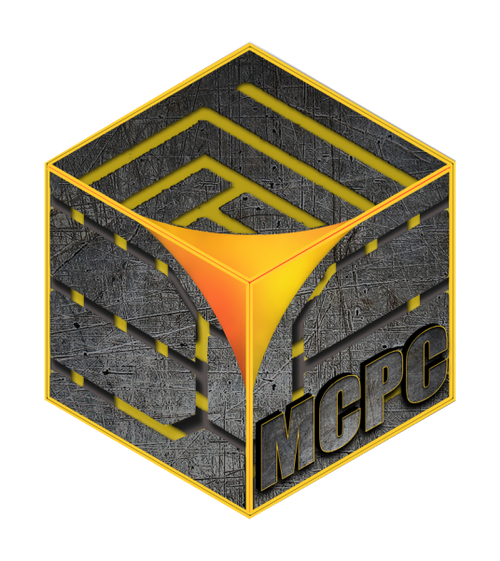 Website: MobilePayCoin.Com
BitcoinTalk Thread: https://bitcointalk.org/index.php?topic=5080600.0
Mobile Crypto Pay Coin (MCPC) is a cryptocurrency that announces itself with the slogan "A coin you will spend more than trade". It is being developed with mobile phones in mind. The purpose is to provide an easy and unified way to pay for mobile services by using decentralized technologies provided by crypto. One of the first planned features will include the ability to top up mobile phone balances with MCPC, although later additions may also include crypto to FIAT (traditional money) exchanges, as well as an online store and marketplace where users can buy and sell items.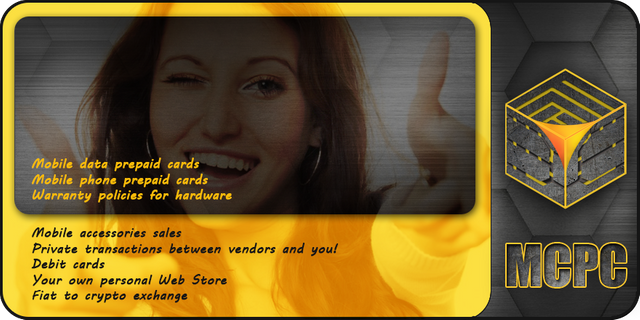 MCPC Promotional Material
Mobile Crypto Pay Coin is a proof of stake coin, meaning that people who hold enough coins in their wallet software can opt to earn rewards. It is also a coin that features master nodes, which help keep the network fast and in good performance. Master nodes owners can earn additional rewards for their services.
Coin Specifications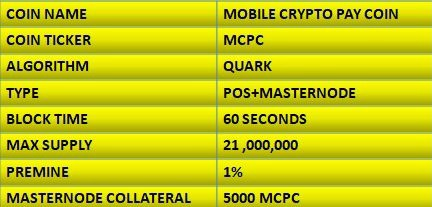 Key Features
Mobile data prepaid cards
You will be able to find mobile data plans payable directly with MCPC.
Mobile phone prepaid cards
Mobile prepaid cards will be available for MCPC. And if you run a masternode, you will keep generating new coins which means as many mobile recharges as you want.
Buy Mobile Accessories
Buy mobile covers, screen protectors, earphones, batteries, chargers and more using MCPC.
Warranty Policies for Hardware
Users can obtain hardware warranties to ensure optimal performance of their devices and plans, and all is paid with MCPC.
Transactions between Vendors and Users are Private
An intrinsic feature of cryptocurrency is privacy and anonimity during transactions, and this is 100% true for MCPC.
Debit Cards
A planned feature of MCPC is the introduction of debit cards. Load balances with MCPC and withdraw cash at an ATM or pay at stores with it.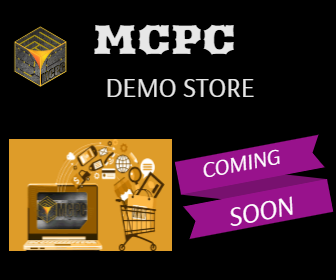 Block Rewards System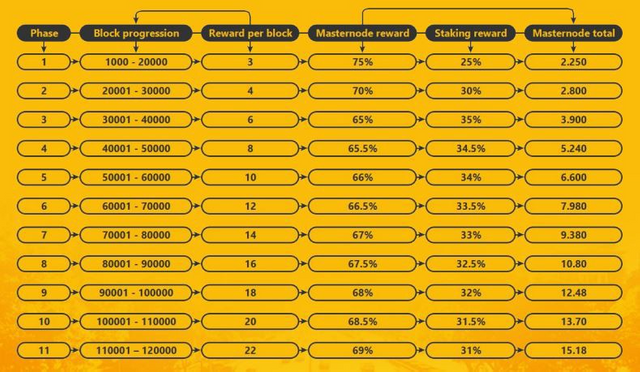 Exchanges
MCPC Marketplace is going to be launched very soon & it is good time to invest and hold some MCPC coins for future.
Currently, MCPC is tradeable on these exchanges:
CREX24 : https://crex24.com/exchange/MCPC-BTC
HOTDEX : https://wallet.hotdex.eu/market/HOTDEX.MCPC_HOTDEX.BTC
WADAX : https://wadax.io/trade/MCPCBTC
FINEXBOX : https://www.finexbox.com/market/pair/MCPC-BTC.html
Other Official Links
Discord : https://discord.gg/ErAqXxp
Website : https://mobilepaycoin.com/
BitcoinTalk Ann : https://bitcointalk.org/index.php?topic=5080600
Explorer : https://explorer.mobilepaycoin.com/
Lightpaper :https://cdn.discordapp.com/attachments/512460294287523840/523818678874013706/MCPC-LightPaper_3.pdf
Wallets :https://github.com/MobilePayCoin/MobilePayCoin/releases/tag/v1.4.0
Twitter : https://mobile.twitter.com/Mobilepaycoin1
Telegram : https://t.me/joinchat/EivOuk_k5IqmGv7RpdEzdg
Masternodes.online : https://masternodes.online/currencies/MCPC/
Mncn.online : https://mncn.online/coins/MCPC
Coingecko : https://www.coingecko.com/en/coins/mobile-crypto-pay-coin
---
Original article from our website http://crypto-hype.net/index.php?page=mobilecryptopaycoin