Trading DICE for quick profits and long term dividends
A few days ago I posted about Betdice because they were giving away free EOS but they had to slow that down due to growing popularity. Then I noticed a new menu item called payout. They were now profit sharing with holders of their token. Intrigued by this I decided to look them up on an exchange to see if I should keep the free dice tokens I had to get some dividends or if I should just sell them.
When I arrived at the exchange I was pretty surprised at the volume they were doing. The current 24 hour volume is 224 Million tokens traded. With the crazy spikes shown below I decided I wanted in. I bought about 80k tokens and began buying and selling at the extremes of the range while staking 60k of my tokens. Who knows if the rate of return on the profit sharing will continue but if it did I would expect my entire investment to be paid back withing 45 days. It seems to actually be increasing the rate of the return which surprised me a bit as more tokens are being given away to people wagering on the site as they play.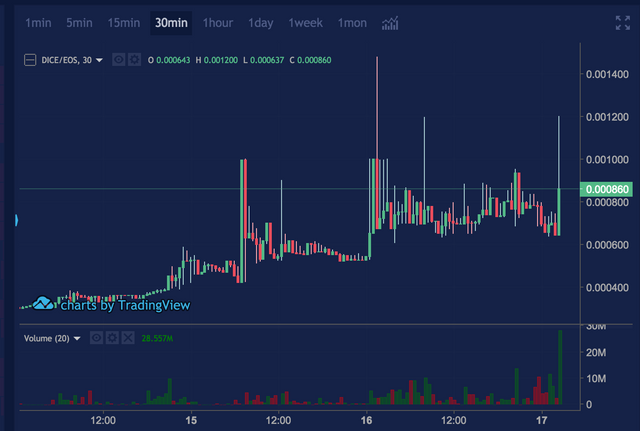 The spikes in that chart represent 50 percent increases in price in a matter of seconds.
My current goal with this is to trade in and out of it until I have 100 thousand tokens with my original investment fully recouped.
I am currently at 61k tokens staked so if I could get a few more nice spikes I could hit 100k pretty soon.
Setting the trading aside lets look at the payments I am getting from them hourly. For every 10k DICE tokens you own this particular hour it is on track to pay out about .01 EOS. If it were to maintain that kind of average and by my accounts it has actually been increasing, you could get your entire investment back in 900 hours or 37.5 days and that is without doing any of the trading in and out I mentioned above.
Disclaimers:
I will get money if you use the link above and place wagers. I am not being paid anything for this post or in any other manner. DICE could go to 100 or to 0 for all I know so don't consider this individual investment advice. I think it is obvious from the post but just in case I do hold positions in EOS and DICE.