stem73 Blockchain NEWS: TRX integration with steemit wallet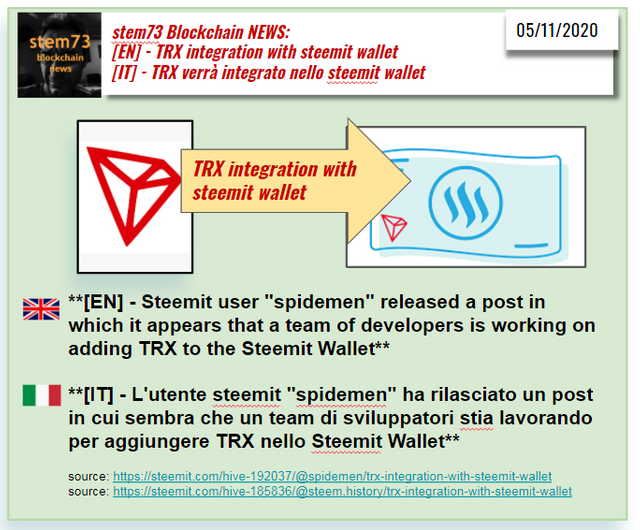 [EN] - Steemit user "spidemen" released a post in which it appears that a team of developers is working on adding TRX to the Steemit Wallet
[IT] - L'utente steemit "spidemen" ha rilasciato un post in cui sembra che un team di sviluppatori stia lavorando per aggiungere TRX nello Steemit Wallet
source: https://steemit.com/hive-192037/@spidemen/trx-integration-with-steemit-wallet
source: https://steemit.com/hive-185836/@steem.history/trx-integration-with-steemit-wallet
[EN] - My opinion
I think the idea of adding TRX into the Steemit Wallet is a good idea. It would add quality to the TRON project, which would thus have a social network linked to its own currency.
[IT] - Considerazioni personali
Io penso che l'idea di integrare TRX nello Steemit Wallet sia una buona idea. Aggiungerebbe qualità al progetto di TRON, che così avrebbe un social network legato alla propria moneta.