stem73 NEWS: APX order set in STEEM ENGINE [EN] - [IT]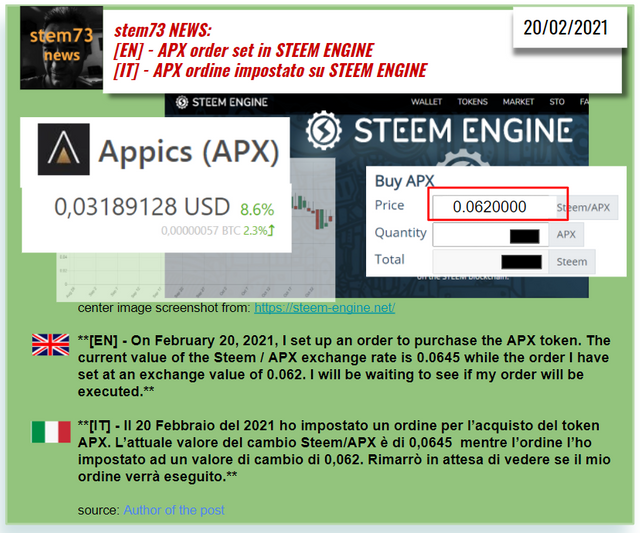 center image screenshot from: https://steem-engine.net/
[EN] - On February 20, 2021, I set up an order to purchase the APX token. The current value of the Steem / APX exchange rate is 0.0645 while the order I have set at an exchange value of 0.062. I will be waiting to see if my order will be executed.
[IT] - Il 20 Febbraio del 2021 ho impostato un ordine per l'acquisto del token APX. L'attuale valore del cambio Steem/APX è di 0,0645 mentre l'ordine l'ho impostato ad un valore di cambio di 0,062. Rimarrò in attesa di vedere se il mio ordine verrà eseguito.
source: Author of the post
[EN] - My opinion
The APPICS token value in mid-November was $ 0.012, while today the token has a value of $ 0.031. The APX token is a token of the STEEM blockchain, therefore it can be purchased from the STEEM exchange called STEEM ENGINE. Today the APX token is worth 0.06 STEEM and this ratio has dropped a lot from 3 weeks ago which had a ratio of 0.1. I set the order with the STEEM / APX change at 0.062. If the order is activated, I will purchase 49 APX tokens by spending 3 STEEM.
I'll see if in the next few days the STEEM / APX exchange will drop again and if my APX token purchase will automatically trigger.
Disclaimer: I am not a financial advisor, so this post is not an investment incentive, but remains an information and topical post. If you want to invest, you must do it responsibly after doing your research.
The price of the APX token was taken from the following site: https://www.coingecko.com/it/monete/appics
[IT] - Considerazioni personali
Il valore del token APPICS a metà Novembre era di 0,012$, mentre oggi il token ha un valore di 0,031$. Il token APX è un token della blockchain di STEEM, quindi acquistabile dall'exchange di STEEM che si chiama STEEM ENGINE. Oggi il token APX vale 0,06 STEEM e questo rapporto è calato molto rispetto ai valori di 3 settimane fa che aveva un rapporto di 0,1. Ho impostato l'ordine con il cambio STEEM/APX a 0,062. Se si attiverà l'ordine, acquisterò 49 token APX spendendo 3 STEEM.
Starò a vedere se nei prossimi giorni il cambio STEEM/APX scenderà ancora e se scatterà in automatico il mio acquisto di token APX.
Disclaimer: io non sono un consulente finanziario, quindi questo post non è un incentivo all'investimento, ma rimane un post di informazione e attualità. Se volete investire dovete farlo responsabilmente dopo aver fatto le vostre ricerche.
Il prezzo del token APX è stato preso dal seguente sito: https://www.coingecko.com/it/monete/appics