stem73 Blockchain NEWS: STEEMIT pays you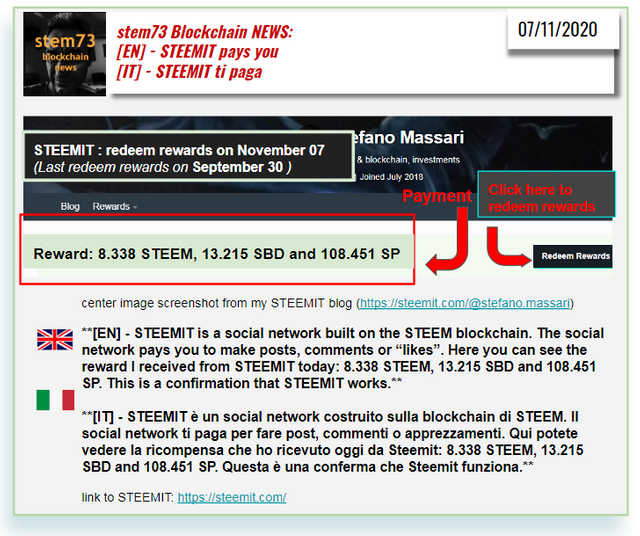 center image screenshot from my STEEMIT blog (https://steemit.com/@stefano.massari)
[EN] - STEEMIT is a social network built on the STEEM blockchain. The social network pays you to make posts, comments or "likes". Here you can see the reward I received from STEEMIT today: 8.338 STEEM, 13.215 SBD and 108.451 SP. This is a confirmation that STEEMIT works.
[IT] - STEEMIT è un social network costruito sulla blockchain di STEEM. Il social network ti paga per fare post, commenti o apprezzamenti. Qui potete vedere la ricompensa che ho ricevuto oggi da Steemit: 8.338 STEEM, 13.215 SBD and 108.451 SP. Questa è una conferma che Steemit funziona.
link to STEEMIT: https://steemit.com/
[EN] - My opinion
The platform has been recovering lately. This is largely due to the work of the curators. I believe that STEEMIT will live a second life from now on.
[IT] - Considerazioni personali
Ultimamente la piattaforma è in ripresa. Questo è dovuto in gran parte al lavoro dei curatori. Credo che d'ora in avanti STEEMIT vivrà una seconda vita.