stem73 NEWS: APX order set in STEEM ENGINE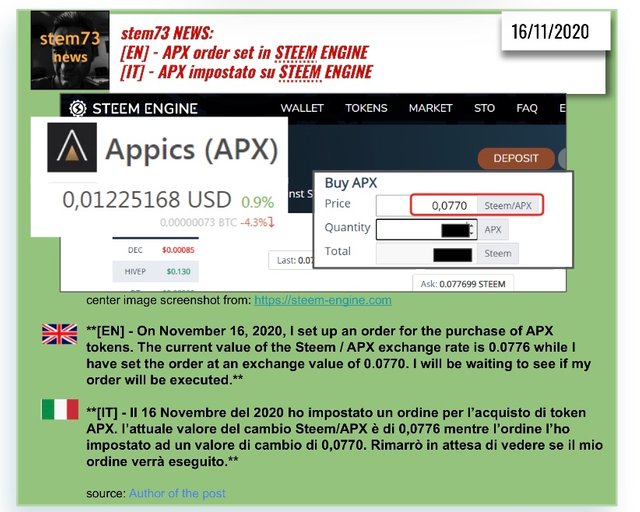 center image screenshot from: https://steem-engine.com
[EN] - On November 16, 2020, I set up an order for the purchase of APX tokens. The current value of the Steem / APX exchange rate is 0.0776 while I have set the order at an exchange value of 0.0770. I will be waiting to see if my order will be executed.
[IT] - Il 16 Novembre del 2020 ho impostato un ordine per l'acquisto di token APX. l'attuale valore del cambio Steem/APX è di 0,0776 mentre l'ordine l'ho impostato ad un valore di cambio di 0,0770. Rimarrò in attesa di vedere se il mio ordine verrà eseguito.
source: Author of the post
[EN] - My opinion
The value of the APPICS token today was at quite low levels, in fact its value has dropped to $ 0.012. I have been following this project for months and had not yet seen such a low value. Since I believe in this project, I see this situation as a buying opportunity. Today I placed an order on HIVE ENGINE for the purchase of APX tokens because I found a good exchange between STEEM and APX. I set the purchase order slightly below the market value. I'll see in the next few days if the STEEM / APX exchange drops again and if it happens my APX token purchase will be triggered automatically. This is not a purchase advice, it is just an informative post on the values of the STEEM / APX exchange and the APX token.
[IT] - Considerazioni personali
Il valore del token APPICS oggi era a dei livelli piuttosto bassi, infatti il suo valore è sceso fino a 0,012$. Seguo questo progetto da mesi e non avevo ancora visto un valore così basso. Siccome credo in questo progetto, vedo questa situazione come un'opportunità d'acquisto. Oggi ho impostato un ordine su HIVE ENGINE per l'acquisto di token APX perchè ho trovato un buon cambio tra STEEM e APX. Ho impostato l'ordine d'acquisto leggermente sotto al valore di mercato. Starò a vedere i prossimi giorni se il cambio STEEM/APX scende ancora e se accadrà scatterà in automatico il mio acquisto di token APX. Questo non è un consiglio per l'acquisto è solo un post informativo sui valori del cambio e del token APX.