Meet BandZ! A decentralised Highly standardized, vendor neutral mesh network topologies

The next big thing in thre world of internet is here as BandZ is here to revolutionise the internet of a thing. BandZ intend to make the internet available, accessible and at very cheaper rate too.
ABOUT BANDZ
BandZ is a business with its headquarter and intellectual property rights held in toronto canada. They wants to create a robust, super-cheap, extranet experience that changes the enterprise-grade network infrastructure from a premium purchase to free downloadable app according to the white paper
THE PROBLEM
Developed, developing and underdeveloped countries of the world all need to connect to the internet for different reasons. The accessibility of internet is becoming difficult and expensive especially for travellers who need to leave their locality to a different place or region for business or pleasure. Most times, they either need to change their service provider or roam their sim card which can be alarmingly expensive.
More so, the privacy and data of internet users is at the mercy of the companies that provide these services for them. Users entrust their data to these service providers but can not be sure if they are really protected from the sites they visit or not.
THE BANDZ SOLUTION
BANDZ has come with a solution for all these problem.
With the power of blockchain, BandZ will decentralised internet thus making everything transparent, secured and accessible from all over the world. As a BandZ user/customer, you get bandz token when you share your bandwidth with people and this token you can use to buy bandwidth from bandZ when you leave your geographic location too. By being able to share your bandwidth with people, you can eradicate the problem faced in areas with lack of infrastructure.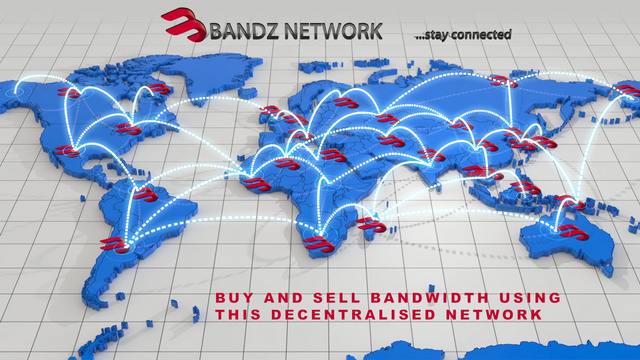 Source
Mesh topology is a net without a central router. All the smart devices connected in this net are active and is able to rout making it fault tolerant and failure resistance
Bandz intends to establish a high standard, vendor neutral mesh network topology which will empower smart devices to connect or peer with each other and share data. This is going to give more value to the internet of a thing.
A USE CASE
Blessing lives in a location where there is no internet infrastructure and every one who want surf the internet would have to travel a long distance to a cyber cafe in the town to get services from the hotspot created by the vsat powered cafe. This makes it very distressing and expensive. By spending so much on transportation and bandwidth purchase. On hearing about BandZ, she saw an opportunity to make a living. She bought bandwidth from bandz and started sharing it with the people who were eagerly ready to pay a little token to get the internet service at their comfort. Now blessing will sell the bandz token acquired by the sharing of the bandwidth and make more money and still keep her customers happy and wanting more.
ABOUT BANDZ TOKEN
Bnz is the currency used on the benz blockchain. It is used to buy or sell internet or vpn and other services offered by benz
The private token sale is starting 22nd june and their air drop is starting soon.
More Information & Resources:
470 STEEM + 60 Bonuses ~ Sponsored Writing Contest: BandZ
bandz2018