The New Star In The Crypto Universe: NEO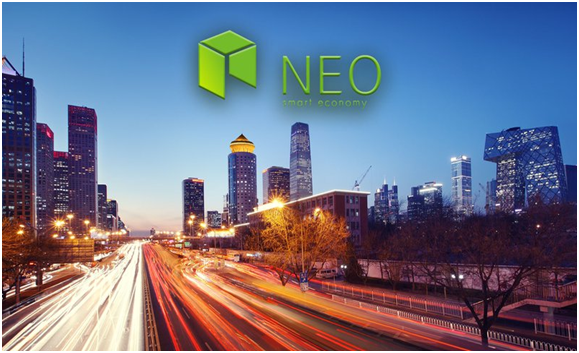 Source
The most obvious question is, "how can you trust this new member in the crypto universe?"
Neo! The new darling wooing the masses with a boat load of promises. Recently I was asking a friend here on Steemit about new currencies I could invest in, and the first name he mentioned was Neo. NEO is popular.
Fondly called the "Ethereum of China" or "China's Public Blockchain," Neo is currently in the news for reaching the top 10 crypto currencies, as you can see in the image below. Their token value surged ahead in a short time.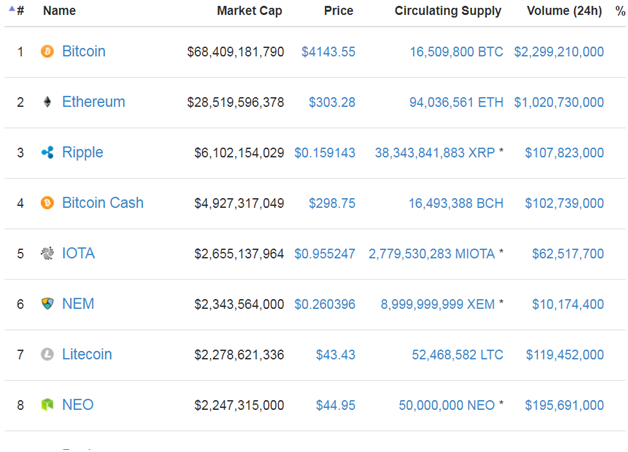 Source
You know it has to be something special, when Huffington post asks, "Can NEO Become the Biggest Crypto in the World?"
If you've heard about AntShares, then you've known NEO in its previous avatar! The Chinese company behind this new attraction on the block is popular for having built a smart contract technology comparable to Ethereum.
Is Neo On The Verge of Something Big?
What is happening with NEO? What is the reason behind the sudden transformation of the buggy currency to a superhero name and status - reaching the top 10 (at #8 as of this writing) in the crypto currency list?
The name change operation was performed amidst 200 keen observers at the Microsoft headquarters in Beijing, on June 22, 2017, Thursday. On that day, this open-source blockchain platform, a first from China, was rebranded with a new name that literally means "new" in Greek.
According to the developers, the advanced smart contract code will support digital identities, decentralized commerce, as well as the digitization of several different assets.
If you're thinking that NEO is yet another crypto currency, you're in for a surprise.
The Centralized Decentralized Blockchain
Whether you appreciate the company's unique approach or not, their approach to blockchain is very different from all others. The coin on the exchanges is called the NEO, but it's not like the other crypto coins. You may wonder why this is even trading on the exchanges, if it's not crypto.
Let's talk about Ethereum for a minute. Ethereum is a crypto coin that powers the Ethereum network. NEO is a coin that does not power their blockchain. See the difference? The creators of NEO want this to be a bridge to the old financial system.
Buying NEO is like buying shares in a company that runs the platform. In fact, the company even uses the traditional word, "shares." They sold most of the NEO coins at an ICO a while ago. The company is in possession of the remaining coins. I may not have the exact number of shares held by the company, but it amounts to 50% or more.
NEO's Smart Economy
The company is making every effort in the right direction, to be able to position itself as a leader in China's smart economy.
NEO uses fiat as its Internal Currency. Yes fiat, which is the dollar or whatever physical currency that's in use in your country.
NEO is all about making their tech ready for Smart Economy:
• Tokenizing Assets
• Creating Smart Contracts
• Certificates
• Building Digital Identities
• Legal Compliance
One of the most notable aspects of NEO is its support of a large number of programming languages, such as C#, Java, Go and Python. You will appreciate this aspect more when you learn that Ethereum can only use Solidity. This makes it easier for programmers to start working with NEO's technology and writing smart contracts, without having to learn a new language. This should certainly attract a larger number of developers to NEO.
What Are Smart Contracts?
"Code as Law!"
This is a legal document turned into a code. Smart contracts make sure the system is not gamed. NEO is working on replacing all types of complex business contracts with smart contracts. Just imagine self-escrowed coins in the blockchain being released to your beneficiaries at pre-set intervals.
Smart contracts have the huge potential of making it easier to conduct business on the blockchain.
NEO says – Don't use crypto. Just use fiat.
Neo GAS

Source
Antshares (ANS) are now NEO, which are the 'shares' in the company's blockchain system. Antcoins (ANC) are now NEO gas.With the rebranding, your ANS will convert to NEO. Once you are in possession of NEO, NEO gas will be generated automatically, which can be claimed as dividends.
Conclusion
NEO is not just a rebrand with a new name, it is a path to a new financial system. Since the rebranding, several new companies like Bancor, Agrello and CoinDash joined NEO and this list is growing.
Right now, NEO is certainly in focus, but only time will tell if the company succeeds in achieving what it set out to. If there's one thing we are sure of – it is that we will be seeing a lot more action from this platform in the coming months.
All opinions and comments on NEO are welcome
---
Author: @knowledge1