IMUSIFY: THE OVERVIEW
INTRODUCTION
The imusify platform is a blockchain platform designed to assist artists and provide them with autonomy, higher income, and transparent transactions between service and product suppliers. Imusify's open-source, self-publishing platform also creates an efficient system for content creators to network and collaborate, while maintaining complete control over their work. It integrates the best practices of streaming, media sharing, crowdfunding, and social networks to create an ecosystem in which the artists, fans, and music professionals can interact with one another on a decentralized marketplace.
"imusify's mission is to provide an open-source innovation space for developing new means of music distribution, consumption, and engagement. imusify is building a music smart economy to allow for the direct exchange of value between artists, fans, and other stakeholders, giving our community the power to control the future of the music industry."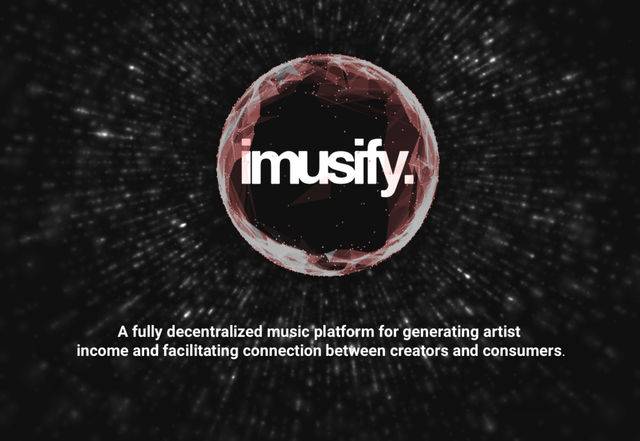 APPLICATION TO MUSIC INDUSTRY
The imusify platform is a blockchain that is set to change the face and add more value to the music industry. Imusify seeks to proffer utmost solution that will benefit artist, distributors and consumers. The followings are the inefficiencies the platform seek to tackle;
(i) Digital Rights Management
This is to provide the opportunity of creating a comprehensive digital rights management system that would eliminates the need for latent payment reconciliation and allows for consumption information can be shared automatically and also offering universal transparency to the artist, distributors and consumers.
ii) Payment Transparency
imusify blockchain posed solutions for making automatic and transparent royalty payments, not only to single individuals but distributed to a song's respective rights holders, this process can provide more information to artists about how their work is being consumed and exactly what and how they are being compensated.. it provides a comprehensive database of consumption content and verified users.
(iii) Licensing and Monetization
As a result of the decentralized database of content and ownership rights, artists have the opportunity to license and monetize content in exciting ways.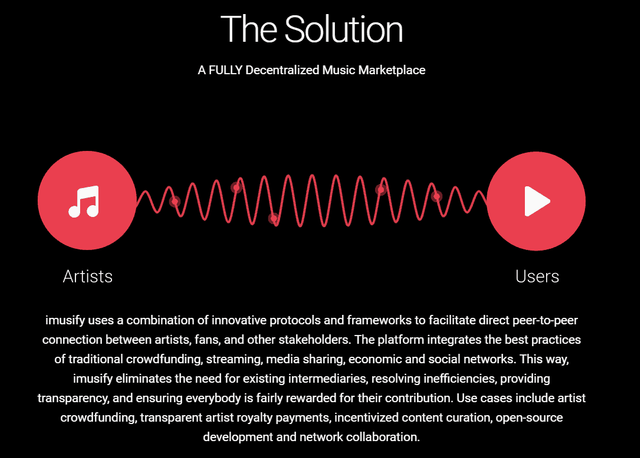 IMUSIFY PLATFORM COMPONENTS & FEATURES
COMPONENTS
The key distinguishing features of the imusify platform as compared to the existing indirect competitors rely on the blockchain technology, particularly the NEO ecosystem and platform, to power its operations. They are briefly explained below as follows:
(i) Blockchain Technology:
blockchain technology reach much further than just the creation of a digital economy. imusify blockchain enables automated tracking of the content flow and execution of transactions of the closed-loop currency IMU(ϑ) via smart contracts.
(ii) Smart Contracts
Smart contracts are protocols that facilitate credible transactions between users without the need for a third party or intermediary. imusify leverages NEO smart contracts to create a secure, democratic, censorship-free platform.
(iii) Neo Smart Economy
NEO community is able to organize networks like imusify to manage smart assets in an efficient, safe, and legally binding manner.
(iv) NeoVM - Universal Virtual Machine
NEO uses a lightweight virtual machine with short booting times and low consumption of resources, which will be utilized by imusify to run the underlying smart contracts on the main chain.
(v) NEP-5 Token
The NEP-5 Proposal outlines a token standard for the NEO blockchain that provides systems with a generalized interaction mechanism for tokenized Smart Contracts.
(vi) Digital Identity
Within a smart economy, digital identity refers to the identity information of individuals and groups/organizations in electronic form. These identities offer a secure end-point for individuals to conduct transactions with others. The NEO "web-of-trust" compliance protocol also presents a key competitive advantage for imusify to differentiate itself over other music blockchain platforms.
.
(vii) Digital Assets
Digital assets are programmable physical assets that, when registered through a validated digital identity, are protected by law. By establishing a trustful association between digital assets and identities, users can register, trade, and circulate assets to conduct business. NEO community is able to organize networks like imusify to manage smart assets in an efficient, safe, and legally binding manner.
(viii) Tech Stack
IMU(ϑ) Token: NEO NEP5
Smart Contracts: NEO e.g.;
https://github.com/imusify/smart-contract-incentify
Applications: Javascript on Android, iOS and Electron (desktops)
Central Infrastructure: None.
PLATFORM FEATURES
(i) Crowdfunding Engine
Imusify platform allows artists to launch crowdfunding campaigns to fund music products like albums, videos and musical tours. Artists have the power to offer, if they choose, a reward for their supporters in the form of early access to content, tickets, merchandise, and VIP fan experiences.
(ii) Transparent and fair payments
imusify platform automatically compensates artists on a per-stream basis by distributing funds directly to the imusify wallets of the individual or group of the given song's rights holders.
(iii) The marketplace of Music Industry Participants
As a music platform. imusify is a place for all aspiring entrepreneurs, artists, and industry members to network and create communities. This marketplace allows participants to execute transactions pertaining to various business development or creative services and products including videography, production, advertising, content design, promotion and all other media-related or creative content.
(iv) Reward System
Aside rewarding artists for streaming royalties of their creative content (music), imusify's reward system is designed to incentivize quality contribution and curation on the platform by rewarding creators of social content (posts, playlists, comments) for certain actions.
This improved system poses several advantages, from eliminating the need to release new tokens into circulation from imusify to reduce the possibility for the system's manipulation by profiteers and scammers.
(v) Decentralized Exchange
With the aim of allow artists and various user types to interact efficiently and effectively with the platform and conveniently realize their payments and rewards, it is crucial for there to exist a simple and convenient means to exchange IMU tokens to fiat and other currencies.
(vi) Co-evolutionary copyright management
Harnessing the security and immutability of imusify's decentralized data ledger, imusify will implement a multi-layered protocol that allows content creators to manage ownership rights and licensing information.
USE CASES FOR IMU TOKEN
Specific use cases for the IMU token include the following:
Provide reward payments to artists on a per stream basis
Reward users for curating and contributing to content
Purchase and license content
Crowdfund artist content projects
Exchange of value between service providers and creators
for more information;
Website: https://imusify.com/
Whitepaper: https://imusify.com/whitepaper.pdf
Product demo: https://imusify.com/app
ANN Thread: https://bitcointalk.org/index.php?topic=4327428.0
Twitter: https://twitter.com/imusify
Authors Bitcointalk username: https://bitcointalk.org/index.php?action=profile;u=2392077
Twitter campaign: https://twitter.com/harjiy
Instagram: www.instagram.com/iamharjiy
Facebook campaign: https://www.facebook.com/olasunboajibolas
Reddit link: https://www.reddit.com/user/harjiy/
Telegram: @harjiy
Medium Url: https://medium.com/@ajibolasolasunbo