Apollon (XAP) - Enlightening the world about Masternodes
What Up Steemians
During the market downturn I decided to switch up my strategy in the cryptocurrency market. The trend I see in the crypto world is a move away from Proof of Work to Proof of Stake. This current site working on a Proof of Stake model but it is "delegated".
I read recently that Ethereum is about to move towards a hybrid system where a collateral of 1500 ETH (about $90,000 USD) will allow you to participate in the network and get a portion on the mining rewards.
I think this is a sign that the barrier of entry into crypto is going to be lowered to allow people with some technical acumen to take part in blockchain networks and reap the rewards. I recently found a coin that is trying to make the process even easier.
Apollon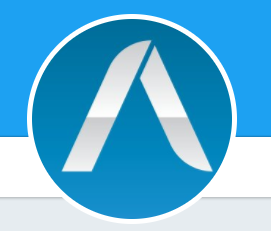 This coin bills itself as a "Tech-Coin" and has two software products that are currently in beta right now, NodeBuilder and NodeMonitor.
NodeBuilder allow you to deploy masternodes at the click of a button.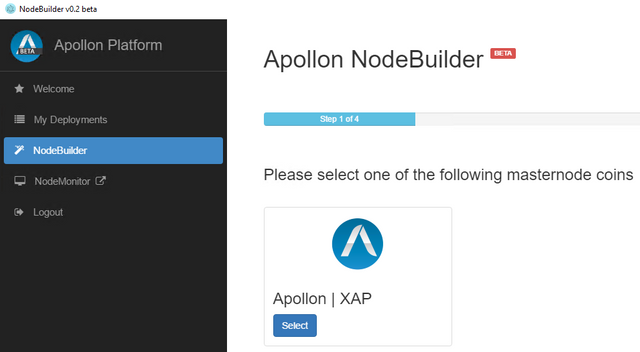 While node monitor allows you to see if your nodes are up or down and shows you statistics based on current rewards.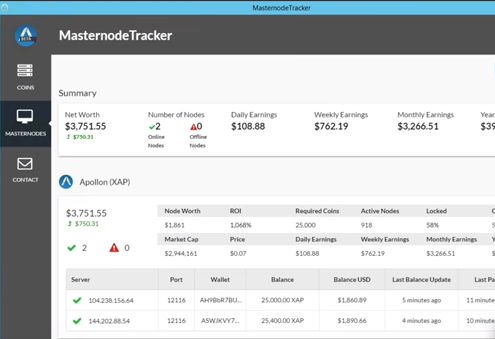 Currently the coin is listed on crypto-bridge which is a fork of openledger and you need to have BTS in order to use the exchange. The only downside is that this is a small exchange with a little over $1 million USD in daily volume. Hopefully it will get listed on more exchanges in the future.
ROI and Payout Statistics


The above stats were taken from masternodes.online. One thing to keep in mind when investing in masternodes is that the daily income fluctuates based on the number of nodes in the network. The more nodes the less payout for everyone as it increases the time between rewards.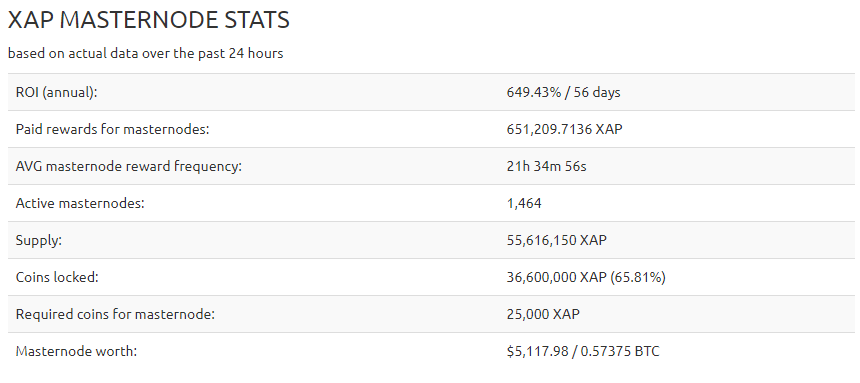 So if you were to get a masternode it would take you about 50 days to generate 25,000 coins from one node. If the price goes up the ROI can be sooner BTC wise.
Currently the coins is about .20 and given that they have an Actual Product and a Service that will be payable in XAP I think that this coin could only go up with the more exposure brought to it.
They are also thinking of have a subscription service where they evaluate coins and give them ratings on their trust worthiness.
They are holding a webinar this Thursday to introduce the team and to take questions from the community. If you want to participate they are on discord. You can also check out their website and the managing director Chad's YouTube Channel.
All in all I'm pretty happy with this coin however as with anything in crypto only invest what you can afford to lose. Stay vigilant steemians!!!