COTTON COIN: REBRANDING THE COTTON PRODUCTION INDUSTRY
Cotton is a soft, fluffy staple fiber that grows in a boll, or protective case, around the seeds of the cotton plants of the genus Gossypium in the mallow family Malvaceae. The fiber is almost pure cellulose. Under natural conditions, the cotton bolls will increase the dispersal of the seeds.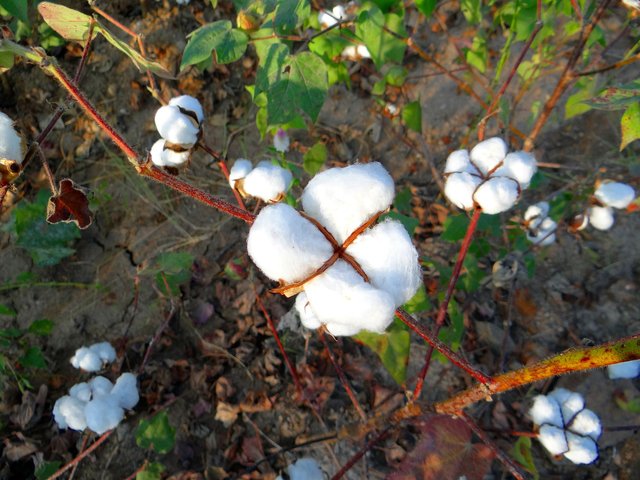 Pixabay
Cotton plant is a shrub native to tropical and subtropical regions around the world, including the Americas, Africa, Egypt and India. The greatest diversity of wild cotton species is found in Mexico, followed by Australia and Africa. Cotton was independently domesticated in the Old and New Worlds.
The largest producers of cotton, currently (2009), are China and India, with annual production of about 34 million bales and 33.4 million bales, respectively; most of this production is consumed by their respective textile industries. The largest exporters of raw cotton are the United States, with sales of $4.9 billion, and Africa, with sales of $2.1 billion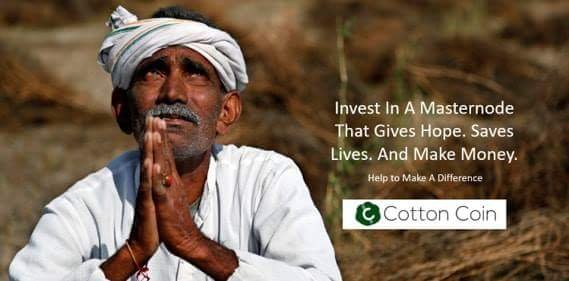 Cotton coin Facebook
Problems associated with cotton production
Just like any other agricultural related product cotton production is faced with several problems some of which are?
Cotton is prone to pests and insects attacks hence it is a very pesticide-intensive crop, and most of the cotton farmers don't have the required knowledge and skills on how to apply the pesticides.
Lack of adequate equipment and technical knowledge of how to use sophisticated equipments
Lack of capital and access to financial services (high cost of acquiring loans) to finance cotton production
Irregular and unfavorable government policies that do not support and encourage cotton farmers
Risk and uncertainty associated with cotton production is high as the farmer maybe unfortunate to production low quality cotton
How does Cotton coin intend to solve these problems?
Cotton coin is a decentralized peer to peer Blockchain whose interest is to help cotton farmers reduce their operational and production cost and in turn maximizing their output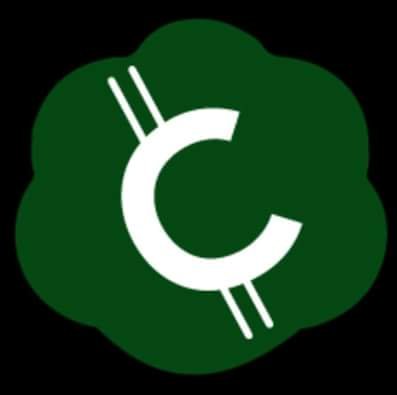 Cotton coin through its open ledger transaction aims at connecting the active participants of the supply chains from the farmer to the middle man and finally the consumers easily.
Cotton coin has a built-in peer-to-peer payment network can be used as an alternative
to fiat currency.
In addition, Cotton coin has a backend growers-to-buyers blockchain traceability solution that can manage more than 1,000,000 transactions each day.
Cotton coin will help to improve the distribution of cotton eliminate corruption, eliminate the activities of bottlenecks to the distribution of cotton along the value chain and ultimately support an honest and fair trade.
How can cotton coin help the cotton industry?
Versatile tracibility system
Cotton coin enables all drivers in the value chain to be well equipped with information which will aid in the distribution of cotton from the primary producer to the final consumer.
Some additional features cotton coin have put in place include, Reputation system, cotton safety alert and supporting conscious consumer behaviour
Industry management tool
Cotton coin owns an app that has the multi language functionality that allows users to keep track of transactions, have access to safety information, identification tools management and authorization for tools, standard interfaces and reporting tools
Retail and consumer tools
Cotton coin achieves this through the use of the Cotton Registry and management solution enables national or international authorities to get certain regular status reports from Industries
Blockchain utilization
Cotton coin could use the blockchain technology in its operation by making transactions carried out to be traceable and can be retrieved at any period of time as far as there is access to a mobile device
Utility token
Cotton coin can be used in various ways: it can be used as a toll to pay for transactions, as a value exchange to reward people for using cotton coin and equally to exchange information about cotton supply chain
Some briefly outlined advantages of cotton coin are;
Credibility
Introducing blockchain to provide an incorruptible, unalterable ledger, combined with a smart Cotton safety alert system creates trust among consumers, authorities, and supply chain companies.
Cost effectiveness
To keep costs down, Cotton coin doesn't
require to use costly equipment or enterprise
integration. The cost of tracking an item can be
as low as $1 throughout the whole chain.
Methodology
We have a top-to-bottom implementation roadmap for emerging markets, which describes how to organize, train andcommunicate such implementation.
Consumer involvement
We provide a mobile app, and a token based
motivation system to consumers to act more
consciously when shopping for Cotton.
Pragmatism
Changing processes of the supply chains need
time. Cotton coin doesn't disrupt current contracting or payment methods. It extends them with trusted technologies.
In conclusion, Cotton coin is an idea that is viable and has prospects of standing the test of time, and I believe that farmers will equally gain from its use as one of its functions is connecting farmers with suppliers and possible customers. The only challenge I see them facing is reaching out to rural farmers but with the help of extension officers and agents they will be able to bridge that gap. Cotton coin would be beneficial to cotton farmers in developing countries because they would assist the farmers by connecting them with potential buyers and assist in speeding up the transaction time.
some useful links
Cotton coin website
Cotton coin whitepaper
Cotton coin steemit
Cotton coin facebook
Cotton coin twitter
Cotton coin telegram
Cotton coin Github
Cotton coin Bitcointalk
Cotton coin Discord
All unsourced information was gotten from the cotton.co facebook page and white paper.