The World's First Cryptocurrency Merger? The Case For Potcoin Gold

The Case for Potcoin Gold
Over the past few years, the cryptocurrency ecosystem has been no stranger to witnessing the fallout of communities torn asunder. Forked blockchains and infighting between factions, each vying for legitimacy and the allegiance of their community, have become commonplace spectacles. What is being proposed here is the polar opposite of that. The proposal laid out here is something that the cryptosphere has never before seen attempted: A merger of competing currencies whose union has the potential to become exponentially greater than the sum of its parts.
Potcoin and Dopecoin are both failing, individually, to capture the unparalleled opportunity currently being unleashed in the nascent legal marijuana industry. By joining the two communities and uniting the assets of both currencies under one blockchain, they both stand to eliminate their individual weaknesses and augment their strengths. Together they could accomplish what neither have thus far been able to accomplish on their own: Mainstream Adoption.
Where They Fall Short
DOPE
Dopecoin's major weakness is branding. The world of cryptocurrency was a much different place during Dopecoin's inception in late 2013. The legal marijuana industry was in its infancy. Markets for it were still considered darker than grey, even where tolerated by local authorities. The Dopecoin brand was originally envisioned as an edgy dark market solution for anonymous transactions. The target demographic then was the majority of cryptocurrency investors: anarchists and technophiles. Since 2013, there has been a seismic shift towards mainstreaming both the marijuana industry and cryptocurrency. The target demographic now looks like Wall Street as opposed to Occupy Wall Street.
One way or another, Dopecoin intends to rebrand itself. Dopecoin founder Adam Howell puts it bluntly, "We have to drop DOPE… it's too hostile for potential investors. There is a bunch of smart money about to enter the market and I want to make sure we present a solid, marketable opportunity".
POT
Potcoin's major shortcoming is technological obsolescence and a lack of forward momentum. Development seems to have been abandoned on the project. The community has been left with an outdated blockchain technology and very little to incentivize business owners to adopt Potcoin as a payment solution. Their POS v2 wallet is buggy. It often takes days to catch up or refuses to sync entirely. It pretty much requires a bootstrap to have any success syncing from scratch. It also gives users no incentive to leave their wallets open in order to secure the network.
A roadmap was posted in December 2017 focusing on plans to peg the currency to a stable commodity in an attempt to overcome resistance to mainstream adoption by merchants who fear the volatility of cryptocurrency markets. Although I disagree with the viability of the proposed solution, it is noteworthy that it correctly identifies the major underlying problem. Regardless, as 2018 quickly draws to a close, there has thus far been no sign of forward momentum in any direction and the developers have gone silent.
Assets
POT
The Potcoin brand has established itself as a world-wide phenomenon. Their community has also shown tremendous support over the years in their commitment to the success of the project. The marketing genius behind what they've pulled off to establish their brand, including celebrity ambassadors, is second to none. Potcoin's visibility has paid dividends for the community by granting them access to a multitude of platforms and exchanges early on that now have prohibitively high price barriers to entry.
DOPE
The development of the Dopecoin project has been consistently nothing short of amazing over the past two years: In early 2017, Dopecoin successfully transitioned to a POS v3 wallet (dubbed Dopecoin Gold) that incentivizes users to keep their wallets open consistently in order to secure the network. Since that time, 30 – 40% of outstanding DOPE is regularly online and staking. In early 2018, Dopecoin developer lateminer also gracefully integrated Bitcoin Core 0.12.1 through a series of wallet patches. This integration gave DOPE support for BIP 32 HD wallets and the ability to sync from scratch reliability in about 60 – 70 minutes (10 minutes with a bootstrap!).
Peripheral Assets
The Dopecoin development team has created two very valuable peripheral assets that work synergistically with the currency to provide a real world incentive for business owners to embrace adoption: Crypto Billings & The Smoke Exchange.
Crypto Billings
(

)
Crypto Billings is an original, light-weight, plug and play payment gateway built completely from the ground up by the Dopecoin development team. The Crypto Billings payment gateway provides a solution to the ban on processing electronic payments for businesses by traditional channels such as Paypal and credit card processors. The Crypto Billings payment gateway for E-commerce platforms is 100% secure, 100% free, and 100% plug and play. Payments are automatically sent to the merchant's wallet. There is no risk of fraud because the funds are never stored online. It allows you to accept payments instantly in a multitude of cryptocurrencies based on real time exchange rates. It is completely free to install and there are zero fees. The Crypto Billings team has already developed one-click plugin integrations for the world's most popular E-commerce platforms: WooCommerce, Ecommerce, OpenCart, and OSCommerce. There is also a PHP API script available that developers can use to integrate Crypto Billings into any customized platform. Currently the Crypto Billings payment gateway supports BTC, ETH, and DOPE with many more currency integrations forthcoming.
The Smoke Exchange
(

)
The Smoke Exchange is the world's first self-serve advertising platform for the marijuana industry. The imminent public release of this revolutionary technology will allow advertisers and publishers to buy and sell advertising space on a real-time auction based bidding platform. This disruptive technology will circumvent the business crippling censorship blackout of the industry by traditional advertising platforms like Facebook and Google Ad Words. The Smoke Exchange was bootstrapped on a bare bones ICO of about $300,000 and utilizes its own token, SMX, internally for transactions on the platform. Advertisers and publishers who elect to fund their accounts or receive their payouts in DOPE receive a 25% bonus.
Synergy
The synergy between Dopecoin, Crypto Billings, and The Smoke Exchange should now be readily apparent to everyone reading this. Merchants will be heavily incentivized to accept crypto (especially DOPE) on their websites as payment for their products which can be immediately converted to adspend. By converting directly to adspend, the merchant can choose to eliminate any risk associated with the volatility of holding cryptocurrencies.
I have myself implemented the Crypto Billings plugin for WooCommerce into multiple Wordpress installations and I can attest that it works flawlessly. The plugin could easily be developed further on the front end to allow merchants to set limits on the dollar amount of crypto payments they will accept in a given timeframe or temporarily suspend crypto payments altogether in turbulent markets. I have also suggested implementing a feature on the back end to allow payments to be split between the merchant's wallet and direct conversion to adspend via API to The Smoke Exchange according to the merchant's configuration.
Inspiring the confidence among merchants that they are insulated from the volatility associated with cryptocurrency markets has been the single largest stumbling block so far to mass adoption. Problem solved.
Imagine combining Dopecoin's technology with Potcoin's branding and marketing. Imagine marrying these two communities and having them work together towards their common goal, instead of undermining each other by competing for market share. Imagine merging their blockchains into an unstoppable juggernaut that would undoubtedly become the undisputed champion of the marijuana crypto space with the potential to become a top 20 market cap coin.
Imagine… Potcoin Gold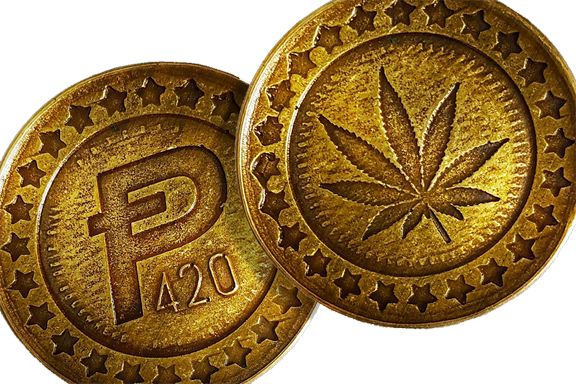 What are the logistics of such a merger if it were to take place?
Immediately preceding its launch, a snapshot of the old Dopecoin and Potcoin blockchains would take place. The newly deployed Potcoin Gold blockchain would accept private key imports from the wallets of both coins indefinitely, no manual swaps. The total outstanding float of the new coin would be the sum of the floats of the old coins at the time of the snapshot. Private key imports would effectively swap old coins to Potcoin Gold on a 1:1 basis. Wallet software on the exchanges would be updated and Potcoin Gold would resume trading under the POT ticker symbol. Dopecoin would then be delisted. The exchanges would swap coins held in old wallets.
Potcoin is currently trading higher in price than Dopecoin, how is a 1:1 swap fair?
The rational market will bring the value of both coins into equilibrium at the time of the snapshot, most likely at several times the sum of the current valuation that both coins are trading at today. Potcoin's float is also 80% larger than that of Dopecoin's. The coins on the new blockchain that were derived from Potcoin will outnumber those from Dopecoin by a factor of almost 2:1.
What protocol would Potcoin Gold utilize?
Developers should gauge community sentiment and discussion should flow from there. Currently, community members discussing the possibility of this merger are overwhelmingly in favor of the Master Node model. Master Nodes provide a source of consistent funding for project related expenses and guarantee a large number of coins are locked up and off the markets. On top of all that, Dash is working on supporting contracts and tokens, a technology which could possibly be integrated in the future once it's released.
Who would play what role in development and public relations of Potcoin Gold?
Everyone currently involved in both communities will need to collaborate and decide this question amicably. Ideally, everyone would keep doing exactly what they've managed to do well up until this point and make concessions in the areas where they've come up short. Realistically, this means the Dopecoin team should lead the way on technology and development and the Potcoin team should take the lead on brand ambassadorship and marketing. It should be stressed that this doesn't mean compartmentalization of tasks but instead collaboration and working together in a spirit of unity.
What's it going to take to make this happen?
Community support. Without an overwhelming consensus among the majority of investors of both coins this can't happen.
Let the developers and the communities know what you think about this proposal:
Potcoin:
Telegram
Bitcointalk
Reddit
Official Website Contact Form
Dopecoin:
Discord
Telegram
Bitcointalk
Reddit
Official Website Contact Form
Join the discussion about this project on Discord:
Upvote & Re-steem this post on Steemit to increase visibility!!!!!
Full disclosure:


I own both of these coins. I was a miner of both of these coins from their zero hour. I've held and staked both of these coins. I've traded the ups and downs of both these coins too many times to recall. I've publicly praised as well as criticized both of these coins over the years when I felt it appropriate. I want what's best for the communities of both of these coins. I truly believe that a merger between these two coins would be a massive benefit to everyone involved.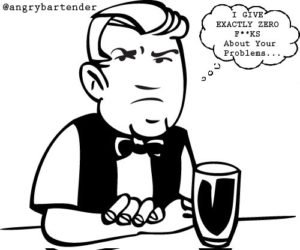 DO NOT PISS OFF THE @angrybartender !!!
Be sure to Upvote, Comment (carefully), Follow, and Re-Steem