Immutable, Unstoppable. Uncensored! The New Way
Hello Steemians! Happy weekend to all! Have you heard the HYPE? The new way to create web content and human-readable crypto addresses? If not you're going to love this post!
Unstoppable Domains What Is It?
 
Do you have a website/blog that you use for passive income or to post your opinion about your favorite topics? If so then you know if you properly set up your SEO and use good keywords that you can get tons of organic traffic. But you also know that all that needs to happen is an algorithm change and poof your traffic and income on the website comes to a screeching halt!
Now imagine with me for a minute if you could create this blog, be the authority in your niche and couldn't be censored or traffic dry up from a change in the algorithm! Wouldn't that be awesome? GREAT NEWS!
Welcome to the future of website hosting and domains!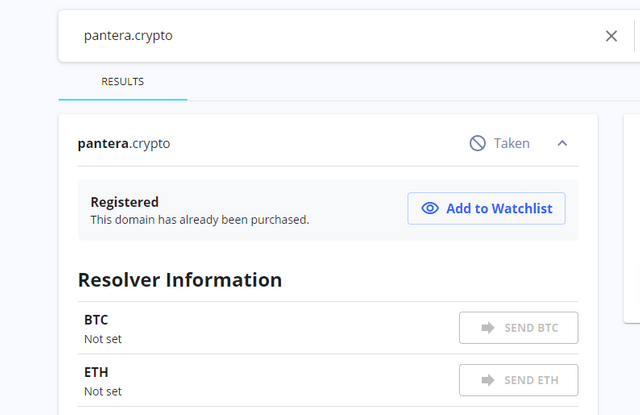 What we are looking at in the image above is the future! Unstoppable Domains is a way for you to create the content of any type and not have it stopped, censored, and is built on the blockchain so it's immutable! It only comes down when you take it down. You can bid on auctions of people that own the domains, or buy your own domains and list them for sale in the auction, or search for a specific name that you want to brand!

It works like traditional web addresses do with the DNS now being built on the blockchain they are directed back with an ENS. It also connects to your ETH wallet. So you can create a human-readable ETH address. Instead of your ETH address being 50 characters that look like this( 0x4hgytmnft...)<<< the old way and also one that often confuses new users entering into the #CryptoSphere now can appear like this (sendme.eth!) So there isn't any confusion whether or not you're using the correct address and one that is easy to remember!
 
Can You See The Potential?
 
With many new social media sites and video platforms as well as dApps and web domains and hosting entering the blockchain the internet is rapidly changing! When you can join sites like Uptrennd or LBRY and earn #cryptocurrency as well as post anything you like so long as it's your own content and not plagiarism it cannot be removed, revoked, or taken away from you like that of YouTube Facebook or Twitter! Though I am a member of all of those sites and the links that I posted are links to my profiles on those sites for those of you who also wish to connect there I am quickly changing where I socialize, because likes don't pay you!
 
All of the above-mentioned sites pay you to be active! Not to mention I have had my Twitter account suspended and been in Facebook jail something that is quickly becoming a thing of the past! Just as #cryptocurrencies give people a choice as to which ones they like and want to use the new social sites are giving us that power as well!
Unlimited Domains Between these sites and domains you also can buy collectibles that can become very valuable over time just like baseball cards, Pokemon, Crypto Kitties and more! NFT's (Non-Fungible Tokens) are becoming very popular in many dApps. Games that are built on the blockchain and reward with cryptocurrencies that can then be traded for money!


This character is one that is available for sale on Open Sea He is a character in a game called Brave Frontier Heroes! He has a list of stats and a list of weapons that he comes with. There are many games like this and it just keeps getting more exciting! There are games that are pirates. You buy a ship and steal fishing boats and raid them for loot, there are ones that are race cars each car has different stats. There are ones that are VirtualLand where you buy the best plots of property and resale them to people that have a plan or a purpose for that specific plot! So as you can see just from my brief description there is something here for everyone!
 
Whether you're a blogger, vlogger, artist , gamer, online retailer there is a spot for you! They need developers and artists, and gamers all to come together and share your talents!
All information shared was brought to you by Unlimited Domains And Open Sea
Take advantage of the future! There are people last year who made over $700 posting on their social media sites! Of course, the sites you choose have to be sites that reward with cryptocurrencies! Brave is a great way to increase your cypto earnings! If you download the Brave Browser You can become a verified creator and add your social media accounts and people are able to tip you by sending some #BAT (Basic Attention Token) as well as view ads for a little extra bonus each month or choose to block the ads! It also increases your privacy and stops trackers and other sneaky cookies that sites try to add to you!

Now let's get out there and get rich by collecting as much #cryptocurrencies as we can! And all of us can become #Crypto_Naires! Join me on Discord or Telegram! Both of these channels were just set up so members are currently limited but I am trying to build a community of other #crypto fans where we can congregate and discuss new coins, market trends, airdrops, bounties, and more! Both outlets have tipping bots set up and pinned messages with the commands! I hope to see you there and let's all become Crypto_Naires! Twitter CryptoRising