Crypto shopping cart - 09 June
Well it's certainly been a while since I last posted one of these!

The market has been so flat and motionless, that I've done very little trading the past few months. I'm writing this today because I finally got around to trading more than one coin within 24 hours!
Let me show you what I bought: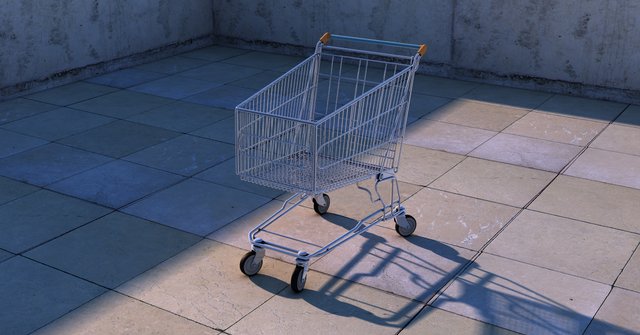 From https://www.pexels.com
Crypto shopping cart - 9 June
What's in today's cart?
LOCIcoin (LOCI)
KuCoin Shares (KCS)
Restart Energy (MWAT)
Today was pure bargain hunting. I had no intention of buying coins today, but when I saw two of my holdings dipping in price on CoinMarketCap this morning, I rushed some "spare change" high market cap coins (in this case: BCH, LTC and ETC) over to KuCoin to sell for these low market cap deals. I spent very little in total.
Right or wrong; I'm continuing to invest in low market cap coins that I think have good potential. I believe that once the market picks up, and provided that the low market cap coins:
are not a scam,
manage to survive that long,
they should provide considerably better ROI than their higher market cap counterparts.
LOCI is something I have bought time and time again. The coin has an active team, it is linked to a product and it is very undervalued! For those who don't know; LOCIcoins power the LOCIsearch system. This system is used for idea patenting, which they can do much more cheaply than traditional methods. I bought LOCI specifically because the price had taken a nice dip for no specific reason. It was simply too cheap to pass up.


From https://coinmarketcap.com/currencies/locicoin/
KuCoin Shares are the native tokens of KuCoin exchange. They pay dividends to KCS holders and they can provide discounts on trading fees if you hold enough of them. I've already made a lot of money trading these tokens. Right now they are very cheap again and are an exceptionally good deal. Once trading volumes pick up again and crypto prices soar, the small dividends that these coins pay will push their price up considerably.
Like LOCI, KCS also took a nice dip for no apparent reason. So I took the opportunity to increase my KCS holdings by about 10%. If you are not trading on KuCoin yet, then you are missing out! It is the best exchange. Simple. Please use my referral code if you want to sign up https://www.kucoin.com/#/?r=E39MoQ Look at this nice dip that KCS took today: (I felt like I was stealing, buying KCS at less than $2.70!)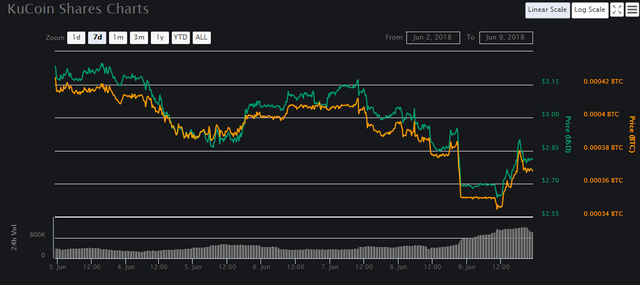 From https://coinmarketcap.com/currencies/kucoin-shares/
Read my review of KuCoin exchange over here.
The final item in my basket is Restart Energy (MWAT). I just have to say that I really like their ticker symbol! (Obviously a play on "Megawatts".) Restart Energy is the youngest and smallest of the major energy coin trio consisting of Power Ledger, WePower and Restart Energy. They are all good coins. I bought MWAT today because it has the lowest market cap of those three. As my last buy of the day, it was literally just a dust transaction to get rid of some leftover ETH earned through KuCoin bonuses. I basically bought it with free money.

Coins that missed the cart
I have bought a few other things since my last "Shopping Cart" post, but my trades have been so few and far between that they weren't worth mentioning. For the record, I've also bought the following and not blogged about it during the last couple of months:
Aphelion
More LOCIcoin
More Restart Energy
NEO
TRON (only 15 more days until it get's its own blockchain)
Binance Coin
Icon
Envion (should have waited a little longer than I did before buying that!)
Yours in crypto,
Bit Brain

DISCLAIMER:
I am neither a financial advisor nor a professional trader/investor. This is not financial advice, investment advice or trading advice. Unless otherwise stated, all my posts are my opinion and nothing more. Crypto is highly volatile and you can easily lose everything in crypto. You invest at your own risk! Information I post may be erroneous or construed as being misleading. I will not be held responsible for anything which is incorrect, missing, out-of-date or fabricated. Any information you use is done so at your own risk. Always Do Your Own Research (DYOR) and realise that you and you alone are responsible for your crypto portfolio and whatever happens to it.