Vote on The BitF Exchange Poll on Twitter 🐦

We want to hear from you!
BitF is continuing to grow and we have recently listed on Crex24 and Stocks.Exchange. We are currently seeking a third exchange to list on and want to hear from the community on which exchange they would prefer to see $BITF listed on next.
Vote on Twitter!
Please vote on our Twitter poll here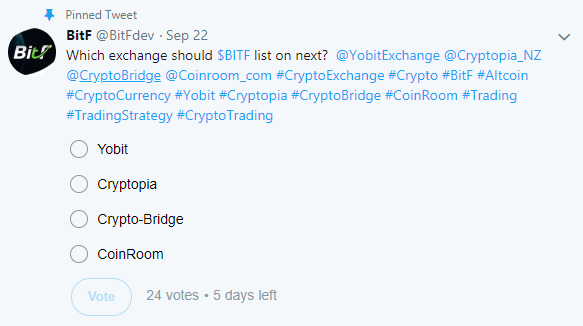 If you think we're missing someone on the list please let us know by leaving a tweet or comment here.
Learn More and Get Involved
Twitter: @BitfDev
Discord: https://discord.gg/4pH2YVV
Telegram: https://t.me/BitFChat
Reddit: https://www.reddit.com/r/BitFCoin
Github: https://github.com/BitFdev
BitcoinTalk: https://bitcointalk.org/index.php?topic=4940023.0
Website: https://www.bitf.cc
Wallets: Windows | Linux | Mac OSX
Exchanges: Crex24 - Stocks.Exchange
Email: [email protected]