Learning How To Create The Perfect BitUniverse Trading Bot
Hey guys! I'm an Australian Marine Scientist, and I've been interested in everything to do with cryptocurrencies for around two years. I can honestly say that the BitUniverse trading bot is one of the most exciting things I've come across. I've experienced the highs and lows of the last few years first hand, making a small fortune (by my low standards anyway!) day trading during the 2017/2018 bear market, but watching much of that fortune melt away over the following months.
KuCoin has been my favourite exchange pretty much since I entered the crypto space. I've used sites like Binance and Bittrex a lot, but I love the KuCoin interface and trading experience. Add to this the great trading comps that KuCoin offers and you've got a winning combination in my eyes!
The first time I heard about the BitUniverse trading bot was about a week ago when KuCoin announced the then upcoming grid trading competition. Sensing a great opportunity, I spent the next few days learning how to choose the most profitable trading pairs and exploring the different functionalities of the trading bot. Once the competition started, I monitored the market and set my bots accordingly.
MY EFFORTS PAID OFF!
*I finished with the 3rd highest annualized return on day 1, and then managed to create the best bots on both days 2 & 3, which meant that I had one of the top three bots across all three days of the competition - leading to a grand prize total of 2500 KuCoin Shares (about USD2500 worth!)!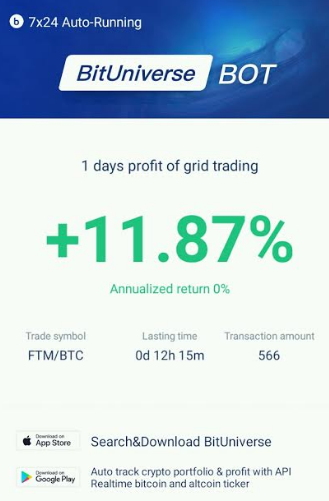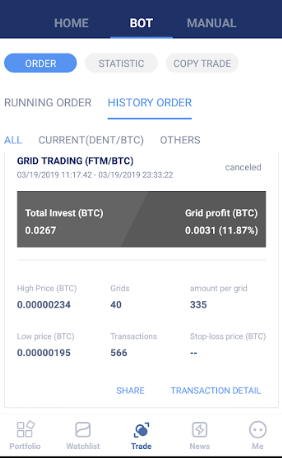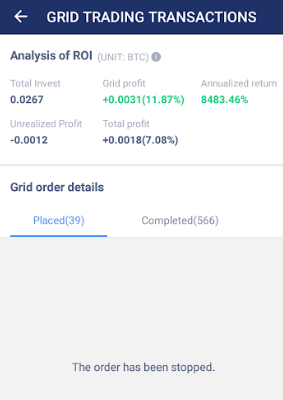 CHOOSING THE TRADING PAIR TOOK A LOT OF STUDYING, AS WELL AS TRIAL & ERROR
Like I mentioned earlier, I spent a lot of time learning how to create the best trading bot in the days leading up to the competition. Since I only had about 400 USDT worth of BTC to invest with, I had to choose carefully - I could only run 4 competition eligible bots at any one time. In my experience, trading pairs with the following characteristics were the most profitable:
High volume - at least 15-20 BTC 24 hour trading volume. Any less than this meant that there simply wasn't enough trading taking place to trigger my bot orders often enough.
High price fluctuation - a lot of high volume coins had very low fluctuation, which meant that they weren't suited to grid trading. I chose pairs which had a very volatile price.
Low price - I found that coins with a relatively low price were the most profitable. For some reason they seemed to be a lot more volatile than those with a higher price.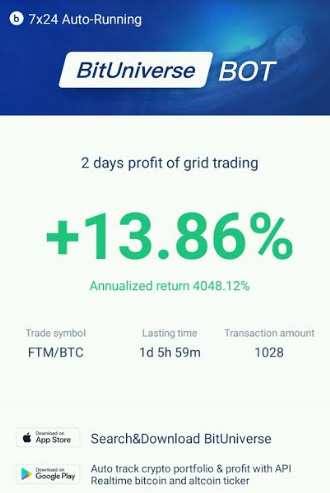 MY RECOMMENDATIONS
Across the three days of competitions I won with three different trading pairs.
I also experienced decent profits with these:
R/BTC
ETN/BTC
TKY/BTC
TEL/BTC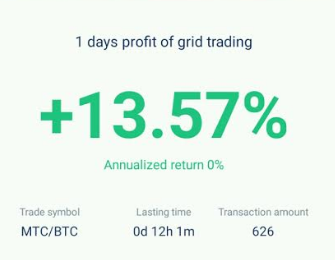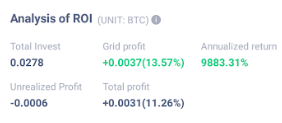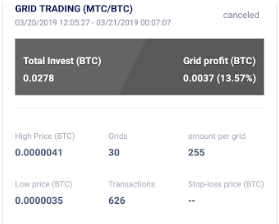 Try and set your bots up with relatively small trading margins so that they execute as many small, profitable trades as possible. My best bots had (and still have!) a margin of around 0.4 - 1% (of the grid amount) per trade, and something between 20 and 40 grids.
Don't forget to allow for fees. On Kucoin, these are 0.1% per trade at the base rate, which means you need to allow at least 0.2% before your trades are possible - 0.1% for the buy order, and 0.1% for the sell order.
GOING FORWARDS
Although some of you will disagree with me, I feel that we're coming to the end of the ongoing bear market. Trading volumes are increasing, and prices are starting to respond - take the recent surge of KuCoin Shares as an example.
I'd love to see KuCoin (and ButUniverse of course!) host more trading competitions like this which aren't based purely on volume, as they give the average trader like me the chance to win, rather than simply favouring the whales. I plan on continuing to tweak my grid trading strategy, and I imagine that I will have bots running 24/7 in the future, generating passive income and building my crypto portfolio.
If you'd like to try the BitUniverse grid trading bot out for yourself then I'd appreciate it if you used my referral code:
https://rewards.bituniverse.org/get_grid_diamond_en.html?invite_code=V2dgcj7s
If you haven't signed up for KuCoin yet, then use the link below!
https://www.kucoin.com/ucenter/signup?rcode=1gv33
Cheers, and have fun trading!