Altcoins: Hidden Bulls among the Bears
A shocking amount of high performing altcoins hiding in plain sight. It pays to watch these altcoins that are making significant gains behind the scenes.
I've limited the cryptocurrencies to those listed on exchanges that have honest volume according to Bitwise: Bittrex, Binance, Kraken, Bitstamp, and Coinbase. This list does not include all exchanges that have genuine and honest volume – but these exchanges represent high OTC block volume and/or high retail volume.
Decred (DCRUSD)
Weekly Performance: +11.10%
Monthly Performance: +43.29%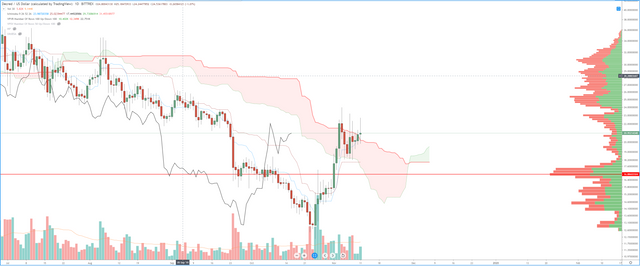 Decred (DCR)
Decred (DCR) has experienced some significant bullish price action over the past 30 days. While the majority of the altcoin market, especially those in the top 20-25, have suffered prolonged ranges and retractions, Decred has found some significant gains. It has traded above the September flush and is now flirting with regaining that drive and moving higher. Overall, Decred's daily chart looks bullish for the future. Future Senkou Span A is above Future Senkou Span B. Price is the Cloud, the Tenkan-Sen and the Kijun-Sen. The problem with any further higher moves is going to be limited by the Chikou Span. Because the Chikou Span responds to the same support and resistance levels that price does, we should see Decred's highest traded price levels remain between the $23 and $24 value areas. The $23 and $24 value area represent where the Chikou Span will find resistance against the bottom (Senkou Span A) and top (Senkou Span B) of the Cloud.
Komodo (KMD)
Weekly Performance: +4.37%
Monthly Performance: +40.95%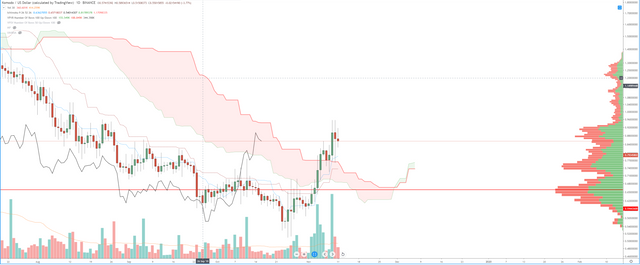 Komodo (KMD)
You might not have heard of Komodo (KMD), but you've no doubt heard of some of the projects built with Komodo: GameCredits, Einsteinium, HempCoin, and VerusCoin. Komodo has an interesting take on its network, providing a method known as delayed-POW as well as Smart Chain. They are, surprisingly, an AWS Partner in Vietnam. From a value perspective, I am a big fan of Komodo (I am Long on Komodo). It's a tremendous drive higher, especially over the past four trading days – it's close to making new three month highs. If we compare Komodo's daily Ichimoku chart to Decred's, Komodo's is by far the most bullish. Every single condition for a bullish breakout higher is present: Future Cloud is green, Tenkan-Sen above Kijun-Sen with price above both, and price and the Chikou Span above the Cloud. Adding to the bullish conditions on this chart is yesterday's price action (November 10th, 2019), where the Chikou Span moved lower, testing the top of the Cloud (Senkou Span B) as support and confirming it as support.
Stellar Lumen (XLM)
Weekly Performance: +5.38%
Monthly Performance: +26.05%
3-Month Performance: +34.34%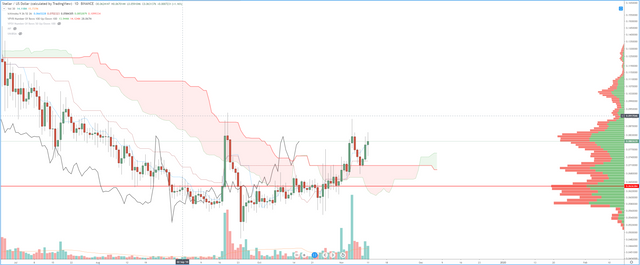 Stellar Lumens (XLM)
Along with Ripple (XRP), Stellar (XLM) was among the worst-performing top 20 altcoins between December 2017 and the cryptocurrency market swing low in December 2018. It is, perhaps, not surprising that we have seen Stellar experience such stellar (pun intended) gains over the 3-month and 1-month periods – it's latest new all-time low was on September 24th, 2019. And Stellar just eliminated 50% of its tokens, so the drastic supply reduction could, in theory, create sufficient conditions to cause prices to spike. Stellar's daily Ichimoku chart is very similar to Komodo's with all of the bullish conditions for a long-biased market having been fulfilled.