Predicting where Basic Attention Token goes next
Basic Attention Token continues to make substation gains. Rumors of Basic Attention Token collaborating with Samsung's new Galaxy 10 pumps prices higher.
Samsung and Basic Attention Token (BAT)
Rumors are one of the great motivators and movers of short term price action. And in the cryptocurrency world, rumors are powerful. One of the most recent and important rumors is that Basic Attention Token (BAT) may be integrated with Samsung's new Galaxy 10. Samsung has already confirmed that the Enjin Wallet will be part of the bloatware on the newest smartphone. But was Basic Attention Token predicted or just speculated to be added? There is actually some positive credence to this rumor. A marketing announcement by T Store in South Korea released this image: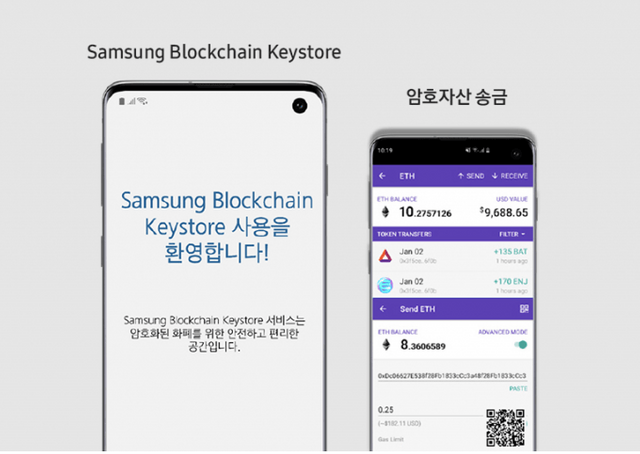 Very clearly we can see the icons and labels of Enjin's coin, Ethereum, and Basic Attention Token. Does this mean Basic Attention Token will be afforded some special utility? I don't know – it could just be used as an example of broad ERC20 wallet support on the newest Samsung phone. Regardless of the rumor – the news that Samsung is integrating cryptocurrency into their new phone is one of the single greatest adoptions of cryptocurrencies in history.
BAT price action predictions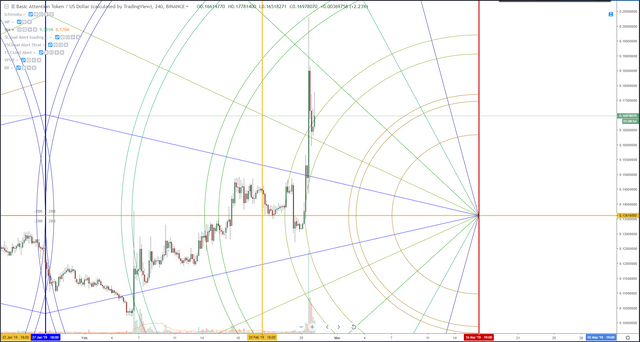 Forecasting and predicting future price action is one of the primary focus' of technical analysis. For Basic Attention Token, we should consider the current price action. When news broke out regarding a potential Basic Attention Token and Samsung relationship, price spiked – massively. At one point last evening, Basic Attention Token was up over +55% in a move from $0.1305 to $0.2029. The spike created, predictably, new 2019 highs but also created the highest highs since November 18th, 2018. It has since sold off the great majority of that move. Currently (1641 CST), Basic Attention Token is up +10.43% and trading in the $0.16 range. What is interesting is where and 'why' price stopped trading at the level it did. There was a strong confluence zone of a shared Fibonacci arc and Gann angle – the 50% Fibonacci Arc and the 45-degree angle. During the initial push, price closed just below the 45-degree angle before making a further move down. Basic Attention Token is currently finding support against the 38.2% Fibonacci arc and the 1x2 Gann Angle. But will it hold?
The current 38.2% Fibonacci arc was already held as a sort of support prior to the move higher. Now that Basic Attention Token has moved this arc and has found support, I predict that the current 38.2% Fibonacci arc and the 50% Fibonacci arc will act as the trading range until Basic Attention Token can move higher and past the 50% arc. Of course, this entire move could just sell off. The broader cryptocurrency market is still reeling from a massive drop last weekend and it remains under threat for another move lower. But if the aggregate cryptocurrency market can at least maintain its present level (specifically Bitcoin), then investors and speculators have some time to absorb the information regarding Basic Attention Token and Samsung and it could bring in another big push to the upside.