Cardano (ADA) Technical Analysis: ADA Immune To Sellers, Bulls Edging Closer To $0.50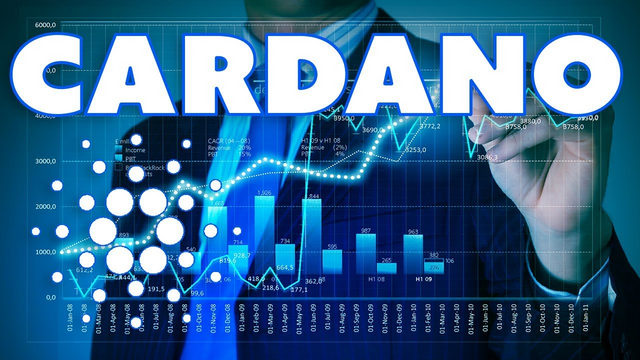 Fundamentally, Cardano (ADA) is solid and from the charts, it looks like odds of further upsides are high. In that regard therefore, we shall hold a positive picture and aim for first targets at 40 cents.
From the News
In a matter of days, we have seen this exponential growth in Cardano's value. Currently- on a weekly basis, Cardano is up 45 percent and less than $1 billion away from flipping Litecoin and becoming the seventh most valuable coin in the world. Nevertheless, here's the thing.
Coinbase is Exploring Cardano, Basic Attention Token, Stellar Lumens, Zcash, and 0x#etoro #Coinbase #BTC #cryptocurrency #ETHhttps://t.co/bXAylQr5iU
— Copy-Trading (@SmartInvest4) July 15, 2018
Bitcoin jump in valuation is definitely behind this revival but then again, the prospects of being listed at CoinBase could be another reason. Fact is ordinary investors don't care about the nitty gritties from CoinBase. The mention of ADA was enough to spur a frenzy of buying activity pumping prices to these new levels.
On another angle we can be the research findings of eToro, the Israeli based social trading platform. Regardless of the state of development-remember Cardano is still in development-they went ahead concluding that the project is indeed promising and important.
So this eToro Market Research on Cardano #ada $ada has so many gems! cc: @MatiGreenspan | Read it Here: https://t.co/PX12obGthP
— KLD (@CryptoKeish) July 18, 2018
Cardano describes itself as a product of research and its PoS consensus is peer reviewed and would probably define a new standard of consensus that other coins would follow. In the words of Mati Greenspan, a market analyst at the exchange, he said Cardano is "flexible" and "scalable" than Bitcoin and Ethereum and that they are leading the charge creating this "blockchain 3.0".
By all account, this is a shill but until the smart contract and Ethereum's competitor goes live, we shall remain conservative if not cautious.
Cardano (ADA) Technical Analysis
Weekly Chart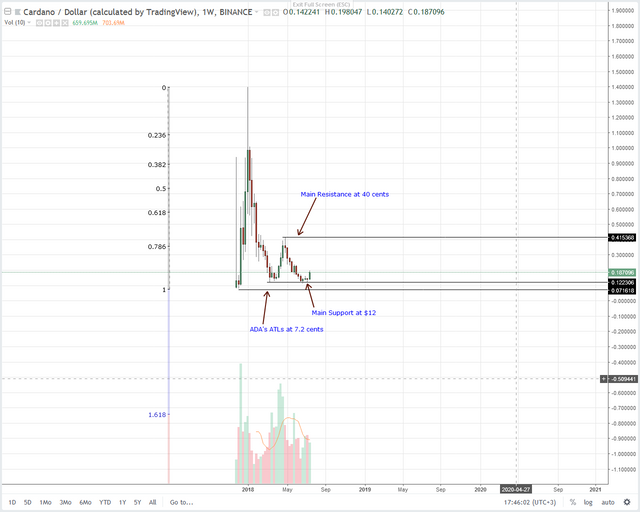 Before this bull teaser, ADA was literally collapsing. By late June, ADA was down 95 percent from its ATHs and dabbling with 12 cents, our key support line and 2018 lows. Then, our projection was clear, any break below it and ADA would probably test its ATLs at 7 cents.
Luckily though, prices didn't. Instead this spike precedes a three week consolidation moving inside week ending June 24 high low.
What we have now is not only some sort of a three bar reversal pattern, a Morning Star, but a break out pattern above resistance at 12 cents. From our analysis, 12 cents was our buy trigger and that means our ADA longs are now live.
Daily Chart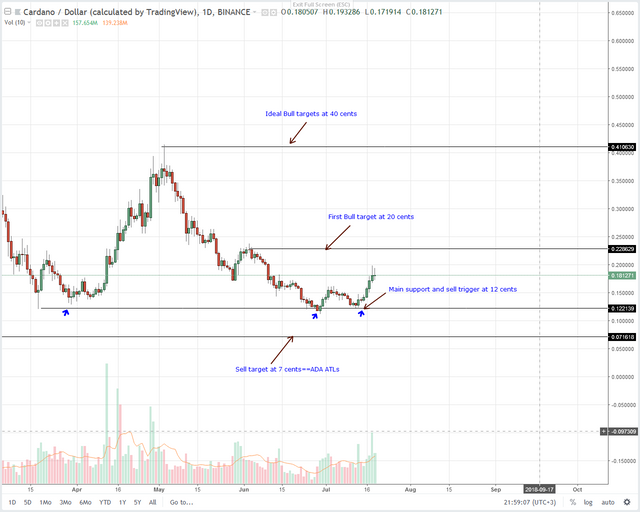 In reality, what we have in the daily chart is this nice triple bottoms bouncing off main support at 12 cents. Now, in line with our previous analysis, our long trigger are now live and in that case, my recommendation is to buy at current prices with stops at July 17 lows at 15 cents.
Those who bought ADA earlier should instead move their stops to break even and shift their take profits from 20 cents to 30 cents with aims of cashing out at 40 cents.
Disclaimer: Views and opinions expressed are those of the author and aren't investment advice. Trading of any form involves risk and so do your due diligence before making a trading decision.