Ripple Analysis 10 September 2019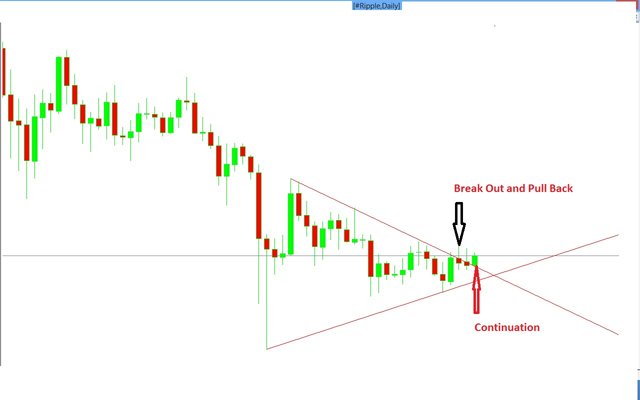 Hi friends,
I was busy in trading Forex and Cryptocurrency, so i could not post the analysis here, second reason being late is the
best time and price on altcoins. So today is the best time in investing the ripple.
Look at the Chart above. You will see the Wedge breakout.
Look at the Black arrow, there is written Breakout and pull back. So here on the Day time frame price first break out the
wedge pattern and same day price pull back to the same place. In this situation we have to wait the price continuation.
So at the red arrow a word is continuation is written. This means price is today continue towards its breakout. Although
we do not know today,s close price but it is assumed that price will close in bullish candle. So if price will close in bullish
candle then it is the best time to invest in the Ripple.
There will be lot of people who had invested in the Ripple many months ago or may be years and still hoping for the
ripple price to go up. So here is the good news for them that according to my analysis it is the last chance for them
before the Bull rally. This wedge pattern is showing that from tomorrow the bull rally will be started.
So when you should close your positions.
For those people who will enter in the trade right now they should close the half position at the price of 1.2$ and half
position at 3.0$. But for those traders who had already invested at higher price like 1.2$ or near 2$ they should wait for
the price reaches at 3.0$ and then close half position and then wait for the price reach at 5$ and then close the
remaining half position.
You can ask any question in the comment box.