Market analysis of July 8, 2019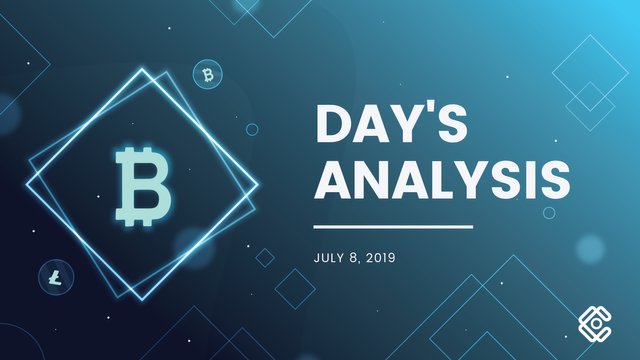 Marketcap
The marketcap has been moving up (+4.90%) since yesterday. The total capitalization is 335.394.934.758 USD.
Bitcoin totals 209.716.598.054 USD of capitalization for a dominance of 62.60%.
Ethereum's marketcap is 33.061.152.087 USD, followed by Ripple with 16.909.940.872 USD.
Market Sentiment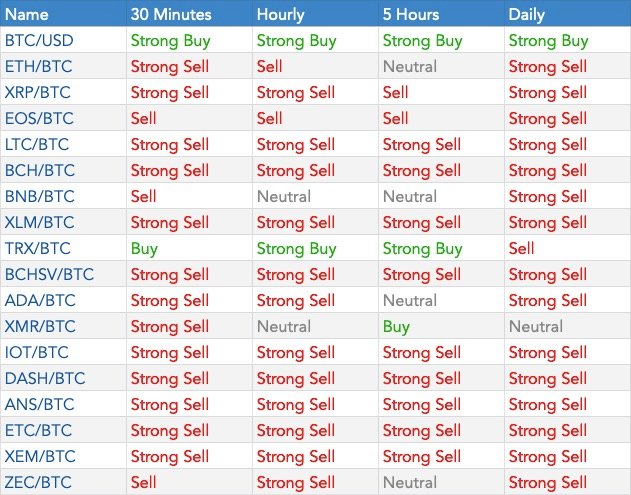 How to read the Market Sentiment?
---
Bitcoin
The BTC was moving in a symmetrical triangle, but finally broke the resistance in order to go from 11400 to 11800$ in not even an hour.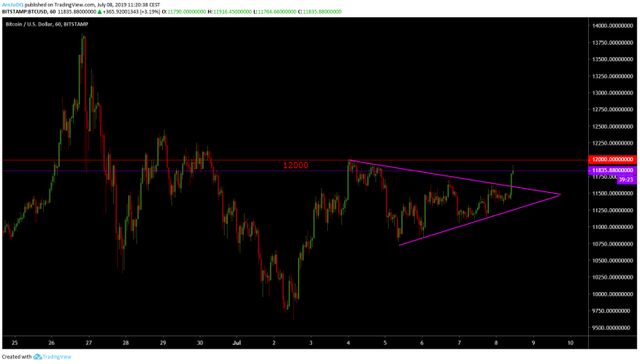 As it went up, the price reached a high point at $11,916 below the $12,000 resistance. The BTC could stagnate between the $12,000 resistance and the $11,700 support before rising again.
If however resistance persists, the BTC could return to lower levels around $1,100.
What to do about it?
If you are still in position, raise your StopLoss to the level of your purchase price. If you are not yet in position, wait for a $12,000 breakage confirmation or a return to support.
The supports of the day are at 11700$ – 11200$
The resistances of the day are at 12000$ – 12400$
---
Ethereum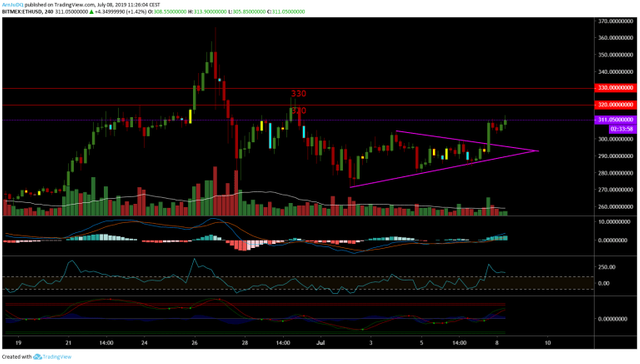 ETH has overtaken the BTC by breaking its front triangle and reaching a higher point since July 4.
From a technical point of view, over a 4-hour horizon, bearish signs are beginning to appear. However, on a daily horizon, bullish crossings are already visible.
It is not impossible to see ETH go down to the $300 support before going up again.
The supports of the day are at 300$ – 280$
The resistances of the day are at 320$ – 330$
---
Conclusion
BTC: we advise you to wait for a break of $12,000 before taking a position
ETH: we advise you to wait until a $320 break or a return on $300 before reassessing the situation.
---
You can join us on Telegram for a follow-up of the market throughout the day.
For any question, our team will be happy to answer you on our support which is open 7/7 days.
For any information about our subscriptions, please visit our website or contact @Butler_4C_Bot directly to get all the information you need.
See you tomorrow for a new market analysis ! 🚀