ETHBTC: expect a small correction before next big wave
Three wave correction will be a great opportunity to add to longs
ETHBTC chart is following Elliott Patterns like a textbook sample. On the shorter time frame ethereum reached another high against bitcoin to complete wave (v). This will complete wave 1 of a much larger trend. A three wave a-b-c correction is expected before next rally.
Ideally to add to another long position I'm looking to buy at 61.8% retracement around level 0.06 or 100% a-c wave extension. If those two levels line up, then that will be a good support.
ETHBTC: 4h chart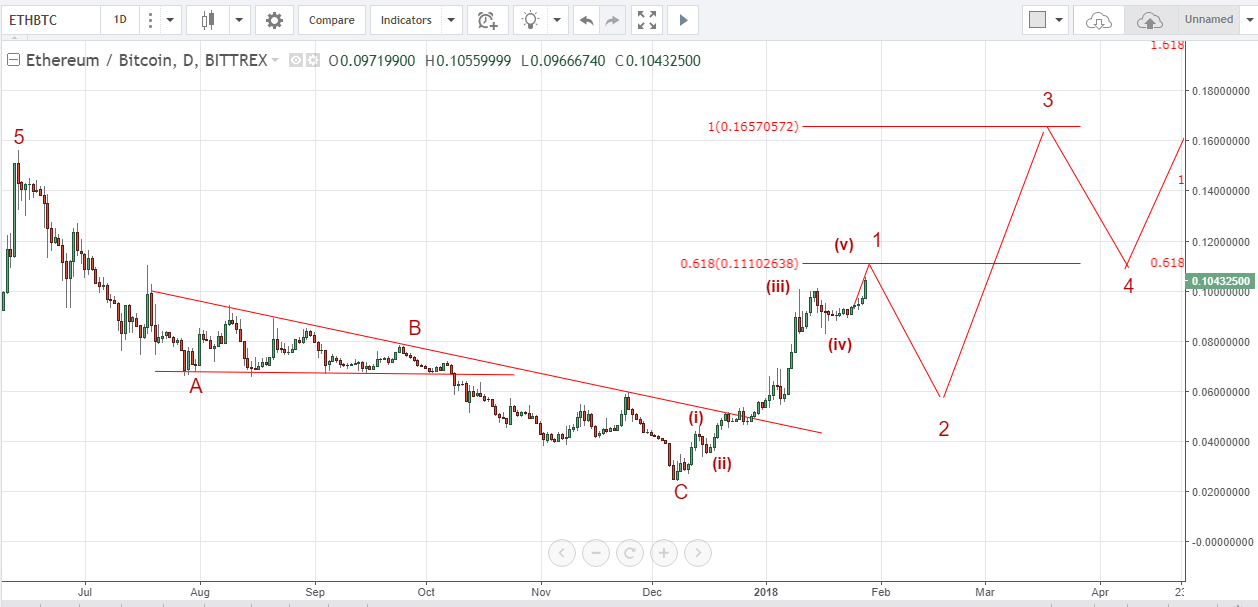 I already covered a few times longer term chart so lets be brief. From march to June ETHBTC followed 5 impulsive waves. At that time ethereum reached around 90% of bitcoin market cap. As usually impulsive waves are followed by three corrective waves ABC. It is important to note that wave A and C were impulsive.
After correction ended, ETHBTC started a new leg up. We have a new impulsive wave to the upside which is impulsive, signaling correction is over. I'm looking for a small corrective wave 2 before the next wave to the upside.
My first target is 100% extension at 0.165. I believe that will be followed by a high resistance simply because at that price Ethereum will reach bitcoin market cap. Second longer term target is 0.254 or 161.80% extension.
ETHBTC: 1hr chart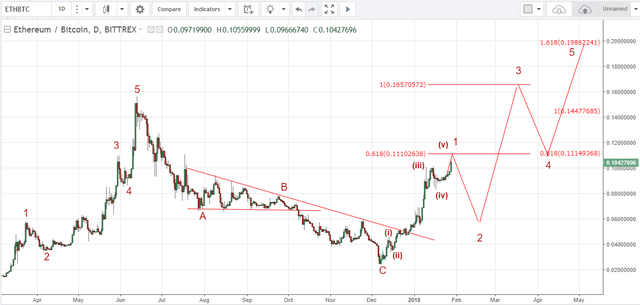 I will keep monitoring the market and keep you guys informed.
Follows and upvotes are appreciated :)
---
Disclaimer: The information contained herein is author's opinion, does not purport to be comprehensive and is strictly for information purposes only. This is not a financial advice. It should not be regarded as investment/trading advice.