With TOZEX, Token Issuance, Financing and Trading Are Possible on a Single Platform


Image credit
Gone are the days when companies rely solely on banks and angelic investors to fund their projects. Many of them got disappointed at the end by the little and insufficient capitals that were raised. The traditional way of fundraising does not work for many projects, especially when they are SMEs. Investors prefer investing on running businesses to putting their cash on startups and SMEs. But thanks to Blockchain for digitalizing fundraising methods.
The use of smart contract based fundraising is now an important tool for SMEs to raise capitals for their projects. It also gives the project more chance of having several investors at every corner of the world.


Image credit
The tremendous growth in the number of crypto assets has increased the cryptocurrency markets as well as the attention of entrepreneurs. The major current issue with crypto markets is that they are scattered, inefficient, opaque and risky. TOZEX plans to bridge these gaps by creating a platform than can handle the issuance, management and distribution of tokens.
Simply put, TOZEX is a platform that will allow users to create, finance and trade tokens easily. These three functions can be performed on the platform without any specific skills or engaging a third party. TOZEX aims to offer a better user experience when managing their cryptoassets in order to fast track the acceptability of Blockchain technology across the earth.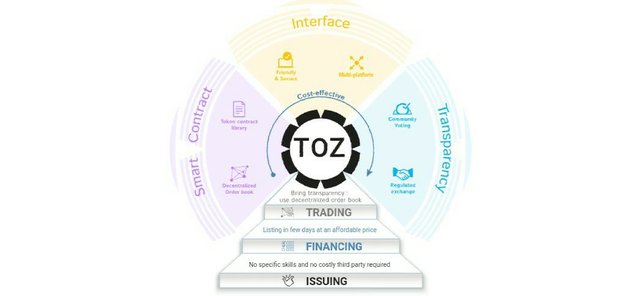 Image credit
TOZEX Unique Gateways
The two unique gateways used on TOZEX ecosystem are the following:
The Decentralized Tokenpad Module that will allow the use of blockchain to issue, manage and distribute tokens. The process is fully automated and does not demand any special skills from users.
The Token Marketplace module which allows issuers who used the Tokenpad module to list their tokens on TOZEX platform. Such issuers must have completed their fundraising campaign and passed TOZEX's technical, legal and financial compliance checks.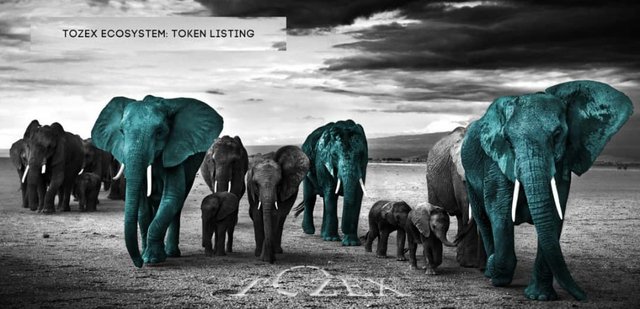 Image credit
TOZEX Token Generation: Tokenpad
Creating a token is known to be costly, demanding and exhausting. TOZEX plans to make token generation easy, fast and error free. Users will be able to create their tokens automatically using Ethereum, Ethereum Classic, RSK or Credits as the underlying Blockchain technology.
The users need not be tech-savvy before generating a token. All they are required to do is to fill the token name, ticker, decimals, price, total supply and other pertinent information of the project. TOZEX will take it up from there through the decentralized tokenpad module. High security standard is used while the token is being generated to make it inaccessible to hackers.
Token Listing
TOZEX platform will allow token issuers to list their tokens on the platform after they have successfully completed their fundraising campaigns. TOZEX only allows tokens that have been thoroughly vetted and validated by the Committee of Control to be listed. If a project is found to be potentially risky, the Committee of Control will table it before the community who will decide through their votes if the token should be listed or not.
Token Trading
TOZEX platform will be integrated with a decentralized random order book. Many exchanges are fond of manipulating buy and sell orders and creating artificial trade volume to trap unsuspecting traders. TOZEX is making use of a market engine that disallows order book manipulation. The platform is also using a multi- currency wallet which make storing of most cryptoassets possible.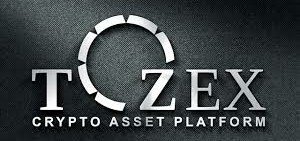 Image credit
TOZEX Fundraising Platform
TOZEX platform offers entrepreneurs to select the most suitable methods they want to use in financing their projects. The three fundraising methods offered are discussed below:
• Initial Coin Offering: ICO is a popular method of raising fund for projects. It gives a company wider participation of investors from all over the world.
• STO
• Security token offering (STO) allows entrepreneurs who want to offer tokens that are similar to securities such as equities or bonds. STO gives the investors opportunities like profit sharing and voting rights.
• BRO
• TOZEX created the Believer Reward Offering (BRO) to allow entrepreneurs and companies raise fund for their projects by borrowing cryptoassets(stablecoins) from contributors across the globe. The contributors are to be paid interest in form of tokens after the project is developed.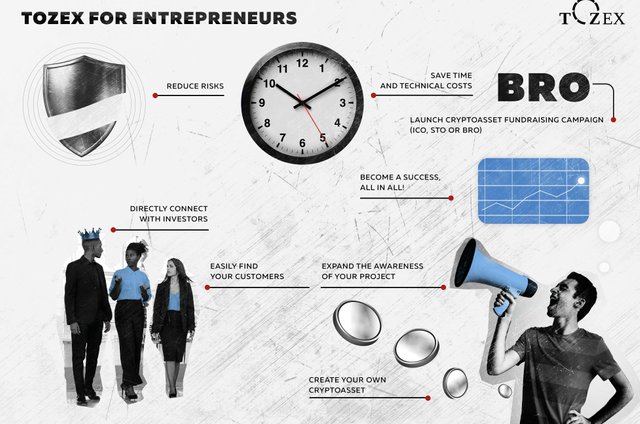 Image credit
TOZ Token
The official token that will be used on the TOZEX ecosystem is TOZ. It is an ERC 20 Ethereum based token. The BRO protocol is designed to finance the project using TOZ token. You can learn more about the BRO via this link
Conclusively, TOZEX platform is designed to bring the interest of entrepreneurs, inventors and traders into an alignment. TOZEX guarantees friendly user interface, smart contract, transparency and secured platform. Issuing, financing and trading of tokens will become easy for everyone irrespective of their prior knowledge on blockchain. Small and Medium Enterprises can raise fund for their projects using TOZEX platform without using a third party. Listing of tokens which usually takes weeks will be done in few days at affordable price on TOZEX.
Tozex project URLs
Website
Whitepaper
Telegram
Twitter
Facebook
LinkedIn
Medium
writer's details
Bitcointalk Username : cryptodammy42
Forum Profile Link : https://bitcointalk.org/index.php?action=profile;u=2718819
Proof of authentication : https://bitcointalk.org/index.php?topic=5256002.msg55021020#msg55021020