Do you want to be the Enumivo (ENU) block producer? Introduce yourself to community first!|Enumivo (ENU) 超级节点候选人申请,让整个社区更好地认识你
ENUAvengers community public testnet is RUNNING!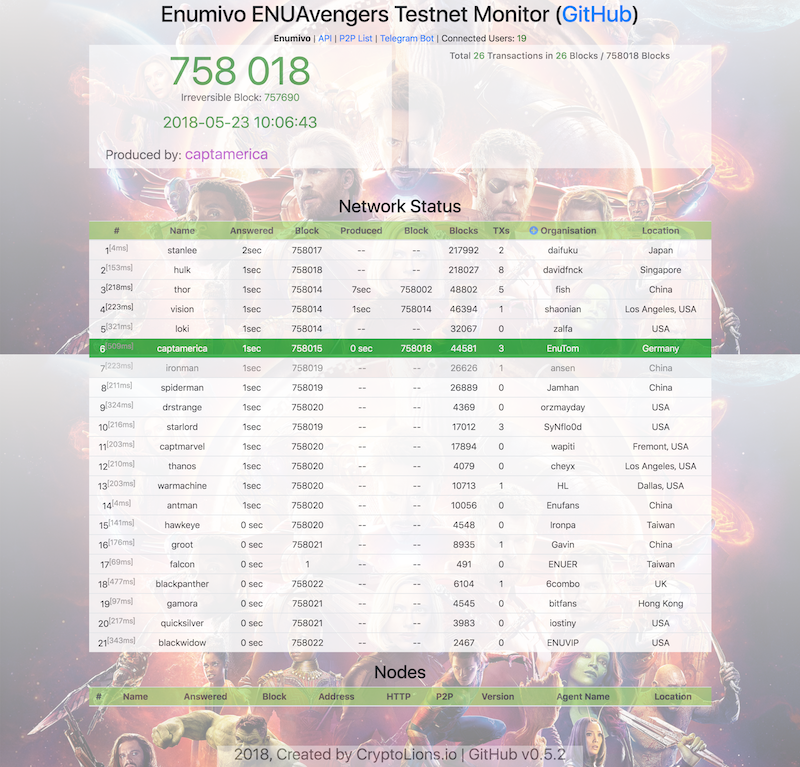 As you can see, 21 block producers are running on the ENUAvengers community public testnet now, you can check the activity here: http://avengers-monitor.enuism.com/
If you also want to join, check this link: https://github.com/d13o/ENUAvengers
Meanwhile, you can join the telegram group of potential BPs: https://t.me/EnumivoBP
Block producers candidates's application
Based on the success of the ENUAvengers testnet running, we decided to move on. We are like to meet more and more excellent potential candidates, and also let the community know them well.
If you are interested in becoming an ENU block producer, welcome to submit your information. After reviewing the information, we will introduce everyone on the official ENU forum. I believe it will be very helpful for the election of block producers in the future.
So just reply your information in this post or send email to [email protected].
The information includes the following:
Candidate's Institution/personal name
Basic Introduction(more than 200 words)
Equipments information
The approximate amount of ENU held
---
ENUAvengers 测试网络成功运行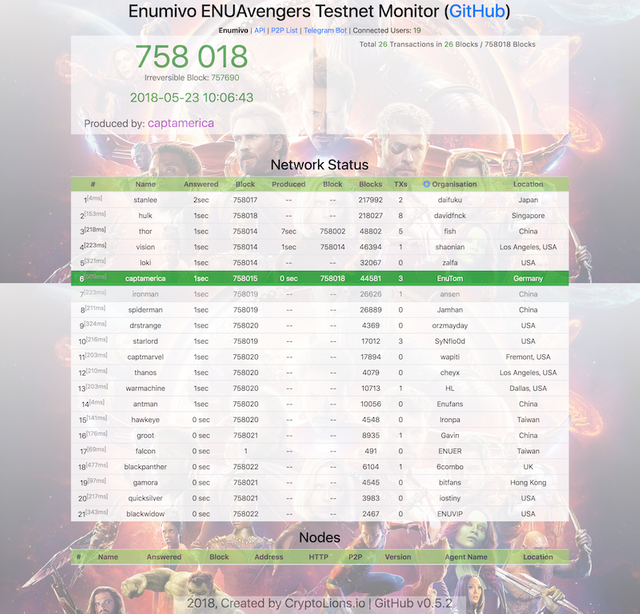 如上图,我们可以看到已经有 21 个超级节点成功加入 ENUAvengers 社区测试网络,查看地址:http://avengers-monitor.enuism.com/
如果你还想参与,可以参考此链接:https://github.com/d13o/ENUAvengers
同时可以加入电报群:https://t.me/EnumivoBP
超级节点候选人申请
在社区测试网络测试成功的基础上,我们决定再往前推进一步,让优秀的超级节点竞选者脱颖而出,让社区的各位更好地认识他们。
如果你也有志于成为 ENU 超级节点,欢迎提交自己信息,信息审核后,我们将统一在官方论坛介绍给社区,为你赢得更多选票,相信这对未来成功当选超级节点很有帮助,所以踊跃参与吧!
在该帖回复你的相关信息或发送邮件至 [email protected],信息包括如下内容:
机构/个人名称
基本介绍
可提供的设备
初步可争取到的 ENU 投票数量(如 ENU 持有量证明)