KICK ICO Platform for crowdfunding campaigns

What is KICK?
https://www.kickico.com/
KICK offers a blockchain-based smart contract crowdfunding platform that enables users to create fundraising campaigns / ICO (somewhat similar to how you would do it on Kickstarter or Indiegogo) in a relatively cheap as well as a simple manner without any knowledge of programming
What problems are they looking to solve?
Platforms like Kickstarter or Indiegogo do not take projects from regions where they do not have a presence
They also charge high commissions (up to 20%) which may affect the startup company's ability to delivery
ICO market is unreliable, fragmented and requires a lot of hard work in developing a ​ fundraising campaign and in attracting investors
With KICK's ICO platform, the campaigns can be global due to the nature of the blockchain which allows instant payments. Further, KICK charges only 4% fees and claims to offer an intuitive interface to its users to launch their campaign. KICKICO projects also have the option to accept KICK tokens as a form of payment - the tokens can also be used for a variety of other services on the platform.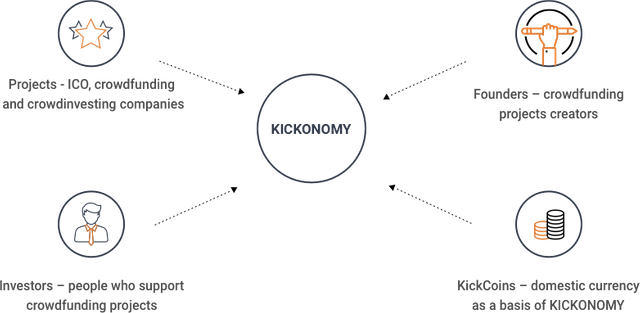 KICK CEO, Anti Danilevski, has been engaged in the crowdfunding market for over 14 years with experience in authoring several hundred campaigns on Kickstarter and Indiegogo. The company is headquartered in Moscow. Post-ICO, the KICK team has already launched a beta with several successful projects (over 20) to talk about, raising over 250,000 ETH in total funds as per its website. Last year, it earned the ICO of the year title from BTC CIS Awards.
Listing on Cobinhood Exchange
KICK tokens can now be purchased from Cobinhood exchange. Cobinhood has seen huge growth since its launch in 2017 with its zero-trading fees and simple, intuitive user interface offering a high level of security. Be sure to check out the airdrops and do not miss the trading contests to receive free tokens
Links
https://cobinhood.com/trade/KICK-ETH
https://cobinhood.com/trade/KICK-BTC
https://cobinhood.com/announcements/e3480597-1a3a-475d-86be-caec6f4a6a5a
Happy investing!
PS: The above information should not be construed as investment or trading advice - the purpose is to inform you about the project goals and ambitions. Please do your own research before making investment decisions