IQ.CASH: A PLATFORM WHERE INVESTORS MAKE UP TO 300-400% PASSIVE INCOME, MINERS & TRADERS GET THE BEST.

All images used in this article were sourced from IQCASH website & IQ.CASH twitter handle
Blockchain has in no small way built for itself a reputation that potrays it as the giver of immutability, cost effectiveness, high transaction speed & transparency. It's even primarily seen by many as a veritable investment haven that has high certainty of tripling investment with minimal or no risk. Overtime investors, traders & miners are always on the lookout for project with modalities for providing substantial & effective rate of return on investment (ROI) and the IQ cash is an answer to their yearnings. IQCASH a universal large scale blockchain platform that comfortably accommodates traders, investors & miners.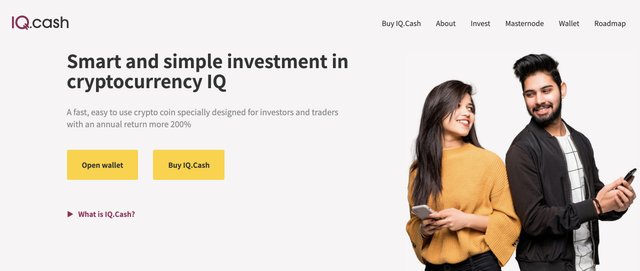 IQ. Cash is poised towards providing instant anonymous online payments & investment options. It comes with a purpose built crypto based ecosystem that will ensure optimization & maximization of the different potential of all users within the confines of it's network. IQ.cash is featured in big exchanges with big trade volumes that will give miners the ability to trade their digital assets. Miners are entitled to 43% reward allocation, masternode operators are entitled to a passive reward allocation share of 57%, the remaining 6% would be duely reserved for DAO & management of different trading projects like algorithmic trading systems, trading bots, website development, startups, software & other general system improvement requirements. IQ.cash is said to be economically attractive to investors & miners because it has an ecosystem with the best reward distribution model
ecosystem stands out especially in it's reward sharing model & modalities for project sustainability.

IQ.CASH FEATURES
(1) ANONYMITY: there is complete anonymity of transactions because due to the presence of private send algorithm feature.
(2) Security: the platform enjoins a full blockchain underlying infrastructure that gives maximum Security to users account and funds.
(3) ASIC Resistance: the erstwhile challenge of network complexity will not occur IQ cash because it uses a NeoScrypt algorithm.
(4) Decentralization: much thanks to blockchain the platform is decentralized to ensure user best experience.
(5) Wallet & Exchanges: are available in Linux, Windows & Mac.
(6)High transaction speed (less than 5 seconds): transaction are processed at very high-speed via network using insta send.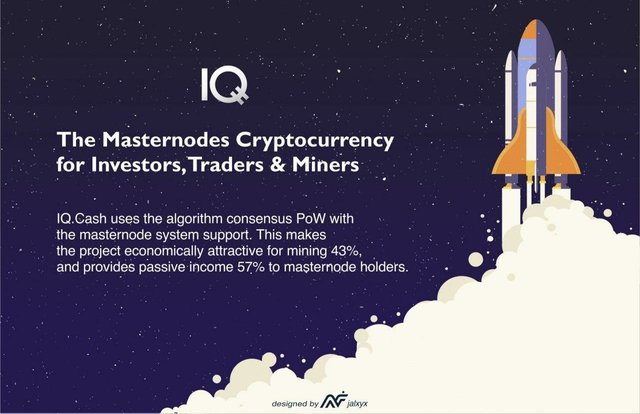 IQ cash peculiarities is further enhanced by it's combination of proof of work (POW) consensus with a masternode support system. In other to successfully operate a masternode about 3000 IQ is required. IQ.cash understands the devastating effects that ASIC mining can have on project, so it uses the NeoScrypt algorithm to ensure that mining is very much attractive to CPU users.
With IQ.cash, transaction speed is fast because it uses the instant send feature that can process transaction in 5 seconds. Transaction can be made anonymously using the private send algorithm, there is an existing modality for encryption of users receipts and transaction process.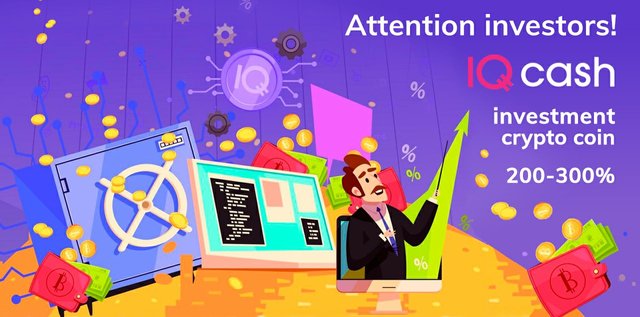 IQ.Cash is no doubt a well planned out project with mouth watering offers ranging from features to rewards. It's remarkability lies in it's ability to aid investors, miners & traders with different cryptocurrencies & exchanges. Transaction within the platform is top-notch, speed is superb, privacy is guaranteed, equitability in reward sharing is certain among so many others. IQ.cash is optimistic about becoming the number one platform that will provide crypto traders with instant, secured, private, flexible online payment and investment services. Aside it's unique reward model, it's susceptiblilty system will in not too distant time make IQ.cash a leading figure in the crypto space.The key essence of the masternode network IQ is to afford investors a quality network experience, traders too can on BitForex, HitBTC,etc using notable cryptocurrencies like ETH, LTC,BTC & many others. If you re a crypto/blockchain enthusiast then do your best to be a part of this mind boggling innovations.
HOW TO MAKE 300% PASSIVE INCOME AT THE COMFORT OF YOUR HOUSE, JUST PURCHASE & INVEST 3000 IQ.CASH & SEE HOW IT WORKS LIKE MAGIC.
It's one thing to make profits and it's another thing to have a comprehensive way for sharing it. IQ.cash is a unique project, that has come up with a concept for sharing it's IQ.cash crypto coins (profit) between miners. This initiative is basically a mechanism for sharing profit between miners as a commensurate reward for the transactions operated by a crop of IT specialist and masternode owners with 3000 IQ.cash as a requisite commission for ensuring the sustainability of the server system. With IQ.cash making an annual 300% profit requires just 5 steps to make it a reality.
(1) Purchase 3,000 IQ or 3,001 IQ tokens, the extra 1IQ will cover for transaction commission.
(2) Provided you have either an Android or IOS mobile, proceed to download the flits application.
(3) After installation of the application, proceed to open an IQ.cash coin wallet.
(4)After opening the wallet, put 3001 IQ into wallet and then proceed to create a masternode server & a deposit.
(5) There is need to also pay the monthly hosting provider fee of EUR 1.99.
The masternode & miners IQ.cash coin is developed in a manner that makes profit distribution equitable. Masternode gets 57%, miners get 43% and an additional 6% DAO is reserved for sustainability functions of the project.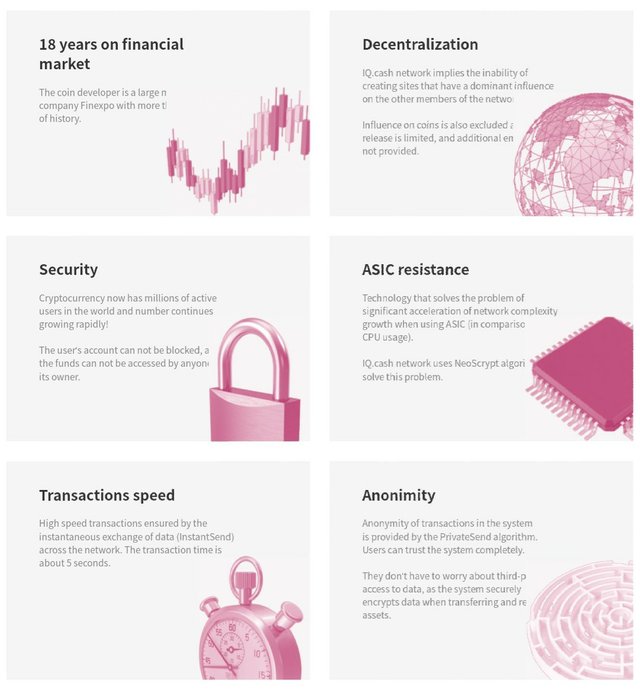 REASON WHY THE MASTERNODES ARE CREATED.
To ensure that the IQ.cash payments process inside the blockchain system are simplified. Server creation requires that the owner must rent it from the hoster & the cost may vary from $1 to $4 in every month. In other to make the investment functional about 3,000 IQ has to be deposited. At the moment annual profit is about 300% but the bigger the masterNode, the smaller the commission becomes, rewards are equitably distributed between all investors within the platform. The price of coin at the exchange is directly proportional to the number of people willing to make deposits.
HOW TO PURCHASE COINS.
Get it from one of the exchanges its listed. See image below;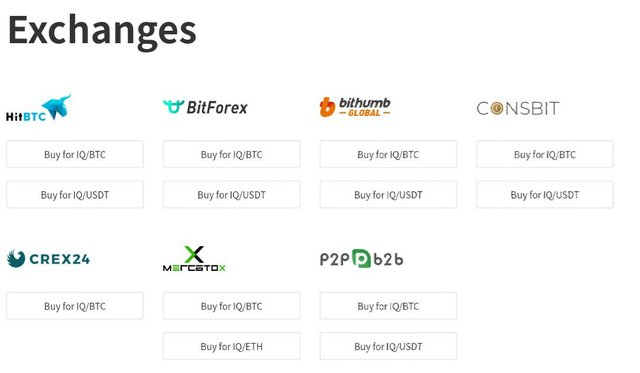 Or click buy IQ.CASH directly from website (see below) https://iq.cash/buy-iq-cash/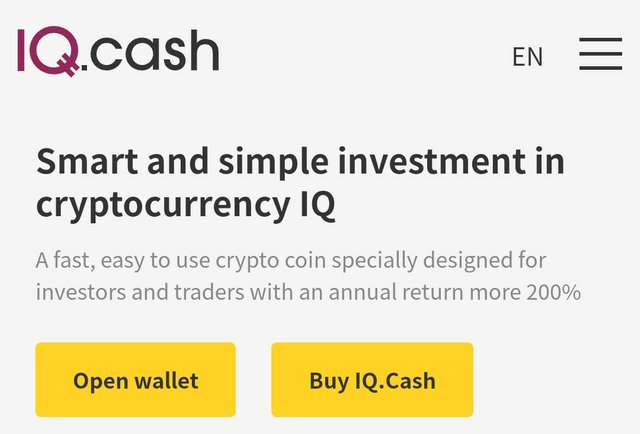 TO CREATE WALLET
Click create wallet on website or go to playstore & appstore to download. https://iq.cash/#wallets
Liquidity is a critical component of digital currency based transactions, the ability or ease of buying and selling digital assets instantaneously matters a lot. IQ cash team understands that attaining a high success rate will require an increase in the volume of it's exchange platform & other to achieve this, IQ cash is putting out more effort towards been listed on major exchange. IQ cash sure has it all, so look out for it and be a part of it.
Visit the project links below for more info on this awesome project
Website : http://iq.cash/
exchanges
Telegram : https://t.me/IQ_cash
Twitter : https://twitter.com/IQ_Crypto
Bitcointalk ANN : https://bitcointalk.org/index.php?topic=4360591
Facebook : https://www.facebook.com/TradersFair/
YouTube : https://www.youtube.com/finexpo
Writer's info
Bitcointalk Username : deodivine1
Bitcointalk profile link : https://bitcointalk.org/index.php?action=profile;u=1390292