Yield Farming: How You Can Earn Passive Income on ApeSwap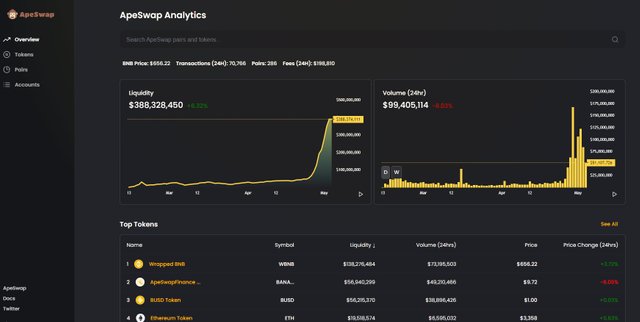 Photo credit
Yield Farming is one of the popular ways to make money from a Decentralized Finance (DeFi) ecosystem. The concept of Yield Farming entails that cryptocurrency holders with enough funds to spare can use those funds to add or provide liquidity to a decentralized farming protocol. This is impressive because most cryptocurrency trading platforms continue to battle scalability issues, which are attributed to the limited liquidities on the platform.
The introduction of Yield Farming into the mix ensures that you can now trade on a wide range of crypto assets.
ApeSwap is one of the Decentralized Exchanges (DEXs) and Automated Market Makers (AMMs) where you can provide liquidity and earn passive income.
In this article, I will explain how you can start providing liquidity on the pool, as well as some of the benefits you will derive from doing so.
Before You Start Farming
Before farming for new crypto assets or providing liquidity on the ApeSwap liquidity pool; I will like you to understand some things.
Firstly, the ApeSwap liquidity pool is a medium for you to earn new crypto tokens, as well as earn passive income.
Secondly, it isn't one of the easiest jobs in the world, because you will have to be patient and be consistent so you can earn on the platform.
Thirdly, and most important – you are required to have specific crypto tokens before you can start providing liquidity and earning passive income on ApeSwap. The 2 crypto tokens that are supported for Yield Farming are BANANA (the native crypto token for ApeSwap, and the Binance Coin, BNB).

photo credit
How to Start Providing Liquidity on ApeSwap
Now that you are ready to start farming new crypto tokens on ApeSwap, here are the steps to take:
Connect Your Wallet to the Farm
The first step is to visit the Yield Farming page where you can connect your Binance Smart Chain (BSC) wallet to the farm.
You can do that by visiting the Yield Farming page. Then, you will select Binance Smart Chain from the top right-hand corner of the page.
Select a Farm
Select a farm that you want to provide liquidity. Once you do that, proceed to visit the exchange page, where you will click on Add Liquidity.
You can then select the crypto tokens you want to add before clicking on Supply.
Approve and Confirm
Step number 4 is to approve the contract and then confirming the same from your Binance Smart Chain (BSC) wallet.
Stake Your Liquidity Tokens
Note that the crypto tokens you committed earlier were converted to Liquidity Tokens. It is those Liquidity Tokens (LPs) that you can stake in the liquidity pool.
This time, you have to click on the Stake LP button so you can start staking your Liquidity Tokens (LPs).
You will then enter the number of Liquidity Tokens you want to stake before clicking on Confirm.
Conclusion
That is the simple process of converting your crypto tokens (BANANA or BNB) to Liquidity Tokens – and then, Liquidity Tokens to be used to farm new crypto tokens.
Would you like to farm new crypto tokens on ApeSwap, and earn passive income from the liquidity you provided? If so, follow the steps detailed above so you can become a Liquidity Provider on ApeSwap.
For more detailed information about the project, please check the below links;
Website
Twitter
Telegram Group
Telegram Channel
Medium
GitHub
Bitcointalk Bounty thread
Author's details;
Bitcointalk profile link
BSC Wallet Address: 0x41944A18339FcD4bAf27C74B1eB8F02162C202e7