Cryptocurrency: IMF Releases Two Important Papers On The Future Of Payment System!
International Monetary Fund feels that a digital revolution in payment systems are coming. They put the following image on the front page their website recently. This comes as a welcome surprise when certain countries are trying to clamp down on cryptocurrencies in different ways in their domestic markets.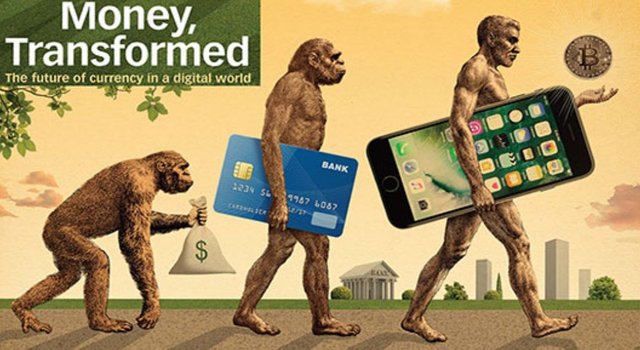 IMF released two reports earlier this week which shares their perspective on the fast paced digitisation of payment systems in the world today.
It seems as though blockchain technology development in less than a decade has upped the ante, and sped up this trend. So much that an international organisation of the scale and repute as the IMF is discussing it publicly.
Their paper titled, "The Long and Short of The Digital Revolution" discusses the fact that a digital revolution is underway and the need to adapt to these changes. It talks about the flipside of digital currencies.
Anonymous cryptocurrencies such as Bitcoin are posing challenges to efforts to combat money laundering and other illicit activities. On the other hand, the underlying technology behind these currencies (blockchain) will likely revolutionise finance by making transactions faster and more secure
What interests me is the fact that IMF isn't viewing cryptocurrency as a threat to global economy, but instead considers it not only relevant, but somewhat necessary to our times and accepts that a change is coming our way!
The paper reads:
The digital revolution should be accepted and improved rather than ignored and repressed. The history of earlier general-purpose technologies demonstrates that even with short-term dislocations, re-organising the economy around revolutionary technologies generates huge long-term benefits.
It's amazing how a global organisation which deals with monetary policies is considering cryptocurrency as an evolution to the current financial system and views it as an opportunity that's worth looking into, instead of declaring it as an outright threat!
In it's latest report, "Monetary Policy in the Digital Age" Dong He, deputy director of the Monetary and Capital Markets Department discusses the probability of wider adoption of cryptocurrencies and reduced volatility when we get there.
He writes about the shift in payment systems and the challenges and opportunities faced by central bankers. It's fascinating how people at this level are functioning and thinking leaps ahead of several monetary policy makers in many countries including India.
His report reads:
In account-based systems the transfer of claims is recorded in an account with an intermediary, such as a bank. In contrast, value- or token-based systems involve simply the transfer of a payment object such as a commodity or paper currency.

Such a shift could also portend a change in the way money is created in the digital age: from credit money to commodity money, we may move full circle back to where we were in the Renaissance!

If crypto assets indeed lead to a more prominent role for commodity money in the digital age, the demand for central bank money is likely to decline.
We all know that a global shift in monetary power is happening, albeit at a very slow pace. It will be gradual but cryptocurrency adoption amongst the masses is a matter of 'when,' not 'if.' It's a matter of time!
The paper also notes that cryptocurrencies such as Bitcoin are likely to become less volatile by establishing institutional trust as well as artificial intelligence. Ofcourse, mainstream adoption is also going to make a difference.
Countries such as Japan have recognized this changing shift in monetary systems and have regulated use of cryptocurrencies in the country to enable and empower their citizens. While many others are debating the rise in popularity and use of these virtual tokens.
Dong He, asks some important questions and also answers them in his paper.
How should central banks respond? How can they forestall the competitive pressure crypto assets may exert on fiat currencies?
First, they should continue to strive to make fiat currencies better and more stable units of account.
Second, government authorities should regulate the use of crypto assets to prevent regulatory arbitrage and any unfair competitive advantage crypto assets may derive from lighter regulation.
Third, central banks should continue to make their money attractive for use as a settlement vehicle.
It's an interesting time to be alive when the discussion on cryptocurrencies are happening at such a global level. It's time we get involved in our communities and help bridge the gap, and empower each other.
If you follow banking and political issues surrounding cryptocurrencies then you will find the aforementioned papers worth a read.
---
If you like my work kindly resteem it to your friends. You may also continue reading my recent posts which might interest you:
---