Very confused, but hey, who can reject blessings?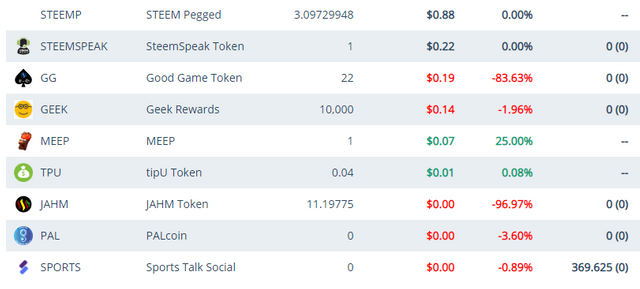 Today I finally have some time and look at steem-engine again to learn a little more of these tokens that @littlenewthings kept talking about.
I listened to her earlier and staked some sports token, even though it is less than 1 cent, I am still happy I can help people earn SPORTS when I support posts like those in @actifit
---
I hardly have any time for exercise. But doesn't mean I won't support the rest.
---
Since I am so busy I am going to delegate to @gtpjfoodbank for the palnet tokens. That account is supporting fundition approved accounts so if they are using #palnet hashtags they will be supported as much as the food bank's account receives curation.
We praise God for the fixed aircon and now the food bank needs another cooler so that food like eggs will not get spoil easily.
So if these tokens can help earn some $$$ later to buy the cooler. By all means I will help it, since I am already buying off tokens from @gtpjfoodbank to support our ghostwriters.
So come back to this GEEK token. I got these 10,000 tokens and the value dropped a little. I am now wondering how does it work?
Does it support posts that has a certain hashtag? I saw it links to Steempeak.com but I am still not certain how this works.

Source captured
I see a lot of people are very excited with this but I am still at a blur on how this works,
@karenmckersie
is one of them.
So far I am just enjoying helping out the Food bank by receiving their thank you for donating token in steem / sbd 50% back when I donated my money; but other than that , I really have no idea how to go about. @littlenewthings said that STEEM one day will have great value, so I that is why I am keeping them and follow what she's staking.
Anyone else have a better idea?
Maybe I will just stake the tokens and see what happens.