SUB1X - Could This Be Your Ticket To Riches 💰? - The Lowest Coin Supply EVER!!! | 🔊 23,741 SUB1X | Anonymity With ZEROCOIN PROTOCOL | Earn FREE SBD
Many of you are probably as irritated as I am by all the ups and downs in the market. It's been long since market is in this dormant kinda of state. I wish I could say enough is enough. It's neither really going up or nor down. In fact, I'd say the market is teasing investors. But one thing that resulted in the past 6-7 months downtime is that Bitcoin is way more diversified than it was ever before. In simple words, Bitcoin has reached the pockets of many minnows that otherwise were leftover. And it is safe to say, that the rich list is trimmed down.
But what if you could repeat all this allover again? What if you could make it to the rich-list? What if you had a coin that is more scarce, more private and quicker than Bitcoin could ever be? Isn't that sounds too intriguing to find out about? But before I move on with this blog, I want to make it crystal clear that I, in no way, shape or form comparing SUB1X to Bitcoin rather, just stating the dynamics and introducing you to something unusual before you miss it.
SUB1X
---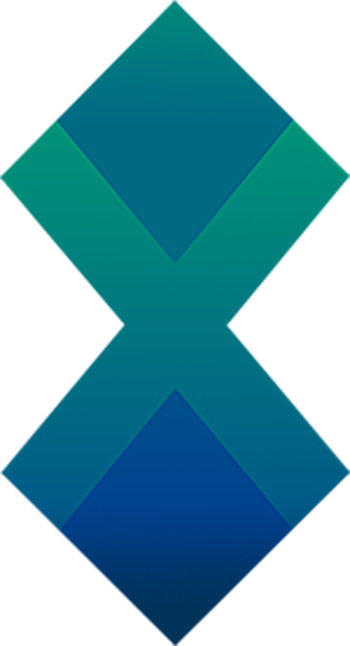 SUB1X is an ultra low supply, community driven cryptocurrency. It started off as an ERC-20 token. SUB1X distributed 80% of the coin supply in airdrop to those who participated in the process. In order to achieve their long term goals, the development team decided that creating a dedicated masternode compatible SUB1X chain was the best way forward.
The interesting thing is that SUB1X didn't hold any ICO or Pre-SALE period. So, whoever got their coins was only via Airdrop which makes it a very fair method of distribution - as no one holds massive amounts or in other words there's no monopoly in the SUB1X market. Take a look at the rich list here.
In addition, SUB1X is decentralized at it's core and I believe that's what makes it even more appealing. The masternode holders actively vote on proposals and once passed, it moves down the pipeline to development phases. Just recently, The OmniAnalytics group ranked SUB1X 20th out of 320 masternode coins. You can take a look at the previous proposals and community voting here. It's always a good sight to see coins sticking to their core principals without bypassing the community. After all, it's the involvement of the community that empowers any coin.
...Going Stealth Mode
SUB1X implements the Zerocoin protocol for security and anonymity. For those of you who don't understand what a Zerocoin protocol is, think of it like a camouflage for your activities on the blockchain. Zerocoin protocol gives you the security to send, receive and HODL without anyone knowing or tracing your public addresses. Your stalkers can no longer trace your funds/wealth in the cryptocurrencies. As a result, payment can be made across the SUB1X chain with complete privacy.
Scarcity
SUB1X is super low supply coin. It has the lowest supply of any Masternodes coin. This would probably make it one of the most highly valued masternode coin on the market. As of writing this blog there's only 23,741 SUB1X in current supply. Do not forget that SUB1X is a masternode coin and a lot coins are locked in masternodes meaning that they are not readily trade-able. Which leaves us with a very limited supply for speculation/trading.
SUB1X not only has an extremely low current supply but it also has an extremely low inflation rate. With this ultra low supply and ultra low inflation rate the coin supply has been calculated to remain under 1,000,000 coin supply till 2056.
SUB1X Premium Club/Steemit Style Forum
The SUB1X exclusive club provides an affordable decentralized resource center for investors in the Masternode space. This will be done by attracting key influencers, focusing on exclusivity and creating a multi-incentive rewards based system to encourage quality content production.
The premium club is only for masternode holders. Those who have access to it can write blogs and publish contents on the forum. Users can Upvote and comment on the blogs just like we do on Steemit and will get paid for the same in SUB1X.
Additionally, all members of the Premium Club are entitled to monthly SUB1X. This will be created via a governance proposal that assigns 100 coins to a single dividends wallet. These coins are then staked and the returns are pooled together at the end of each month.
So, what does this means for you? In simple words, you can add another stream of income and earn more than what you can with any of the masternode coins out there.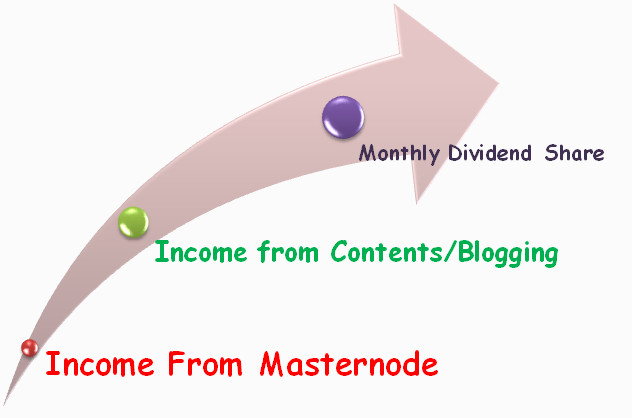 Coin Specs - Masternode
| Description | Value |
| --- | --- |
| Coin Supply | 23,741 |
| Algo | Quark |
| Block Reward | 0.05 (80% MN - 20% POS) |
| MN Collateral | 20 SUB1X |
| Maturity | 10 confirmations |
| Block Time | 60 seconds |
To start a masternode of your own you would require about 20 SUB1X worth 0.01903329 (approx $145) BTC only. You can buy SUB1X using CryptoBridge. There are only 499 coins available for sale. This detailed video tutorial should help you with setting up a masternode.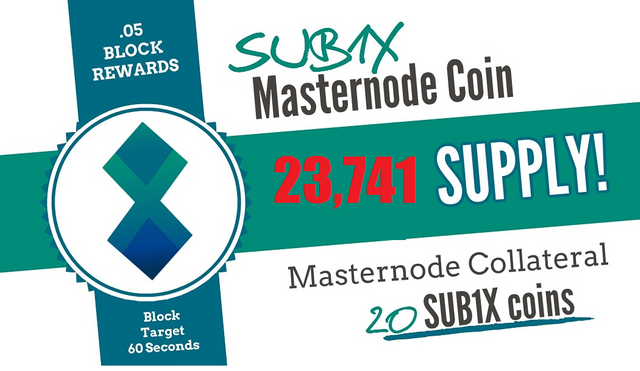 As of now, there are about 524 Masternodes online which explains a lot about the investors mode i.e; long term. There are about 10,480 coins locked inside masternode which makes it about 44% of the coins in circulation. Which I think is a pretty good healthy ratio for any coin.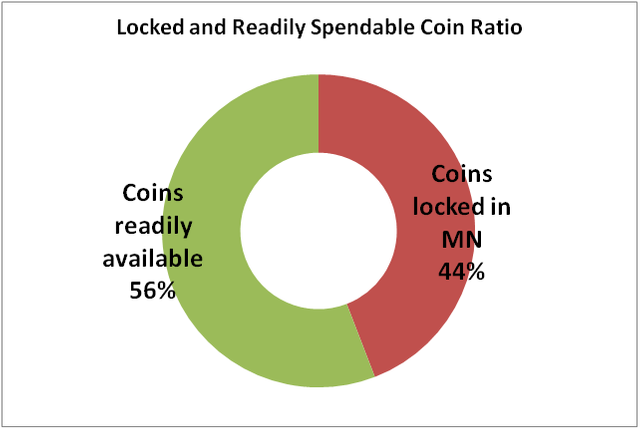 Market Performance - Activity
The spread between buy/sell seems to be very a healthy one for traders to make some money. Needless to say that in times like these the price has shown a good resistance in the past couple of months. As of now, one SUB1X is worth about $7.25.


EARN FREE SBD

Would you like to earn some free SBD? Here's what you need to do.
Write a blog about SUB1X with no less than 100 words. Feel free to use resources available in this blog or any other official forum.
Join the SUB1X Discord here: https://discord.gg/wBK2YC6 and drop your link in the #blogging_competition channel.
Wait for the official team approval.
Enjoy your 2 SBD reward.
Max 25 participant will be rewarded.

As always, you are expected to DYOR - but if you have any questions, feel free to drop below and I would be happy to answer. Alternatively, you can reacha out to the team via any of the following mediums.
Webpage: https://sub1x.org
Twitter: https://twitter.com/SUB_1X_
Discord: https://discord.gg/sQg9Zcm
Reddit: https://www.reddit.com/r/SUB1X/
Telegram: https://t.me/joinchat/FeDyzg6MbSGTo_PWpzx0TA
:۞:••:۞: Thank you for Reading :۞:••:۞:
---
Recommended Crypto Services
FIAT-Crypto Trading || Crypto-Crypto Trading || DEX Trade || Trade High Risk/Profit Coins