Who to Know in Crypto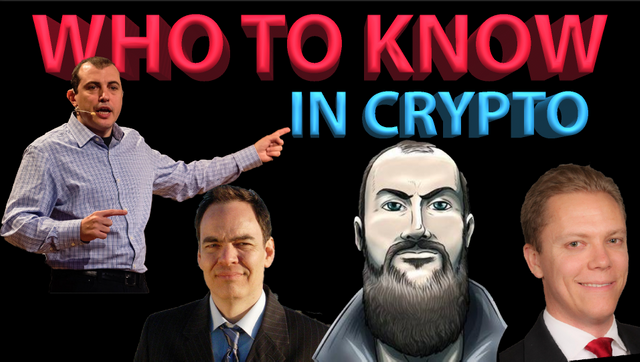 Building on my previous video which pointed out just a fraction of the misinformation that can be found regarding cryptocurrency wallets, I think it's good to every so often provide a list of contributors to this "cryptosphere" who in my opinion have proved themselves to be reliable sources of accurate and useful information.
This video really doesn't need much of an introduction other than I'll be saving the best for last (or at least my favorites for last) so I'll just get right into it.
If you're interested in all things trading with Bitcoin and other cryptos there is one I'm comfortable with directing you to:
Todd Blackburn has a Youtube channel called 51 Percent Crew that focuses on chart analysis and trading signals. He also offers classes through his Patreon account.
If you're looking for options in regards to cryptocurrency news as well as interviews and updates here are a couple other Youtube channels that are pretty consistent: Ivan on Tech, Crypt0, and Boxmining.
Keep in mind that each of these channels also have corresponding websites so if you want to check out what else they have to offer, that's probably a good start.
If you want to dive deep into the world of Bitcoin specifically, I highly recommend checking out Jameson Lopp's blog posts and articles. I also want to introduce you to Trace Mayer, he has a podcast called Bitcoin Knowledge.
Both of these men have lots of knowledge regarding the technical aspects to Bitcoin as well as a firm grasp of the implications this new kind of technology can have on the world moving forward.
If you want to dive deep into the world of Ethereum, you can't leave out that one guy who loves cats and played an integral part in its very creation, Vitalik Buterin, but he's not the only voice in the Ethereum space. There are a number of different developers and personalities who want to do good in the world, one of these is of course Griff Green, he helped create Giveth, a platform that brings transparency to charities. And I also want to mention Taylor Monahan, she played a big part in maintaining MyEtherWallet and has since moved to MyCryptoWallet. I suggest checking out the "Help" tab on that site and reading up on the many articles written there.
Alright, last but certainly not least, not even in the least bit least, I want to introduce two popular voices in the crypto space.
First, Andreas Antonopoulos, I've already made a video that goes over all that he's done to evangelize Bitcoin so feel free to check that one out, but I want to encourage you to check out his youtube channel and also his book, Internet of Money.
I'm going to finish this video of recommendations with Max Keiser and his show on RT, Keiser Report. You can find episodes The Keiser Report on Youtube as well. I'm a fan because he covers a whole bunch of different topics but from very early on he's been an advocate for Bitcoin and the cryptocurrency space. Not to mention the fact that his wife is an awesome co-host and this sets the stage for fun banter as well.
If you want to check out any of the people I mentioned in today's video, I've supplied links to a lot of information down below in the video description.
I know this is by no means a comprehensive list, so if there are others who you think deserve some acknowledgment for their efforts in this cryptocurrency space, feel free to leave them down below in the comments along with your reasons why.
Links:
Trading focused
Todd Blackburn 51 Percent Crew Youtube Patreon
Mixture of trading and news
Ivan on Tec
Website
Omar Bam
Website
Boxmining
Website
Bitcoin
Trace Mayer Twitter
Podcast
Jameson Lopp Twitter
Website
Ethereum
Griff Green Medium
Giveth
Vitalik Buterin Twitter
Website
Taylor Monahan Twitter
MyCrypto
Big Picture
Andreas Antonopoulos Youtube
Internet of Money
Max Keiser RT
Youtube