The newbie Journal01: How much can 500$ of swing-trading take me?
I have never really traded, mostly just invested and hodling for dear life.
Over the recent year, I have done a lot of "paper trading" (basically, make a judgment of certain price action and write down the trade to see how it is holding up, not actually making the trade but pretending).
But now I do feel more confident in throwing my first money into some real trading.
I thought 500$ would strike a good balance of not losing my whole bank if things go south but also able to accumulate some nice profits if I do indeed make the right calls.
---
These journal posts will keep track of my profits, thoughts, and emotions
---
I am hoping people might find it either entertaining or insightful to follow this little experiment. I will probably improve my explanation as time goes on. Please leave feedback if you felt it all was too confusing.
But most of all it is for myself to have a place to keep track of everything I do. Hopefully to look back on when mistakes happen.
So without further delay, let's get into how, when and what I invested into:
---
What indicators/tools do I use?
---
First and foremost I am using just straight up price action such as support/resistance levels and candlestick patterns. Also, I have grown to like the use of Fibonacci retracement. I find it very powerful and accurate in combination with the MACD and RSI.
Indicators:
RSI(Relative Strength Index)
Great for spotting divergences and having a relative temperature of a coin.

MACD
Great for spotting crosses and in combination with the others determine if the cross is a fake or setting up for a reversal of the current trend.

11(EMA), 20(MA) and 50(MA)
These three moving averages seem to give me good results in order to find trends and responsive enough for me to act on them quickly without too many fakeouts.
---

Todays trade; Buy Etherium at 110$(4.4233 ETH brought)
---
Now for the juicy stuff!
I kept an eye on the trade and while I was close to buying at 192$ I didn't see any price action confirming a reversal. Actually all I noticed was low volumes and while it did stick on the 31% retracement level of fibo. I wanted to see a candlestick confirming the start of at least a short term uptrend.
Luckily I was not rushed into action and rewarded with another 92% drop down to 90$/eth.
This was quite obvious from external market fears, related to the coronavirus so quite unexpected, but that's why I try to be patient and not catching a falling knife.
While I did not buy yet but waited for some kind of reaction of the 90% fibo which I quite confidently got at 110$ reversal. (also it was point accuracy of reacting to the 90% fibo. So I brought in here.
I try not to be greedy and get the lowest, I always wait for a reaction to the key levels.
While I could have waited for some more confirmation I have, to be honest, the low price from the panic sell people made had to bounce at some point.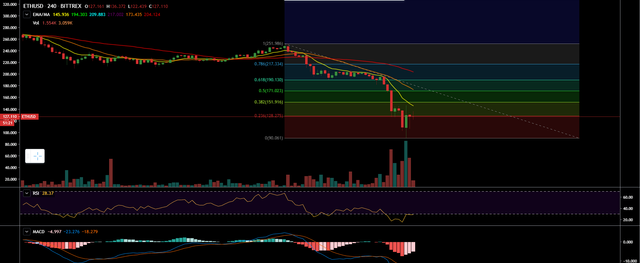 ---
Forward strategy: 38% retracement(yellow line) or 50% retracement(green line)
---
Right now I am just looking for these two key levels.
I am looking at smaller timeframes(1hour) because things seem to move fast at the moment. the overall trend is down but I am hoping to catch the bounce at either of the above levels. If I see any strong reactions to these I will probably sell and take the small profit. (If I were to sell now about 80$ of profit).
The MacD on the lower time frames could prove to drag the price upwards towards 150$. My prediction would be selling the eth. at 150$ but I am prepared to sell at 130$ if the price seems to dive from that retracement level. So far short term wise things look positive and I think this big panic sale was a perfect entry for me.
---
I know this first journal might be a bit messy, I am still working on a good structure but I had to jump into the trade and thus, journal it. Regardless hope you guys enjoyed it anyway.
Cheers!
---