(ANN) ARAW - REVIEW OF AN E-COMMERCE PLATFORM
GOOD DAY EVERYONE, 
This is article about ARAW PLATFORM.
The development of Blockchain technology has brought with it different innovative ways of solving existing problems like exchange of value, e-commerce, monetization of intellectual properties and hundreds more. The reality however is that this kind of revolution which has resulted in the creation of thousands of platforms and applications also creates an entirely different type of problem for end users and developers.
Blockchain Compared with traditional database technologies and centralised systems, blockchain implementations can be relatively cheap and require considerably less IT investment to maintain. However, as the technology is still relatively immature, for the time being these savings on the ongoing operational costs may be offset by significant upfront development costs.
 E-commerce has revolutionised the traditional method people used to exchange things. E-commerce has mobilised everything online and offer speed and convenience to customers through online shopping. People can easily shop for just about anything while sitting on their sofa sipping soda. Unfortunately, with the advantages of convenience and ease of transaction there is the problem of insecurity.
WHAT IS ARAW?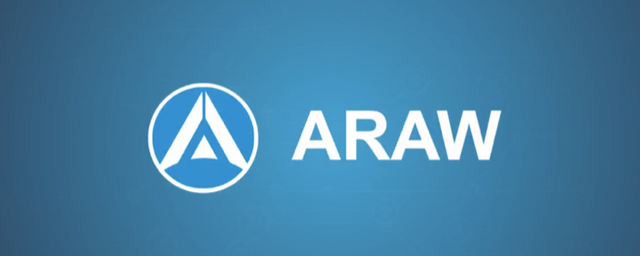 ARAW is an ecosystem with decentralized payment, based on Ethereum Blockchain, which seeks to increase the implementation of blockchain in everyday life around the world. ARAW IS the first company in the world to combine the benefits of e-Commerce and payments industries; to provide end-product solutions for e-Commerce, Cryptocurrency Touch & Pay cards, online cryptocurrency payment and unified reward system on Ethereum Blockchain based on the ARAW token. The purpose of the ARAW token is to be a part of everyday online shopping.
The main goal of the ARAW token is to build the Decentralised Payment Ecosystem for E-Commerce to increase the Blockchain adoption for regular people across the world. The ARAW token ecosystem offers unified reward system which any service-providing entities can partake in. This allows virtually any company to further incentive consumption of their service as they provide real value via token distribution and expand their previously limited market of loyalty-reward consumers to the next level.
The ARAW token will prove to be a revolutionary cryptocurrency for the e-commerce and payment ecosystem to ensure merchants and customers get their optimum satisfaction from the services. With the aforementioned features of the ARAW token, merchants will have a more convenient and economical service while engaging their customers. This  will  also encourage customers  to  continue using  the  ARAW cryptocurrency card  as frequently as possible. This will help to boost purchases in thousands of businesses, and also satisfy millions of customers by providing a great way to continue shopping in the same way and earning rewards in doing so.
THE TOKEN DETAILS 
Ticker: ARAW
Token type: ERC20
ICO token price: 1 ARAW = $0.01
Total tokens: 5,000,000,000
Available for token sale: 3,500,000,000 (70%)
Whitelist: YES (15 May – 30 June)
Know Your Customer (KYC): YES Pre-sale
start date: 1 JULY
Public sale start date: TBD
ARAW ROADMAP. 
2016
Araw Idea Born 
Araw Platform on the Ethereum Blockchain
MVP development •  Araw Smart Contract & Liquidity Contract Prototype Araw Platform, Using Virtual Points Without Blockchain 
Araw UK Ltd Company Headquartered in the London, UK
2017
Araw Mobile Apps Launched in the UK Apple Store & Google Playstore 
Improved Digital Loyalty & Marketing Solution Released Customer Insight Dashboard 
Deals and Offers Implemented Paypal & Stripe Payment Gateways Integrated in Mobile Apps
2018
Araw Platform on the Ethereum Blockchain - MVP development 
•  Araw Smart Contract & Liquidity Contract Prototype Araw Platform, Using Virtual Points Without Blockchain Araw UK Ltd Company Headquartered in the London, UK 
•  Platform Security Audit
 •  Whitelisting & Airdrop 
•  The ARAW Token ICO Private & Public Sale 
•  E-commerce Marketplace 
•  Unified Reward System 
•  Peer-to-Peer Transfer
 •  Araw Mobile Wallet
 •  Banking System Integration 
•  Crypto Exchanges Integration
2019
•  Release Araw Platform in the UK 
•  Araw Card Licensing Process 
•  European Expansion 
•  Araw Card - Touch & Pay Mobile Solution
2020
USA Expansion
 Asia Expansion 
It's just a beginning! The Araw Era has begun
THE TEAM  MEMBERS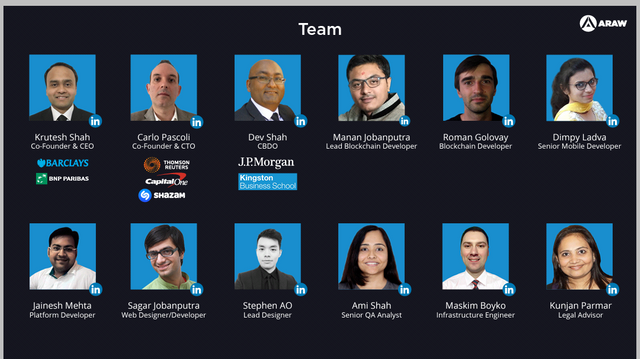 FOR MORE INFORMATION , VISIT THE FOLLOWING OFFICIAL LINK:
Website: https://arawtoken.io/
Whitepage: https://arawtoken.io/assets/araw_whitepaper.pdf
Telegram: https://t.me/ArawTokenOfficial
Facebook: https://www.facebook.com/arawtoken
Twitter: https://twitter.com/arawtoken
WRITTEN BY:
BTT USERNAME :   CRYPTOMONGER.