Coinbase Custody - A new product from Coinbase - nov 18, 2017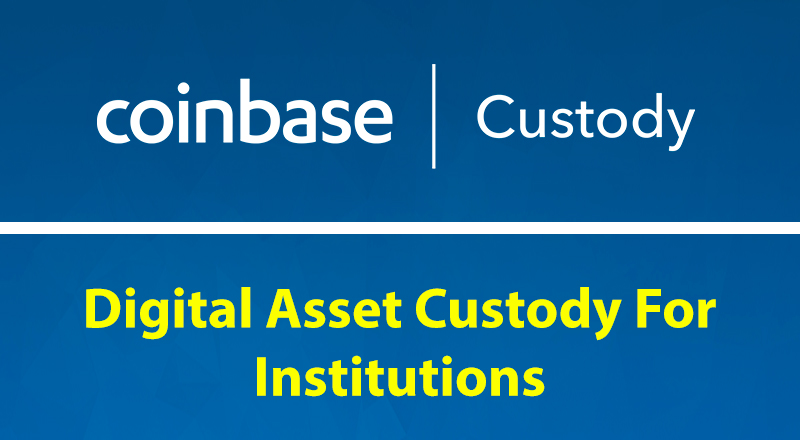 Brian Armstrong Co-Founder and CEO at Coinbase, made a big announcement on Nov 16, regarding a next step in digital assets world.
They created a new company and a new product for that which will help institutional investors to invest and trade digital assets.
From their research it shows that were made more than 100 hedge funds to trade digital currency in the past year and even more than that of traditional institutional investors are waiting for the right moment to enter in this world, of trading digital assets:
By some estimates there is $10B of institutional money waiting on the sidelines to invest in digital currency today.
also they mention that:
Coinbase is already storing more than $9B of digital currency on behalf of our customers
They say the issue now is the lack of digital asset custodian where they can store client funds securely.
On their list of needs for institutional clients are:
Strict financial controls (multiple signers, audit trails, limits, etc)
Dedicated account representatives and phone support
SLAs on funds transfers
A regulated digital currency custodian
Multi-user accounts with separate permissions
Support for a wide range of digital assets and currencies
Insurance (in some cases)
And high levels of cyber and physical security
With this step they hope to accelerate the investment of institutional money into digital currency in the near future.
This product is only available
to institutional investors with a minimum of $10M in deposits.
Retail customers can utilize Coinbase.com as a custody solution.
And the price for that
an initial setup fee of $100,000 USD, and a fee of 10 basis points per month on assets stored. Note that pricing is subject to change as we continue rolling out early access.
some thoughts about that:
It is a big news and as always with many questions regarding how good or bad it is. How centralized this thing will be.
How SEC will see this move?
If they do that step it may seem that they have some government approval for their work.
Also, how will they handle normal accounts with issues after their name is on such a big company that will store more value than the current one (platform bugs or other similar issues which doesn't imply user fault)?
I think this should be a big interest for their normal clients also. If they don't have $10M, they should be safe holding there too.
Here i think is that risk which we all know about why bitcoin was created and after that all that mass of other crypto coins:
If you want to own your coin, have your wallet and your private key
That's for the non-traders.
For who are prepared for some risk it may be one of the solution in the market. They can go in that way to let big companies like Coinbase store their assets and have more liberty to trade them and make some profit from that.
A bad thing i see here, is that the governments will have access to that at anytime and they could block that funds at any point with no reason.
Unfortunately, that's the way i see this going in this moment.
Yes, recently they said that they are not giving personal account data to government because is not based on a good reason, but if a law will oblige them to block funds even without reason for any normal user because of some other bad-intentioned ones they will have to do that. And here we go again with the same issue regarding safe holdings - and i'm referring to normal people with normal life, not underground market which exist in any area today.
Some small positive thing i see here is that in this way will give power to that institutional clients which will be able to take small accounts for normal people and maybe having a better relationship with people than current 4-5 big players in the bitcoin & co. trading market.
Maybe that way people like me and you will have a dedicated person who they can speak to and have some help in technical details. With news and other stuff that now are not known by most of us in time. In that moment it will be in their interest to let us know about how it works for them to be well too.
last words
This are just my thoughts about this news. And i don't intend to be mean or good with that. I want to be as neutral as i can because it is a world that exists and evolve.
All changes could be accepted or criticized by anybody but until we see a stable market and great acceptance we can't know how it will be.
One last question: Who are those institutional clients?
What you think about that?
Share a thought in the comments.
Coinbase Custody page:
News source:



Till next time,
Cheers and good steemit time!
(if you read it on steemit, if not go check out my posts there, links below)
---
All product names, logos, and brands are property of their respective owners.
pictures source: Pixabay and related websites quoted above
collages or screenshots: @ilvstranger


---
steemit community where i go and you can join too:
TEAM WORK MAKES THE DREAM WORK
#circleoffriends
discord server invitation: https://discord.gg/PQVgSVj


---
You can also read this article here
MAIN BLOG:
Coinbase Custody - A new product from Coinbase - nov 18, 2017


follow me on other social:
TWITTER: @ilvstranger | steemit: @ilvstranger | INSTAGRAM: @ilvstranger | PINTEREST: @ilvstranger | TUMBLR: @ilvstranger