imusify's Bounty Program (1 Feb - 30 April)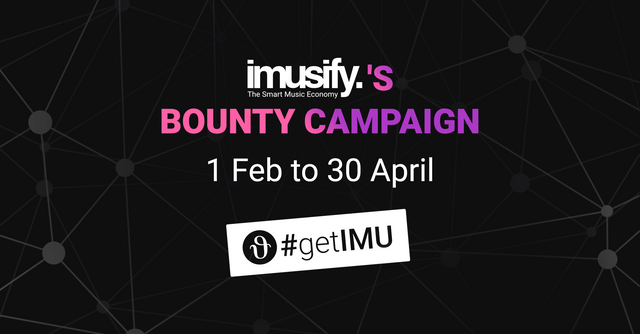 We proudly announce the start of our Bounty Program!
10 million IMU tokens have been allocated to this program.
Get precious IMU tokens by:
Writing blogs and creating videos about imusify
Resharing posts from imusify's Twitter, Facebook, LinkedIn, Instagram, Steemit, and Telegram accounts
Sharing about imusify in technology/music/blockchain/cryptocurrency subreddits
Wearing imusify's signature on your bitcointalk accounts
MISC Campaign: You decide what you will do! Are you good at creating stickers for our telegram group? How about getting imusify listed on the various ICO listing websites? The sky is the limit!
Inviting the Steemit community to participate in imusify's Bounty Program: https://bit.ly/get_imu
imusify: The Smart Music Economy -- https://imusify.com